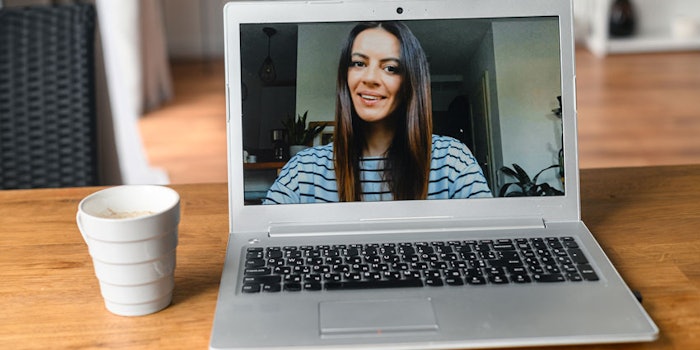 For small business owners like myself, staying connected with clients is now more important than ever. Due to COVID-19, my business SKIN by Sabrina, as well as many other small businesses in the wellness and skin care community had to temporarily close its doors to clients.
This was devastating to me as I love to "touch and heal" with holistic treatments. Contact and proximity are required for the services I provide and cannot be avoided. When the social distancing guidelines were first put in place, like everybody else, I went into crisis mode. I then quickly realized that the formula to surviving and coming out of this pandemic with a stronger client relationship is simple—stay positive, stay connected and become virtually available.
Build Virtual Relationships
Being old-school and for the most part, relying on building relationships in-person, had me finding new ways to solving my client's "skin-mergencies" and keep them glowing after the social distancing rules were put into place. Before our clientele would come to us for our professional guidance, now we have to go to them. 
One thing that I have learned throughout this pandemic is the importance of a sense of community and human interaction even if it's through a computer screen. Without it, we lose the ability to create a deeper connection with clients and customers. Therefore, it is important to continue to communicate with them on a regular basis.
A strategy I do to keep clients engaged is to offer virtual appointments and consultations. Nothing compares to the treatments we give to our clients but since we cannot offer those services right now, we have to help them keep their skin glowing and healthy right at home.
By providing virtual services, I offer clients my expertise and expert opinion without actually meeting them in person—and you can do the same. Virtual consultations are the most efficient way to recommend a course of action if there happens to be a "skin-mergency." You can provide instructions on how to perform at-home treatments, how to utilize tools and recommend products. While your business may not be open to provide in-person services, your clients still needs your guidance on how to get rid of those pesky stress-inducing blemishes. You can use FaceTime, Zoom or any other video conferencing application for your virtual appointments.
Reach Out
My first tip is to not be afraid to reach out and follow up with clients. Let them know you are thinking of them and are there for support. Now that we live in a digital world, you can stay connected through social media, email or SMS communication. If you want a more open relationship, give them your phone number and reassure them that you are a text or phone call away.
For me, to continue connecting with my customers, I had to establish an "open-door policy," which means that I am virtually available to my clients whenever they need me. Letting your clients know that they are free to contact you whenever they have questions will allow you to keep a connection even through distance.
Social Media Advantages
Growing relationships and establishing trust is not a one-way street. Listening and anticipating a customer's needs and feelings will cultivate loyalty. Be sure to monitor all communication through social media, and use it as a way to create content and come up with strategies to connect with your client's needs.
Instagram, Twitter, Facebook, YouTube and even Tik Tok are the current hot spots on the web. Having accounts across the board will allow you to connect with your customers while reaching new ones. Providing valuable, helpful and entertaining content through social media will not only have your customers hooked and engaged, but it has the potential to ring in new clientele. Some content ideas include:
Provide tutorials on DIY at-home facials on Instagram Live, Facebook Live, etc.;
Hosting live Q&A sessions;
Uploading video content sharing tips, tricks, advise, techniques or product recommendations;
Creating weekly, day-specific related content, like "Tip Tuesday," Facial Friday" or "Self-care Sunday";
Post positive uplifting quotes to encourage them to stay positive; and
Offer tips on how to lower stress levels to prevent dulling the appearance and the quality of the skin.
Social Distancing ≠ Social Isolation
Just because we have temporarily closed the doors to our businesses does not mean we have to close ourselves off to our clients. Remember, social distancing does not mean social isolation. These outreach methods may not be the same as having one-on-one in-person interaction, but they go a long way. Right now, it is all about engagement, outreach and offering support. These little things help to build a relationship and loyalty with your customers so that they can show you that same care and support in return when your doors are back open.