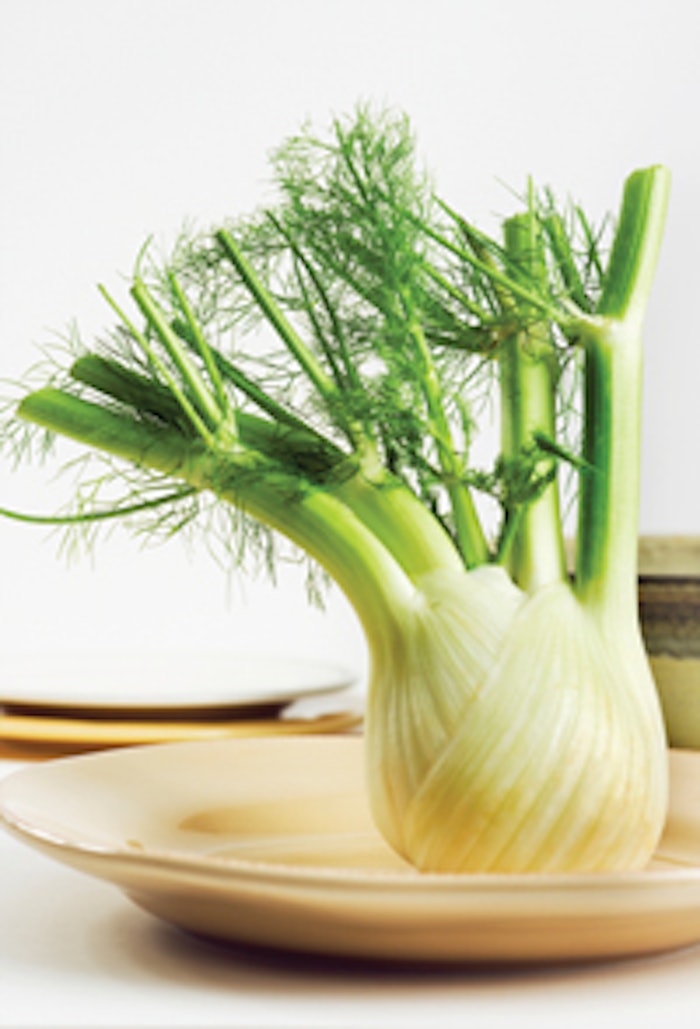 I am a self-professed Food Network junkie. When all else fails, the Food Network is there for me, offering me tips, techniques, and the rhythmic stirring and chopping that can zone me into an intense relaxation unlike anything else. Whether it is Rachael Ray, Paula Deen or Bobby Flay, I know they aren't going to stress me out—they are simply going to supply another brilliant, delicious meal option. And very often, one of the key ingredients in these tasty dishes is fennel, offering its yummy crunch and supporting flavor to a variety of dishes. But more than that, this herb has incredible skin care benefits, as well.
In the kitchen
Indigenous to the shores of the Mediterranean Sea, fennel is now largely produced by the United States, France, India and Russia.1 Its texture is similar to that of celery, and all of its parts—the bulb, stalks and fronds—are edible, although the bulb is the most sought-after. Not a "bulb" at all in reality, it contains tightly stacked leaves that unpack like the base of a celery stalk. Its sweet, delicate flavor is tasty on its own, but it blends with and enhances other tastes so well that this is where its true strength lies. Fennel seeds are also commonly used as a spice in Italian sausage, stews and rustic breads.2 It contains a unique combination of phytonutrients and is an excellent source of vitamin C.1
The strengths of this umbelliferous herb are heartily embraced by spa cuisine chefs. At Oak Café Restaurant at Ojai Valley Inn & Spa in Ojai, California, the main course of Grilled Number One Tuna is enjoyed with baby artichoke hearts, fennel, garlic and light lemon herb broth. Fennel relish complements the Parmesan Crusted "Free Range" Chicken Breast at Washington, Connecticut's The Mayflower Inn & Spa; and Red Mountain Spa in St. George, Utah, offers Fennel with Ginger. The Arugula salad at Kohler Waters Spa's Burr Ridge, Illinois, location features shaved fennel, as does the Pan-seared Rare Ahi Tuna Bento Box at the Mandarin Oriental Boston; and check out the recipe for Red Inca Quinoa & Shaved Young Fennel from Executive Chef Michael O'Dowd of the Sheraton Wild Horse Pass Resort & Spa in Chandler, Arizona.
In the spa
Fennel has a soothing, cleansing and toning effect on the skin and is especially beneficial for mature complexions. It can help reduce water retention in the skin and get rid of toxins to balance the production of hormones that effect skin elasticity.3
At the Summer Lodge Country House Hotel, Restaurant and Spa in Dorset, England, the Body Sculpting Cellulite Therapy features a detoxifying Fennel and Birch Peel-off Body Mask to deeply cleanse the body's system; and the Monticelli Mud treatment at Villagio Inn & Spa in Yountville, California, blends fennel essential oils with cypress and lemon to help relieve aches and pains. The Hungarian Moor Mud Kur service at The Fairmont Sonoma Mission Inn & Spa in Sonoma, California, concludes with a massage using a soothing mineral cream made with fennel, juniper and lavender essential oils; and Anthony DeFranco Salon and Spa in Huntington Station, New York, offers the Sea Mud Body Treatment, which blends gingko and fennel extracts to revitalize and detoxify skin. Also, take a look at The Fennel Seaweed Body Treatment how-to from Zoē Anti-Aging & Wellness Spa in St. Catharines, Ontario, Canada, for a fulfilling fennel body service.
Professional product manufacturers are using this herb to round out their formulas as well, and some that feature fennel include Dermaxime's Cellumend Anti-Celluite Cream, which helps remove cellulite and the orange-peel effect. Moor Spa's Booster Cleanser Mask's fennel ingredient helps to deep cleanse the skin, and Pedicure by OPI's Massage is a moisturizing foot lotion with fennel. Additionally, En Vogue's Lemon Fennel Spa Products are soothing and rejuvenating for manicures and pedicures, Arbré Skin Technology offers Marine Plant Gel with sweet fennel to hydrate and decrease stress for the body, and Imee Beauty offers pure essential fennel oil for its balancing, cleansing and detoxifying benefits.
Ancient times
Hey, if it's good enough for Bobby Flay, it's good enough for me—and let's be honest, fennel was treasured long before the Food Network was created. In fact, it has been revered by many cultures since ancient times, and by adding it to your spa's treatment and cuisine menus, you can ensure it is treasured by your spa's clients, as well.
REFERENCES
1. www.whfoods.com/genpage.php?tname=foodspice&dbid=23
2. www.npr.org/templates/story/story.php?storyId=6710330
3. www.dermaxime.com/fennel.htm
4. www.botanical.com/botanical/mgmh/f/fennel01.html
(All accessed Jan 13, 2009)