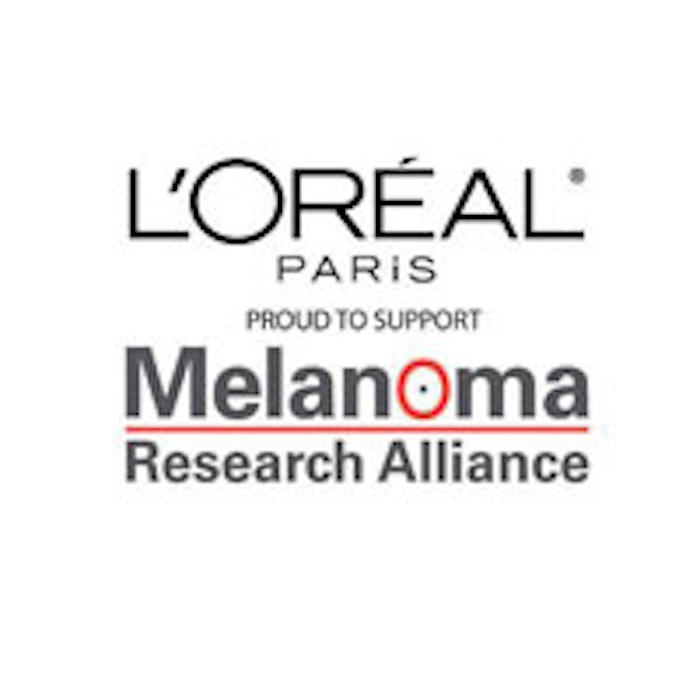 L'Oreal Paris, a leading global beauty brand, and the Melanoma Research Alliance (MRA), the leading private funder of melanoma research, announced today the launch of It's THAT Worth It, a public health call-to-action that urges women of all skin tones to prevent melanoma by using sunscreen and to help save lives by supporting cutting-edge melanoma research for a cure.
As part of the three-year partnership, L'Oreal Paris is donating $750,000 to MRA to help find a cure through the funding of the new L'Oreal Paris-MRA Team Science Award, led by internationally renowned cancer researcher Meenhard Herlyn, D.V.M., D.Sc., The Wistar Institute, Philadelphia, Pennsylvania. The donation will fund research exploring the role of 16 variant genes as co-drivers in melanoma susceptibility, development and progression.
"The Melanoma Research Alliance is an incredible organization that has made significant strides in funding melanoma research and advancing treatment. We are very proud to partner with MRA to help educate people on the importance of using sunscreen as the first line of defense against melanoma and to drive awareness around this disease," said Karen T. Fondu, president of L'Oreal Paris. "Through this collaboration, our hope is to drastically reduce the growing incidence of melanoma in this country, especially among young women, and to help every person realize that wearing sunscreen protects their beauty and their life because we are all worth it."
Celebrity broadcast and print PSAs are the first phase in a series of initiatives designed to rally the public to combat melanoma, the deadliest form of skin cancer and one of the most common cancers in women under 401. The PSAs drive the public to www.itsthatworthit.org to join Thunderclap, a worldwide crowd sourcing tool that amplifies a collective message. By signing up for the It's THAT Worth It Thunderclap from now through May 20th at 5 PM EDT, people can lend their reach to the cause, and send a synchronized message through social media, telling the world that they are committed to stopping melanoma through prevention and research. As a thank you, L'Oreal Paris will make a donation to MRA of $1 for each supporter who signs up for the Thunderclap and $1 for each L'Oreal Paris Advanced Suncare product sold in the United States—up to $250,000 in 2014.
"L'Oreal Paris' commitment to supporting groundbreaking research and rallying the public to stop melanoma from taking more lives is both incredibly inspiring and unprecedented," said Debra Black, MRA founder and melanoma survivor.
Melanoma Quick Facts
Melanoma of the skin is the deadliest form of skin cancer, responsible for 80% of skin cancer deaths.2
Melanoma is the fifth most common cancer diagnosed in the United States.3
The incidence of melanoma has tripled in the last 30 years, making it one of the fastest growing cancers.4
Melanoma is the third most commonly diagnosed cancer among adolescents and young adults aged 15–39 in the United States according to this 2012 study.
Very early stage (localized Stage 0 or 1) melanoma is greater than 90% curable with surgery, while patients with disseminated Stage IV melanoma have a median life expectancy of less than one year.6
For more information, please visit www.curemelanoma.org.
References