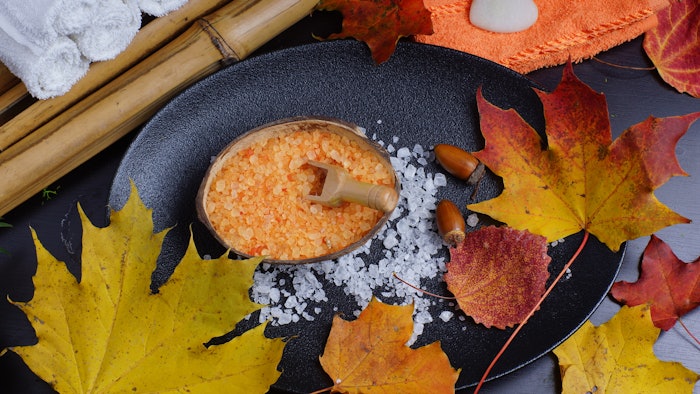 Fall is a fabulous time to get creative with your spa menu. Kohler Waters Spa, Eau Spa and the Spa at Ponte Vedra Inn & Club all spruced up their spa menus with some fun and functional treatments. 
Kohler Waters Spa
Milk & Honey Hydration Wrap. This full-body exfoliation removes dead skin cells and prepares the skin for an application of warm, local honey. After this is applied, the body is wraped up in warm linens. During the body wrap, a facial cleanse is performed with manuka honey balm and a pressure point facial massage. After the body wrap is complete, coconut oil and beeswax body cream will be applied to the entire body, and finishing products are applied to complete the mini facial. 
Milk & Honey Vitality Massage. This treatment starts with a dry brush exfoliation. Then warm Himalayan salt stones prepare the skin to receive the hydrating benefits of milk and honey oil. During the massage, there is an application of warmed, local honey that will hydrate and soothe the legs and feet. The service is complete with a nourishing beeswax and coconut oil body cream.
Eau Spa
Geneo 24 Karat Glow Glam Facial. This treatment uses vegan, natural ingredients that oxygenate and nourish the skin. The 24 Karat Glow Geneo Glam Facial improves elasticity and smoothness while increasing moisture and preventing collagen loss. The device uses technology to exfoliate and infuse the skin with serums. 
The Spa at Ponte Vedra Inn & Club
Fall Escape Body Wrap. The skin is first nourished with agave oil to prep for a sea salt exfoliation. This treatment uses notes of clove and nutmeg to provide a sense of fall, and guests are cocooned into a Texas wildflower honey glaze wrap. The service is completed with an organic cardamom coconut milk lotion, which is massaged into the skin. 
Swipe to C Facial. This facial uses a plant-based cleanser before using peel pads to refine the skin. A fruit acid peel mask is then applied, and the treatment is finished with an ageless whipped facial mousse. 
Vanilla Bubbler Pedicure. This treatment begins with a bourbon foot soak that is infused with vitamin E to prep the skin for a brown sugar scrub, infused with Kentucky whisky. The feet are then wrapped in a nourishing honey glaze and finished with a hydrating spiced organic cardamom and coconut milk foot massage.