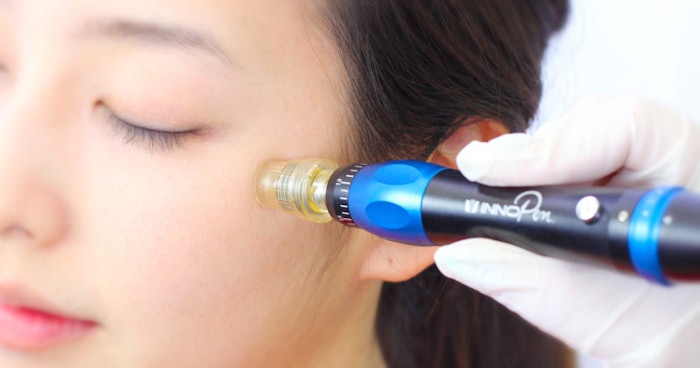 Microneedling and Collagen Induction Therapy (CIT)
Microneedling is one of the hottest topics in skin care today—and for a good reason. It's a clinically proven treatment that, when executed correctly, produces collagen and elastin in aging skin. This is known as Collagen Induction Therapy (CIT), a process in which microneedles puncture the skin to stimulate and manipulate the body's natural healing properties. This technology is a revolutionary improvement to traditional collagen-synthesizing therapies like dermabrasion, chemical peeling or laser resurfacing. Although these invasive therapies may offer results that are similar to microneedling, they are more likely to be accompanied with major downtime and a risk of serious complications.
Microneedling (or CIT) is a safe and effective method for all skin types to improve fine lines and wrinkles, acne scars, stretch marks, hyperpigmentation, alopecia, skin tightening, as well as a variety of other skin ailments.
To better understand how microneedling works, let's first take a closer look into the arena in which it performs. The skin is the body's largest and most essential organ; it is in a constant state of fluctuation. Dead cells of the outer layers are continuously shed and replaced by inner cells that move up toward the surface.
Skin is composed of two primary layers: the epidermis and the dermis. The epidermis is the outermost protective layer; it is meant to protect the body from outside elements and to act as a water-resistant barrier that prevents essential nutrients from leaving the body. The dermis—commonly known as the "true skin"—is the most important layer since it is home to the essential functioning components of the skin. This layer is made up of fibroblasts, which are primarily responsible for producing collagen and elastin.
Microneedling (or CIT) is a safe and effective method for all skin types to improve fine lines and wrinkles, acne scars, stretch marks, hyperpigmentation, alopecia, skin tightening, as well as a variety of other skin ailments.
Collagen makes up 70% of the dermis and it plays a vital role in the cohesion, elasticity and regeneration of skin. At the average age of 35, almost half of the collagen that we were born with is lost. As a result, degenerative skin changes can become visible. As the skin ages, it begins to lose its firmness and elasticity, but it can be rejuvenated.
During the process of microneedling, small micro-channels are created in the skin to activate the body's natural healing response. While vertical needle insertion and a fast perforation process renders less discomfort (in contrast to other collagen-synthesizing therapies), there is enough stimulation for the 'injured' skin to shift into "regeneration mode."  
During the regeneration cycle, the body intensifies the release of growth factors within the deeper layers of the skin. As a result, collagen and elastin production is accelerated to heal the wound, which builds new layers of healthy skin cells. The micro-channels that are created offer optimal opportunities for better absorption of therapeutic serums.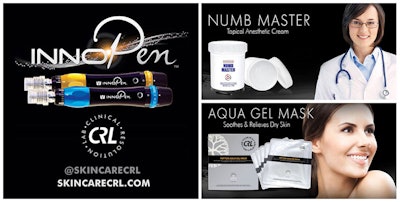 Not All Microneedling Devices Are Created Equal
As the global leader and pioneer of microneedling technology, Clinical Resolution Laboratory, Inc. (CRL) is proud to introduce the InnoPen™, a non-surgical and non-ablative medical instrument designed to unlock the beauty trapped within our skin.
The InnoPen™ features medical-grade needles that are precisely positioned to perforate the skin at a direct 90-degree angle. The device is an automated microneedling solution designed to operate with our patented double-protective (or "closed") InnoTip™ needle cartridges. This advancement in technology encourages a safer series of pulsating, stamp-like motions that cause micro-injuries to the skin. CRL also offers "open" InnoTip™ needle cartridges that allow for a gliding motion, however, the closed InnoTip™ needle cartridges are highly recommended to avoid the potential for micro-tearing of the skin. 
Clinical studies (available upon registering with SkinCareCRL.com) have shown that topical absorption is significantly increased when combined with microneedling. This exceeds the traditional application methods, utilizing creams and lotions that can contain molecules that are too large to penetrate through the protective coating of the epidermis.
CRL's Microneedle Therapy System™ includes the popular Numb Master™ anesthetic cream, the MTS Roller™, a variety of MTS Solutions™ and serums, as well as several facial masks that include the top-selling MTS Peptide Aqua Gel Mask™, which will cool, soothe and calm the treatment area while restoring moisture into the skin.
Since 2000, CRL has continued to act as a leader and pioneer of the microneedling industry. Throughout the years, CRL has established itself by serving physicians, estheticians, skin care professionals and consumers with superior skin care products and expert advice.
Flawlessly designed, engineered and constructed in the USA, the InnoPen™ is truly the most advanced, non-ablative, anti-aging device available on the market today!
To learn more, please visit CRL at SkinCareCRL.com and on social media @SkinCareCRL (on all major platforms).
To keep up with CRL on the trade show circuit, please follow their "Upcoming Events" on Facebook.
Disclaimer:
The above paid-for content was produced by and posted on behalf of the Sponsor. Content provided is generated solely by the Sponsor or its affiliates, and it is the Sponsor's responsi­bility for the accuracy, completeness and validity of all information included. Skin Inc. takes steps to ensure that you will not confuse sponsored content with content produced by Skin Inc. and governed by its editorial policy.