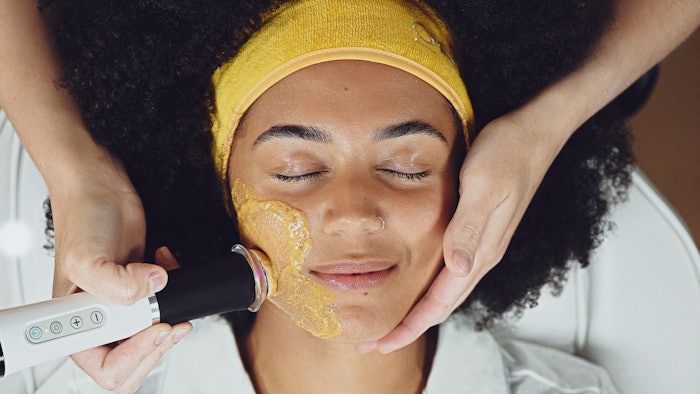 Geneo announced the launch of their latest facial treatment, Geneo Glam. The new addition makes six total treatment options available in Geneo's service offerings. The Geneo Glam treatment provides users with firmer, more glowing skin, especially in the summer months. The other facial treatments from the brand include: Balance, Detox, Hydrate, Illuminate and Revive. 
Geneo Glam is formulated with pure gold flakes and silk amino acids that prevent the loss of collagen and moisture, as well as improve skin elasticity and firmness. The treatment is designed to boost and enhance skin, while revealing a soft, more supple skin texture. The OxyPod minimizes the appearance of wrinkles with antioxidant and anti-inflammatory benefits. The treatment also features rosehip oil to speed up cell function for optimized skin removal. 
Related: 5 Sizzling Summer Spa Treatments!
"The new Glam treatment gives instant brightening, youthful, and refined results," said Angela Caglia, celebrity esthetician and brand ambassador for Geneo. "My clients love the Geneo Glow every time. The gold and silk amino acids truly boost and firm the skin for a supple glow."
The treatment's key ingredients include copper, silver, carnosine complex, hyaluronic acid, marula oil, rosehip oil and grapeseed oil. All of the ingredients are natural, and provide skin with the ability to oxygenate and rejuvenate from within.