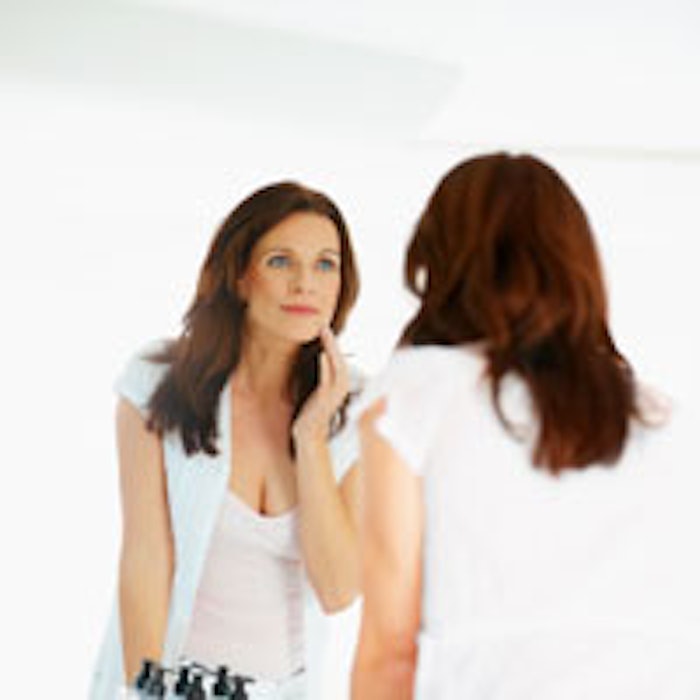 This content is adapted from an article on www.prime-journal.com, January 16, 2015.
The micro-focused ultrasound therapy, known as ultherapy, effectively lifts and tightens skin on the eyebrow and neck and under the chin without adverse effects for patients of all ages, according to a new study.
Sabrina Guillen Fabi, MD, a member of the American Society for Dermatologic Surgery (ASDS), conducted a retrospective study on the procedure, with results released at the recent 2014 ASDS Annual Meeting in San Diego.
Fabi and 2013–14 ASDS President Mitchel P. Goldman, MD, evaluated the results of Ultherapy treatments on 48 women, ages 39 to 85, treated in 2011. Assessments of the procedure's effectiveness included photographs taken before and immediately after treatment and at 90 and 180 days, plus physician and patient scoring of global aesthetic improvement. Physicians also conducted appraisals of the upper, mid- and lower facial areas.
Fabi and Goldman practice at Cosmetic Laser Dermatology in San Diego. Both conduct numerous clinical trials and studies, including "A Retrospective Evaluation of Micro-focused Ultrasound (MFU-V) for Non-invasive Treatment of Skin Texture and Laxity of the Neck and Face."
Fabi calls the dual-depth ultrasound procedure, "truly a game-changer. It is the only energy-based treatment that effectively and consistently penetrates to the depth of the superficial muscular plane that classically has been targeted with surgery."
Since 2010, the FDA has approved ultherapy four times—for non-surgical eyebrow lifts, non-invasive treatments for lifting the neck and under-chin areas, treatments with visualization to pinpoint delivery and, most recently, non-invasive treatments of the fine lines and wrinkles of the chest.
More than 80% of study patients noted improvement, with 62.5% reporting being satisfied or very satisfied at 90 and 180 days after treatment, Fabi says. The average improvement score from the physician assessments was 1.8—corresponding to fair improvement—at 180 days, on a scale from 1 to 4. "That is a good result for a single, non-surgical, no downtime procedure," she says.
Fabi adds that current protocols call for higher density than in the 2011 study period. The increase from 500 to 800 lines for full treatment of the face and upper neck provides "more consistent and better results."
Because the two physicians wanted to know how ultherapy worked by itself, as opposed to in partnership with another therapy, the study group included only those patients who had Ultherapy alone, Fabi explains.
The patients had an average body mass index (BMI) of 22; a BMI of 25 is considered overweight and 30 is considered obese. "This treatment is not simply melting fat in fuller faces," Fabi says. "This study shows targeting and treating the superficial muscular layers provides a meaningful lift."
Fabi and Goldman also studied patient age to see if they could obtain guidelines for treatment recommendations. They stratified the patient groups, with half more than 60 and half younger than 60.
"We found there were good results no matter what the age of the patient, which helps us know to whom we can recommend the treatment," Fabi adds. "Will you look like a 40-year-old if you're 60? No, but you will still have a meaningful result."
Particularly for patients who want to avoid invasive surgery, ultherapy—developed by Ulthera, Inc., which recently was acquired by Merz Aesthetics—is another useful treatment tool that delivers improvements, she said. "It provides 'natural' results," she says. "The goal is to help people look and feel their best at any age."