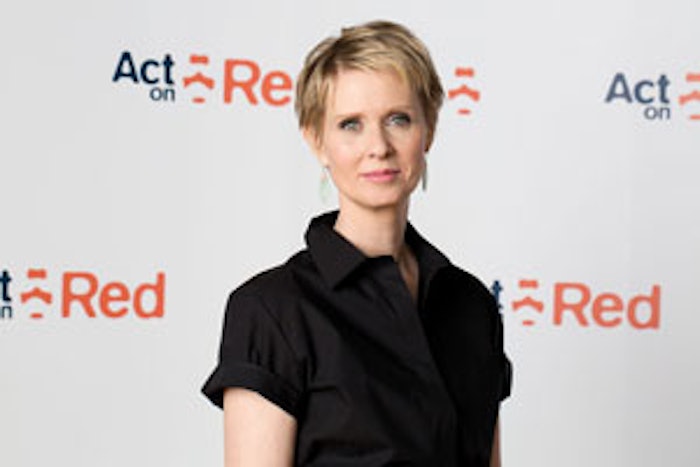 "Sex and the City" actress Cynthia Nixon spoke out about her experience of rosacea in support of 'Act on Red', a new global disease awareness program urging fellow sufferers to seek help for their condition. The awareness program, supported by leading dermatologists, launched today alongside new research data from the Face Values: Global Perceptions Survey.
The survey shows how the lives of people with facial redness associated with rosacea are affected by the condition, as well as how other people perceive them. Results show:
Facial redness affects sufferers emotionally (77%), socially (67%), at work (63%) and in their relationships/dating behavior (53%); and
Nearly two thirds (62%) of people with facial redness agree it embarrasses them, with 56% indicating that flare-ups cause most embarrassment when they had a business meeting, presentation or job interview.
Nearly half (46%) of all people with facial redness associated with rosacea believe their redness changes others' perceptions of them and the survey findings confirmed their fears—overall, first impressions were more negative for faces with redness. As perhaps it might be expected, the physical attributes of facial redness were directly linked to sufferers being more likely to be perceived as sick, tired, unhealthy, and stressed.
However, respondents also formed judgements about sufferers' personalities. Those with facial redness were less frequently perceived as intelligent, reliable, successful and trustworthy compared to people without redness. They were also judged less likely to be in a relationship, less likely to be in a professional job and less likely to be hired for work. These results align with psychological studies that show that a single glance of a face is enough for people to make automatic judgments, including an array of social assumptions about their personality and other traits.1
Facial redness is a common and persistent symptom of rosacea, a treatable skin condition known to affect around 40 million people worldwide.2 Sufferers have a characteristic pattern of persistent redness with intermittent flushing on the forehead, chin, cheeks and lower half of the nose, often accompanied by a burning or stinging sensation, and started or exacerbated by particular triggers.
Cynthia Nixon was in her 30s when she first experienced facial redness and rosacea symptoms that were often triggered by spicy foods, red wine and hot baths. Several years later she was eventually diagnosed with rosacea after a visit to her dermatologist for an unrelated matter. Lending her personal support to Act on Red, Cynthia commented: "We all want to make a good first impression and, not surprisingly, skin appearance can play a key part in how you feel and how others perceive you."
Reflecting on her own experience, she continues: "My facial redness used to affect my confidence on set and at big social occasions and I struggled to manage what I thought was a recurrence of acne, like I had when I was a teenager. So it was a relief when my dermatologist told me I had rosacea as it has transformed the way I can manage my symptoms and better understand my triggers. Rosacea might always be on your mind but it doesn't have to be on your face. Programs, such as Act on Red, are important to help people recognize their symptoms and get the professional help they need."
The Face Values survey also showed that diagnosed rosacea sufferers are twice as likely (39% vs. 20%) to have their symptoms under control, yet under-diagnosis remains a significant barrier with approximately only one in ten sufferers receiving a formal diagnosis from a doctor or dermatologist.3
Commenting on the results, Professor Thomas Dirschka, Head of CentroDerm-Clinic Wuppertal, Germany said, "As the redness associated with rosacea is predominantly in the facial region, it affects the physical appearance of a sufferer and is instantly visible to the world at large. Not only is it a physical barrier but facial redness can also become a worry and an embarrassment for sufferers. We hope that those affected by facial redness won't feel disheartened by the results of this survey but reassured that they are not alone and help is available." Reflecting on the impact on sufferers' daily lives he continued: "Facial redness doesn't have to hold you back and it's not something you have to put up with. Treatments are constantly advancing and the results from the survey highlight the importance of seeking advice and getting your symptoms under control."
References
Mende-Siedlecki P et al. The social evaluation of faces: a meta-analysis of functional neuroimaging studies. Soc Cogn Affect Neurosci (2012) doi:10.1093/scan/nsr090.
Shanler S, Ondo A. Successful treatment of the erythema and flushing of rosacea using a topically applied selective a1 adrenergic receptor agonist, oxymetazoline [abstract taken from J Am Acad Dermatol. 2008;58(2):AB9]. Presented at: American Academy of Dermatology 66th Annual Meeting; February 1-5, 2008; San Antonio, TX.
Data on file. Galderma S.A. Face Values: Global Perceptions Survey. 2013.
Data on file. Galderma Market Research.