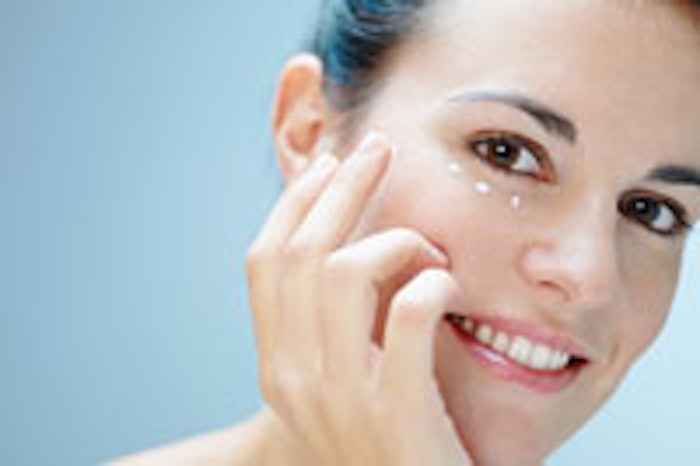 By Whitney Johnson, the global education developer for The International Dermal Institute.
In 2012, 14.6 million cosmetic procedures, both invasive and non-invasive, were performed to date according to the American Society of Plastic Surgeons (ASPS). Of those procedures, eyelid surgery ranked No. 4 for surgical procedures, and Botulinium toxin type A was No. 1 for minimally-invasive procedures. It is no mystery that people are concerned with the way their eyes look or how we age around the eye area.
So what can a professional skin therapist offer to a client who is concerned about the eye area, but is not a candidate for eye surgery or is hesitant to get injections? The answer is easy – electrical modalities.
Electrical modalities, best offered in a series, may be combined with key ingredients for results-oriented treatments. They're great because they can be used over the whole face, or they can target the eye area and treat signs of aging while being minimally invasive. Try these electrical modalities in your eye treatments:
Ultrasound: A versatile modality that can be used for cleansing, exfoliation or penetration of complexes, masques and moisturizers. Sound waves produce a warming of the tissue and micro vibrations on the surface of the skin, causing tiny gas bubbles known as "cavitation." These gaps between epidermal cells, combined with tissue warming, allow for ingredients to penetrate. This is excellent to use around the eye area with a vitamin cream-based masque or a cooling gel masque to help minimize fine lines and signs of dehydration.
Iontophoresis: Iontophoresis with galvanic current and specific iontophoresis with microcurrent allow water-soluble products to permeate into the skin via electrical current. Both methods produce a calming and vasoconstrictive effect on the skin, while driving active ingredients deeper into the skin. Use the ball head with galvanic current to better target the eye area, and combine it with complexes, serums, or a cooling gel masque to whisk away tired eyes.
Microcurrent: Microcurrent isn't only for specific Iontophoresis to penetrate water-based products, it can also be used for muscle re-education and is a great way to help re-program the muscle fiber. A series of treatments can be used in place of Botox injections, or muscle re-education can be used to prolong and enhance the effects of injections. Stimulating ATP (adenosine triphosphate) will also stimulate photosynthesis, muscle contractions/re-education, and protein synthesis, all helping to minimize lines.
Electrical modalities are just another way of targeting concerns around the eye area. Combine this with professional treatment products and a great home care prescription and watch the signs of aging disappear.