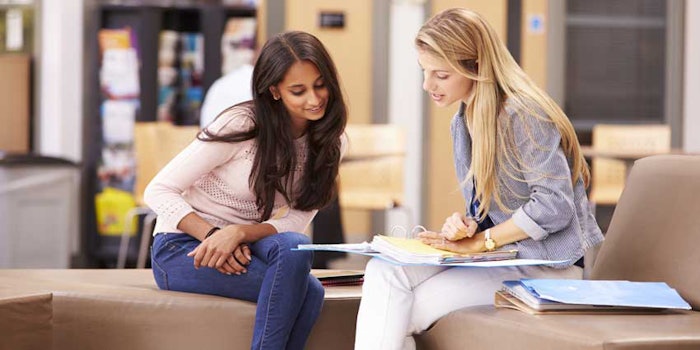 It's back to school time, and that means some of your teenage clients are leaving the nest to go to college. They are going to be staying up late, having all kinds of fun and probably devoting less time to their skin care. Keep them looking and feeling fabulous with these essentials.
1. Cleanser. This is a no-brainer, but make sure you set clients up with a cleanser formulated for their skin type that removes all impurities without stripping the skin and is easy to use. Also, make sure if a larger size is not available, you are sending them with two—you don't know when they will have time to purchase more.
2. Essential Oils. College dorms are a cavalcade of scents, most of them unpleasant. Introduce your college client to the wonderful world of essential oils. Let them explore which scents they like and educate them on how some can benefit their sleep, concentration and health.
3. SPF. They got into college, so one would assume they are smart enough to use sunscreen. Make sure you send them with a daily SPF and remind them that the UV rays are still penetrating during the winter months.
4. Moisturizer. Chances are your college client is going to need extra moisture while they're away. Select an affordable, lightweight daily moisturizer for your client that is formulated for their skin type. Think about one with hyaluronic acid for an extra moisture boost.
5. Cleansing Device. After a late night studying, your clients may not be keen on doing a thorough cleanse. Recommend a cleansing device such as an ultrasonic scrubber, silicone cleansing device or cleansing brush to assist them in removing dirt, makeup and pollution from their skin.
6. Mask. Masks are an effective way to treat the skin while your college client is studying. Choose one for their skin concerns, and mix it up with different textures or perhaps some sheet masks for an element of fun.
7. Toner. This may be the one step your client may skip, but it is oh so important! Recommend a toner in a scent they like, so you can be sure they are balancing their skin morning and night.
8. Hand Cream. Let's hope those going off to college are still practicing regular hand washing. Recommend a moisturizing hand cream for them to keep in their backpacks.
9. Exfoliant. Exfoliation is important, but it shouldn't be hard. Make sure clients aren't purchasing harsh exfoliants by recommending one for them and guiding them though frequency of use. Consider a gentle enzyme with a nice fruity scent.
10. Spot Treatment. Even with proper skin care, acne happens, and no one wants a breakout when trying to meet new people in college. Recommend a good spot treatment to keep your client from picking their pimple and to keep them calm and confident.
Special Delivery
Skin Inc. would like to send a very heartfelt congratulations to #10Things author Deedee Crossett and her family on their recent addition, a sweet baby girl. Welcome to your new bundle of joy, and we are sending you wishes of health, happiness and plenty of sleep.