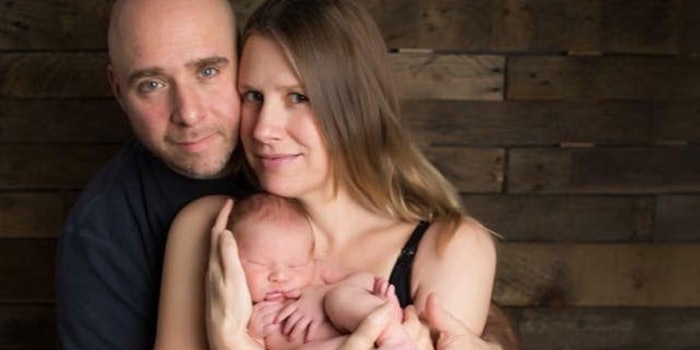 I consider myself very fortunate to practice in the nutrition and skin care field, as a clinical nutritionist and co-owner of a skin care company. In both areas I get to live out my personal life mission to help others, and also our company mission to "uncover the brilliance that comes from comfort in your own skin." So, when my dear friend Jennifer (here referred to as Jen) came to me with her concerns about becoming pregnant and managing her lifelong battle with cystic acne, I felt compelled and excited to help. Our staff esthetician Tracey Coleman was also eager to help Jen achieve her goal, and her expertise, experience and treatment techniques were invaluable as we began this journey together.
Meet Jen
At 40 years old, Jen is a seasoned yoga instructor, business woman, animal rescue volunteer, nature lover and consumer of wholesome food. She radiates positivity and a desire to help make the world a better place. Preparing to have your first baby at age 40 can be a little scary, as the incidence of a range of health conditions and complications increase dramatically. To top it off, Jen had been taking strong acne medications along with the birth control pill to manage her cystic acne. She knew that she had to get off these medications and clean her system before becoming pregnant. As a mother of three sons myself, I was elated for my friend to be joining the world of motherhood and offered to work with her on both her nutrition and skin care as she prepared for pregnancy.
Nutrition Plan
We began six months prior to attempting to get pregnant. After Jen went off her medications, the most important thing was to cleanse her body of the toxic chemicals it had been exposed to in the medications she was taking. Our secondary goal was to use food to regulate her own hormone production so she could return to a regular cycle quickly. Our detox plan involved an organic diet composed of high quantities of vegetables, lean and clean protein sources and plenty of clean water.
Some foods especially helpful for detoxification are:
Green leafy vegetables;
High fiber plant foods like chia seeds;
Lemon water;
Cruciferous vegetables like broccoli and cabbages; and
Allium vegetables like garlic and onions.
In addition, Jen drank a powdered green drink that contains several types of beneficial greens, adaptogen and liver supporting herbs, antioxidants, and probiotics. It also provides a nice dose of vitamin D, which is critical to increase during pregnancy. Jen took a clean prenatal vitamin and a high quality fish oil supplement daily to ensure her EPA and DHA were at a high level to support brain development in the fetus.
To help Jen's body get back on track with its own hormone production after being altered by the birth control pill for so long, I suggested a supplement that aids with pushing your estrogen down a beneficial pathway to help with this process. She took diindolylmethane (DIM), a compound that is an isolate of the beneficial hormone regulating compounds found in cruciferous vegetables.
Additional nutritional support for Jen's acne included the elimination of dairy products, addition of omega 3 supplements and a concentrated effort to eat those allium vegetables. Jen drank lemon water with either mineral water or filtered tap water and avoided eating and drinking from plastics. This plan was easy for someone like Jen who enjoys eating well.
Skin Care Plan
On the skin care side, we started a regimen of bi-weekly facials at our treatment room and an at-home skin care tourine*. As with all treatment regimens, we started out moderately and made observations and adjustments along the way.
The skin care we used did not contain potentially harmful chemicals, which are too many to list here. The big no-nos that were not present in the products were parabens, phthalates, sulfates, petroleum, artificial colors and fragrances. After conception, we discontinued the use of some products, as it is recommended that certain topical ingredients not be applied during pregnancy, such as: retinoids, salicylic acid, azeleic acid and essential oil blends. We removed these products from Jen's regimen once she saw those double pink lines on the pregnancy test stick.
The basic philosophy of the skin care regimen was to gently manage oil production and bacterial overgrowth while encouraging healthy cell turnover via exfoliation. We kept Jen's pores clean and supported her skin cells with essential moisture and antioxidants. Her treatment plan included bi-weekly facials with microdermabrasion and an at home skincare regimen. They closely followed our treatment protocol for rosacea, working cautiously with her delicate skin, often with lowered vacuum pressures for the microderm, or diamond instead of crystal, to the client's comfort level.
Facial Protocol
Step 1. Prepare for the peel by applying a resorcinol mixture that softens and desincrusts the skin. After 3 minutes, buff off with wide weave gauze then rinse with water.
Step 2. Apply 30% glycolic acid. After 3 minutes, neutralize and dry skin completely.
Step 3. Perform microdermabrasion treatment on full face.
Step 4. Apply layer of a cooling and refreshing oil-free gel with arnica, calendula, chamomile, aloe and honey to moisturize and calm the skin without clogging pores. Follow that with a generous layer of a kaolin mask that also contains aloe, squalane and jojoba to draw out impurities while calming and moisturizing the skin.
Step 5. After 8-10 mins, remove with hot towel and perform extractions
Step 6. Perform a hand massage with a soothing massage oil to relieve stress and induce relaxation. Use a base such as jojoba, coconut or peach kernel oil, which are well absorbed by the skin. The essential oil component should contain frankincense, lavender, mandarin and neroli to relax the client. The relaxation component of a the treatment protocol is designed to help manage stress hormones, which can flare acne.
Step 7. Apply thin layer of the cooling oil-free gel and follow with a moisturizer that contains vitamin E, calendula and cucumber too soothe, while green tea helps protect from environmental assults.
Step 8. Finish the treatment off with a nice eye cream and a broad-spectrum sunscreen. Choose an eye cream with peptides and botanical ingredients to support dark circles, puffiness and redness the eye area. Make sure the sunscreen has an SPF of 30 and choose a mineral sunscreen to avoid causing inflammation.
Home Care Routine
Morning
Step 1. Cleanse with a natural lecithin, glycerin and coconut oil bar ideal for acneic skin.
Step 2. Swipe face a witch hazel based toner infused with antioxidants from green tea, grape seed and vitamin C to cleanse and nourish without stripping.
Step 3. Apply a thin layer of the oil-free gel mentioned above for soothing moisturization.
Step 4. Finish with SPF 30 broad spectrum sunscreen.
Evening
Step 1. Cleanse with the cleansing bar.
Step 2. Swipe face with the toner mentioned above.
Step 3. Apply a thin layer of a poly-AHA combo of lactic and glycolic acids with salicylic acid  to encourage skin cell turnover. This product is discontinued during pregnancy.
Step 4. Apply thin layer of a vitamin C infused moisture lotion with rosemary extract to support capillary function and inflammation in delicate skin types.
Step 5. Apply the eye cream mentioned above sparingly. A small drop is all that is needed.
As needed. For breakouts or inflamed days, apply the oil-free gel followed by a paste made from the cleansing bar to spot treat blemishes. Follow with the kaolin mark for soothing moisture.
Close
The end results far exceeding everyone's expectations. Jen's skin was nearly perfect during her pregnancy. She had a few minor blemishes, but never experienced the cystic acne that plagued her during the years prior. Jen and Frank welcomed their son Charlie into this world, a perfectly healthy, happy and beautiful baby boy.
We are all so thankful to have contributed in a small way to this joyful outcome and hope to raise awareness about the potential dangers that personal care products can pose to our babies. The truth is that you don't have to sacrifice vanity for safety, and that with a thoughtful, holistic treatment approach that considers all of the inputs to healthy skin (nutrition, stress, sleep management, topical products and mechanical treatments) you can achieve great results.
Note: The nutritional and skin care advice offered to Jen was personalized for her and was monitored in partnership with her doctor and nutritionist. Anyone wishing to take nutritional supplements should work with a professional and always consult their doctors.
*Disclosure: Products used in these protocols included retail and professional dmSkincare products along with MegaPeel EX microdermabrasion.