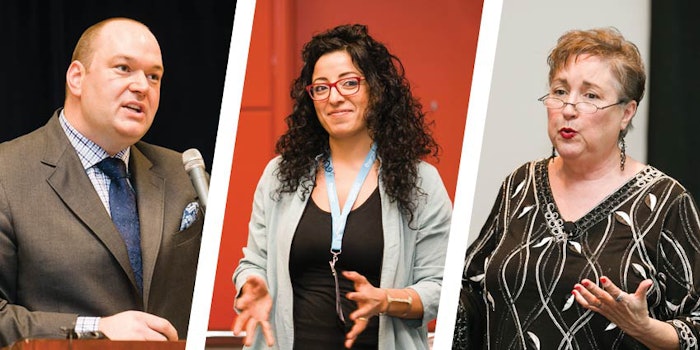 Successful professionals always look to expand their knowledge with education to further their career, and professionals in skin care are no different. Industry educator Terri Wojak once noted, "It is not about learning a few things, it is the job of each professional to learn as much as possible in the industry and form their own opinions."1
To expand your skin knowledge, look no further than Face & Body Northern California, Aug. 22–24, 2015, which will once again host the Advanced Education Conference Program on Aug. 22, 2015. The conference will not just educate you in one aspect of your career, but in all. Expert speakers will discuss the most important facets of your career, including: anti-aging skin care, massage, waxing, employment law, customer service, nutrition, essential oils and more. But rather than trying to talk you into attending, I will let the content convince you.
Regulating Devices
The conference will open with a very important, yet hot button issue—device regulation. Innovation continues to propel new device introduction, but while the creation and promotion of these devices has been rapid, the regulations surrounding them remains unclear and varies by location. These devices need to be used for efficacious treatments, so skin care professionals must somehow wade through the uncertainty to learn what they can or cannot do.
To clarify the issue for estheticians and spa owners, a panel of experts, including: Terri Wojak of True U Esthetics, Susanne Schmaling of Associated Skin Care Professionals, Kristy Underwood of the California Board of Barbery and Cosmetology, and David Suzuki of Bio-Therapeutic, will disuss the rules and regulations of devices and field common questions from attendees on the subject.
After the opening session, attendees can choose from four product-neutral tracks, including Business, Wellness, Face and Body.
Business
Topics addressed at the Business track are sure to improve your spa's bottom line. John Treadwell from Fabulous Face Presents will introduce a concierge model for a new approach to a spa's customer service. Addressing employment law will be Lori Hultman, a lawyer and partner at Hultman, Sensenig and Joshi, P.A. Jesse Cormier, director of industry relations for the Associated Skin Care Professionals, will address common spa pitfalls and advise how to keep clients and your business safe. Fabienne Lindholm will talk about the needs and wants of different generations of spagoers. Finally, Deedee Crossett will talk about attracting and retaining the top spa talent.
Wellness
In the Wellness track, which is a new addition to Face & Body Northern California, Linda Bertaut of Bertaut Beauty will talk about transformative esthetics, the concept of addressing psychological well-being for total wellness.
Naturopathic physician Erin Madigan-Fleck will explain how nutrition can affect the health of the skin and recommend dietary suggestions for the esthetician to give clients.
Incorporating the principles of yoga in skin care will be Denmo Ibrahim of Earthbody. The healing properties of essential oils will be addressed by Kim Manley of KM Herbals. Finally, Janel Luu of Le Mieux will describe how to improve the skin by harnessing the Traditional Chinese Medicine concept of meridians during a facial massage.
Face
What would a Face & Body conference be without addressing the face? Some of the biggest concerns addressed by the esthetician involve the signs of aging, such as hyperpigmentation, wrinkles, sagging skin and luminosity.
Tackling that topic will be Michael Pugliese of Circadia in a talk about the different mechanisms that age the skin and introducing ingredients that can reduce the signs of age.
Also speaking on aging will be Ivana Veljkovic of PCA Skin, with a presentaiton on the most beneficial ingredients and treatments to use on aged skin.
Robert Manzo of Skinprint will also discuss anti-aging, but with a specific focus on peels.
Clients seeking anti-aging treatments are often also concerned with adult acne. Mark Lees of Mark Lees Skin Care will talk about the different kinds of acne that affect adult skin and delve into the treatment protocols that can be used.
We would be remiss if we talked about the ways to treat acne and hyperpigmentation, but did not provide the methods to cover it up. Addressing this subject will be makeup artist Candace Corey, who will introduce the art of disguise for troubling skin conditions.
Body
Rounding out the day's concurrent tracks will be the body. Becky Kuehn of Oncology Spa Solutions will talk to attendees about treating the cancer patient, with a specific focus on addressing their sources of pain.
Meanwhile, Robert and Melanie Sachs of Diamond Way Ayurveda will explain how to use India's ancient metal, Kansa, for healing results in both massage and esthetic practices.
Industry veteran Rebecca Gadberry will return to the Face & Body stage with a presentation of the skin's microbiome, i.e. the microbes on the skin, noting how they can be used for good. Lisa Jenks, M.D., of Genesis MedSpa will join the track to discuss noninvasive treatments for body fat and cellulite. Finally, Crickett Enos of The Wax Chick, will explain and demonstrate the skill of male waxing, with an emphasis on sensitive body regions.
With the wealth of expert presentations at Face & Body Northern California's Advanced Education Conference Program, the question is not whether you should attend, but how will you will possibly choose which classes to attend. But I guess you could say that I am a little biased.
When thinking about attending the conference, don't forget about the event's other resources, including Supplier Classes, Massage Area and, of course, the Expo Hall floor. Just be sure to use your time wisely to get the most out of the event for your business.
REFERENCES
(Accessed May 13, 2015)
Katie Anderson is the conference program coordinator for Face & Body and the managing editor of Skin Inc.