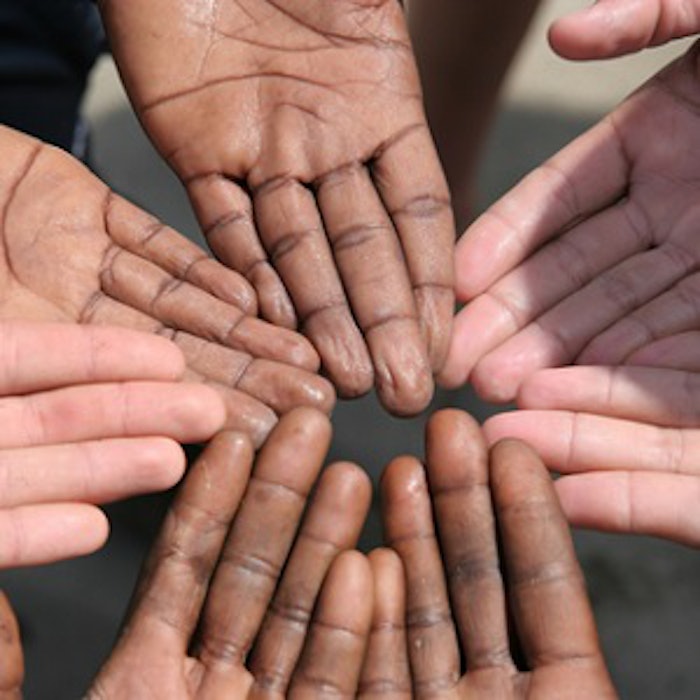 Skin care professionals who ignore the phenomenon of the growing multitude of races in the United States are out of touch with reality concerning the skin care trends that will dictate their esthetic careers in the near future. Those who feel they don't need to learn treatments specific to people of color or make ethnic skin a part of their target market will miss the opportunity to learn how to successfully work with this ever-increasing population.
Global skin
Just look at the rainbow of skin colors that make up various skin types. Cosmetically speaking, black skin has a wide range of color variations—from a light coffee color to deep ebony black. Asian skin exhibits hues that range from light yellow to a dark, golden tan. Native American skin colors vary with respect to different tribes and have coloring that ranges from light to dark red-brown. Even white skin is often misinterpreted visually and placed into inaccurate categories. Caucasian skin ranges greatly from milky alabaster white to dark olive skin tones.
Skin of color is not darker because it holds more melanocytes, which produce the melanin that creates pigment; there actually are approximately the same number of melanocytes present in light and dark skin. The cells of skin of color are larger, not more numerous. They produce more pigment, allowing for better photo-protection from UV radiation, which helps delay the appearance of photoaging. The melanocytes of those with darker skin are more active and prone to excess pigment deposit, which is one important reason that skin of color must be treated gently during exfoliation.
The stratum corneum of darker skin types is more compact and prone to cohesion. Transepidermal water loss (TEWL) tends to be greater in African-American and Asian skin. Losing excessive moisture leads to a reduced ability for the skin to protect itself against topical offenders. This impaired barrier function is thought to contribute to heightened sensitivity to topical stimulation, such as chemical peels. Skin of color also tends to have larger oil glands, leading to more oil production and increased incidences of acne. All of these details are important to take into consideration as skin care professionals create treatment plans for clients of color.
Post-inflammatory hyperpigmentation (PIH). One of the most common skin conditions seen in skin of color is PIH. It is estimated that 65% of African American and Hispanic clients, and 18% of Asian clients experience some form of hyperpigmentation.1 The common link to any pigmentation disorder is inflammation. This may occur from skin inflammation due to acne conditions; other skin eruptions and irritations; misuse and overuse of certain skin care products; and over-stimulation due to invasive skin care treatments. Darker skin differs from Caucasian skin in its reactivity and clinical presentation.
Medications, cosmetics, inflammatory skin diseases, adverse reactions to chemicals and ingredients, and heat and laser treatments can also be sources of pigmentation disorders. There are certain precautions that must be taken when treating PIH, whether it is being done via a home-care regimen or professional skin care treatments.
Other common skin conditions experienced in skin of color and treated by skin care professionals include acne, acne-scarring, melasma and facial wrinkles. And contrary to popular belief, all people of color experience fine lines and wrinkles as they age—some even experience deep facial wrinkles. Wrinkles are an inevitable part of the natural aging process. As skin-of-color clients become older, their skin gets thinner, drier and less elastic. The skin's ability to protect itself from damage is also reduced with age. Eventually, wrinkles, creases and lines form on the skin. However, clients' genetic makeup also can influence how wrinkly they become, and when and where wrinkles start appearing.
Consultation is key
A critical part of treating any skin condition is the consultation process prior to a professional treatment, especially exfoliation. The consultation should determine the client's hereditary background, which will provide clues about how that particular client will respond to exfoliation services, such as chemical peels. Making treatment determinations based solely on how a client looks is not sufficient to avoid complications. Ask about her family's hereditary history, because those from equatorial regions are more likely to have sensitive, reactive skin prone to hyperpigmentation. Having a solid understanding of the specific characteristics of skin-of-color and blended-heritage clients will allow you to make better and more appropriate treatment choices, and provide outstanding outcomes for all of your clients.
Customizing professional treatments that simultaneously address many conditions—such as acne, acne-scarring and pigmentation issues—while avoiding unnecessary inflammation, is a clear choice for treating clients. The best approach is to enhance the natural resilience of the skin by slowly increasing the potency of the exfoliation process to yield the fastest results with the least amount of downtime. This can be done by prepping the skin with a series of mild to more aggressive peeling procedures. Building and layering peels is a skin care method that must be customized to the client's current skin condition, as well as exposure to skin care treatments and advanced peeling methods, for optimum results.
Novice skin-of-color clients. New to skin care, the novice skin-of-color client has never had a skin care treatment before. She has never been under a physician's care for skin care conditions or disorders, and is not using any skin care prescription medications, nor does she have a home-care regimen.
To prep novice skin-of-color clients for peels, conduct a deep cleansing facial and suggest a home-care regimen that includes the use of acid-based product for 2–4 weeks.
Experienced skin-of-color clients. This client has had skin care services in the past, such as enzyme or chemical peels, or microdermabrasion treatments, but not on a consistent basis. She also uses acid-based products in her home-care regimen.
The following enzyme peel layering method is suitable for experienced skin-of-color clients:
Single-enzyme peel treatment—incorporate one fruit acid-based enzyme into the facial treatment;
Double-enzyme peel treatment—incorporate two fruit acid-based enzymes into the facial treatment; or
Triple-enzyme peel treatment if the client's skin has a high level of resilience—incorporate three acid-based enzymes into the facial treatment.
All treatments can be performed on a biweekly or monthly basis, depending on the client's skin sensitivity.
Seasoned skin-of-color clients. A regular skin care client, the seasoned skin-of-color client has had a series of chemical peels, microdermabrasion or laser treatments. She uses acid-based products in her home-care regimen on a regular basis and has used prescriptive medications for skin care conditions. This client is focused on correcting a current skin concern and committing to a skin care maintenance program.
The following chemical peel methods are often safe for seasoned skin-of-color clients.
Buffered glycolic/alpha hydroxy acid (AHA) peel—series of two treatments;
Medical-grade glycolic/AHA peel—series of two treatments; or
Micropeel—series of two treatments.
All treatments can be performed on a biweekly or monthly basis depending on the client's skin sensitivity.
Contraindications to keep in mind
Remember that possible contraindications can occur when treating clients with skin of color. While treating skin conditions, surface hypopigmentation may occur. Be sure to discuss this with clients so they are aware of the possibility. Hypopigmentation is treatable and most likely temporary. Normally within 2–8 weeks, the pigment will naturally return. Acne conditions may also worsen, but this is part of the healing process. They will usually begin to diminish within a week or two.
Be cautious with skin-of-color clients who use prescription medications, which will cause skin to become thinner and much more sensitive. This should be discussed in the initial consultation, and any medication that you are not familiar with needs to be approved by the client's physician before proceeding with any facial or peel treatments.
Skin care professionals must prepare for the prospect of clients with increasingly high Fitzpatrick skin types, and learn to recognize what is appropriate and inappropriate concerning skin care treatments, ingredients and products for skin of color. Global skin is the future of your skin care clientele.
REFERENCES
1. www.ncbi.nlm.nih.gov/pmc/articles/PMC3339139
(Accessed Aug 15, 2014)
GENERAL REFERENCES
aucops.files.wordpress.com/2013/04/dermatologic-cosmeceutic-and-cosmetic-development-therapeutic-and-novel-approaches.pdf
www.skininc.com/treatments/facial/171838281.html?page=1
(All accessed Aug 15, 2014)
JoElle Lee, licensed esthetician, speaker, educator and mentor in the esthetics industry, is the founder of JoElle Skin Care and is the personal esthetician for First Lady, Michelle Obama.