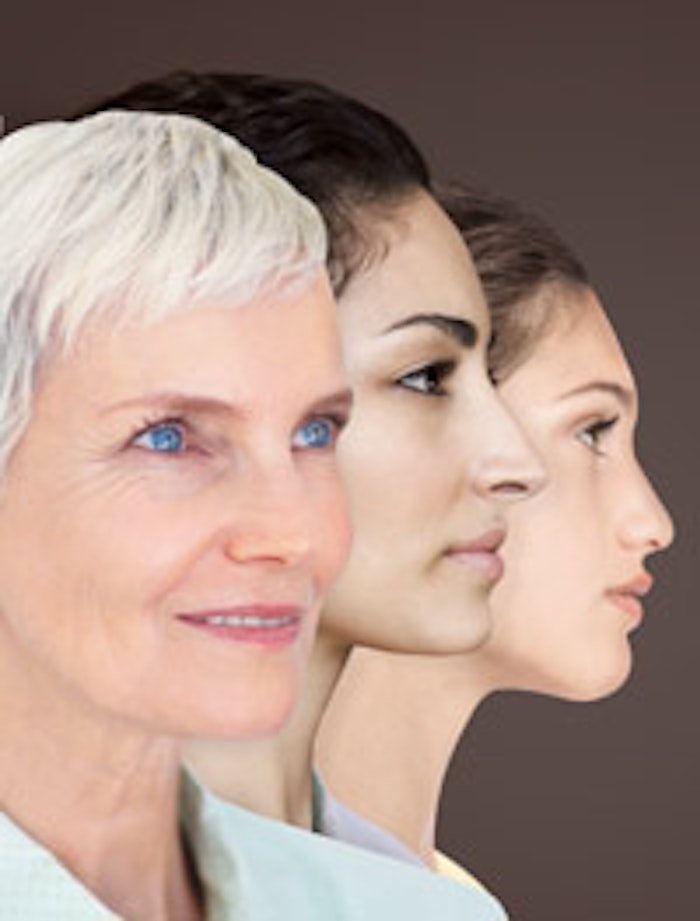 As always, Skin Inc. magazine recommends that skin care professionals obtain the proper training before offering any new treatments in their skin care facility.
Professionals encounter a number of skin challenges, but there's perhaps none more pervasive than aging. Nobody can escape the passage of time and its effects on the skin ... at any age.
You likely have clients at both ends of the spectrum—young women in their 20s with significant signs of aging and mature clients in their 60s with minimal damage—and everything in between. Thankfully, advancements in skin care allow you to build preventive and corrective regimens that help clients achieve their youthful skin goals at every stage of their lives.
How the skin ages
Two primary culprits cause skin aging: intrinsic and extrinsic agers. Intrinsic, or internal, refers to the biological aging that occurs with the passing of time. It is the less controllable of the two factors, as it is namely genetic programming and physiological decline. Extrinsic, or external, are more controllable factors, such as sun exposure, smoking, sleep, diet and stress—lifestyle factors and personal choices.
Although the skin can repair itself, this ability to recover slows as a person ages. This is compounded by oxidative stressors, such as free radicals, which penetrate skin cells, breaking down collagen and impacting its DNA structure. Over time, the cell is more likely to replicate the damaged cell and they multiply.
Collagen, which is responsible for limiting the appearance of fine lines, wrinkles, and saggy, slack and crepelike skin, also decreases production with age. Signs of aging occur when the fibroblast cells that restore damaged collagen fibers can no longer complete the repair.
Two of the most valuable age-reversal components to help clients prevent further damage and deterioration are retinols and an SPF 30 physical sunscreen. Treatment programs and home-care regimens that include retinol focus on breaking down the skin, and rebuilding, repairing and protecting it.
In addition, antioxidants, such as L-ascorbic acid, also help reverse the effects of aging. Topicals rich in antioxidants will help firm, tone, tighten and refine lines, and give skin an overall glow. Clients also should look for ingredients, such as ascorbic acid, tocopherols, retinoids and L-lactic acid, to name a few. The trick with topical antioxidants, however, is that they must have an adequate delivery system and be absorbed into the epidermis to impact the cell.
Of course, sun protection is important for preventing further deterioration. An SPF 30 worn daily will help prevent much of the aging effect. Remember, most of the skin's aging—dehydration, cell decline and damage, and discoloration—is a result of sun overexposure. Be sure to educate clients at every age about the significance of proper protection and always integrate a broad-spectrum sunscreen with at least SPF 30 into their treatment plans.
Teens
Teens may not require an anti-aging regimen, but getting them started in the routine of caring for their skin will help prevent premature aging and address one of their most common concerns: acne. Therefore, it is beneficial to focus on prevention and education with your teen clients.
In the treatment room. Teens tend to gravitate toward 30-minute express treatments. See Teen Express Facial for a step-by-step treatment.
Home care. Educate your teen clients about how to create a healthy skin environment by using proper cleansing techniques and emphasizing the importance of sun protection. According to the American Academy of Dermatology, nearly 85% of teens battle acne. To help them win the war while preventing scarring, encourage a regimen utilizing salicylic acid- and green tea-based toner, followed by a blemish serum comprised of ingredients such as salicylic acid, resorcinol, totarol and green tea for antiseptic, antibacterial and antioxidant support. These will work together effectively to help clear problematic skin gently and therapeutically by reducing surface oils, preventing clogged pores, stimulating cell renewal and delivering antioxidant support. Teens should avoid overstimulating with scrubs, and be cautioned against using overly drying topicals, primarily those containing alcohol. Using heavy creams also may further congest the skin.
For more general skin health and maintenance, start teen clients on a simple regimen that includes a milk-based or gel cleanser, a gentle jojoba bead scrub, an aloe and hyaluronic acid moisturizer for night, and hydrating SPF for daytime. Cleansing pads are also great for quick cleansing after sports practice or gym class.
20s
Skin is at its healthiest for most clients in their 20s. It still has that luminous glow, and is supple and firm. If this is the case with your client, focus on damage prevention and maintaining skin health.
Dry skin may become a factor, however, especially for clients in their mid-20s. When the skin is depleted of hydration, it loses elasticity, plumpness and luster, and is more susceptible to lines and wrinkles. The body also tends to shed some of its natural water content as it ages—and the first place this occurs is in the skin. In some cases, dry skin conditions also indicate inadequate sebum production. Thinner skin and fair complexions are typically more prone to dehydration.
In the treatment room. Help clients replenish, hydrate and strengthen the skin. Use milk-based masks rather than clay and gentle AHAs, such as phytic and pyruvic acid, enzymes and L-lactic acids for mild exfoliation, followed by nourishing and skin-building antioxidants, vitamins, essential oils and growth factors.
Home care. Provide clients with a home-care system focused on cleansing, gentle correction, nourishing, moisturizing and protection. This will vary from client to client, but keep in mind, dry skin issues can begin early, so age and severity of dryness will factor into developing a customized system. A home care system should cleanse with a milk- or gel-based cleanser; correct using a gentle retinol formula blended with organic stem cells from apples and plants; nourish using vitamin A, peptides and antioxidants; moisturize using hyaluronic acid and aloe; and protect using a natural sunscreen with SPF 30.
30s
Thirty may be the new 20, but visual signs of aging begin during this time. Fine lines and wrinkles may develop and some discoloration may occur as skin thins slightly, and collagen and elastin production begin to decline.
Clients with fair skin may experience some hyperpigmentation and brown spots. Light skin also tends to reveal signs of aging more rapidly than olive- and darker-toned skin, which generally have more oil and a greater level of protection from external assaults because their melanin is closer to the surface.
In the treatment room. For clients in their 30s, consider introducing corrective treatments aimed at restoring the skin to its optimum health and activating its own regenerative mechanisms. This might include a digestive enzyme followed by a salicylic acid formula. Fruit-based enzymes, such as pumpkin, cherry, papaya (papain) and pineapple (bromelain), will work to exfoliate and digest dead cells while boosting the skin with a potent dose of antioxidants and polyphenols. Finish with a nourishing application of omega-6 essential fatty acids, growth factors, and a cooling, replenishing milk and antioxidant mask.
Home care. If providing corrective treatments, send clients home with a gentle milk- and protein-based cleanser. A gentle scrub using jojoba beads will help keep skin exfoliated. For nourishment, encourage an antioxidant or vitamin complex containing grape seed extract. Finish with a moisturizer containing amino acids and peptides, and an SPF. For those experiencing some discoloration, integrate a brightening formula using natural daisy flower extract, as well. The eyes can be quite revealing when it comes to aging. This area requires a gentle touch, but too frequently, clients rub very aggressively when cleansing and don't use a cleanser specific to the eye region. Educate your clients that this can dry the eye tissue, and cause it to become more frail and vulnerable to wrinkles.
40s
As clients progress through their 40s, collagen and elastin fibers continue to decline, skin retains less moisture and discoloration may become more apparent. Acne may once again become a challenge, as these women experience >hormonal changes.
There is no one-size-fits-all age-reversal treatment so, as the skin ages, skin assessments and customized care become extremely important. Some clients may require a treatment plan focused on brightening the skin, while others need a clarifying or hydrating approach.
In the treatment room. For clients needing to brighten and lighten, kojic, L-lactic and azelaic acids work well, along with AHAs and retinols. For acne conditions, a variety of enzymes, glycolic and L-lactic acid, along with low-strength trichloroacetic acids (TCA), azelaic and modified Jessner's formulas exfoliate the skin and reduce surface bacteria. For aging, a red wine vinegar/acetic acid formula followed by vitamins, antioxidants, amino acids and an LED application will tone, firm and leave skin glowing for months. Laser and microdermabrasion treatments also may be introduced.
Home care. Depending on the condition, a good cleanser might include a glycolic-based gel for acne, one with daisy flower extract for pigmentation issues, and a pumpkin-infused cleanser, which is high in vitamin A and beta carotene, for photoaged skin. For women in their 40s, be sure to integrate growth factors, retinol, plenty of antioxidants, such as superoxide dismutase, resveratrol and grape seed extracts, and specialized eye care with peptides and hydrating factors.
50s
By the age of 50, free radicals and environmental elements are officially taking a toll on the skin's ability to repair. Expression lines are more defined, elastin and collagen production have significantly declined, hyperpigmentation and sunspots may be more visible, and acne may still be a factor due to hormones.
In the treatment room. These clients will require highly customized treatments. Strictly focusing on addressing the visual signs of aging, however, a treatment might include a pumpkin-based cleanser for vitamin A and beta carotene support, followed by a skin-brightening scrub that utilizes jojoba beads, and kojic and L-ascorbic acid to lighten and deepen the cleanse. A milk-based enzyme, L-lactic acid and red wine vinegar application will hydrate and stimulate cell regeneration. Finish with a potent dose of amino acids, antioxidants, vitamins and SPF. Laser and microdermabrasion treatments also may be effective.
Home care. To specifically address aging, focus on cleansing, breaking down, rebuilding and protecting the skin. Again, the pumpkin-infused cleanser or a gentle milk-based cleanser will work well, especially for post-corrective treatments. Be sure to integrate peptides, growth factors, antioxidants, hyaluronic acid and a protein-packed eye serum.
Lifestyle habits
Along with customized treatment and home care, talk to all of your clients about lifestyle habits. Proper sleep, stress control and a healthy diet will play a significant role in collagen production. Diets high in omega-3 fatty acids and antioxidants will help reduce inflammation (which impacts collagen production) and fight free radicals. Antioxidants are vital in minimizing the signs of aging, internally and externally. Getting these nutrients naturally from foods is always the best option, but supplements and topicals applied to the skin also provide benefits. Offer your clients a list of foods that provide the antioxidants they need, such as the following.
Vitamin A: Carrots, kale, spinach, pumpkin, liver and cantaloupe
Vitamin C: Camu camu, broccoli, brussels sprouts, guava and citrus
Vitamin E: Olive oil, walnut oil, wheat germ oil, oats, tomatoes and carrots
Bioflavonoids: Citrus, berries, onions, tea, red wine, dark chocolate and sea buckthorn
Polyphenols: Berries, tea, dark chocolate, walnuts, peanuts and pomegranates
On the right track
For overall healthy aging throughout all age groups, it's all about balance. Balance in living a healthy lifestyle; balance in properly cleansing and exfoliating to get the most out of serums and anti-aging topicals; balance in rebuilding the skin after more intense exfoliating or peel treatments, and being cautious not to over exfoliate or over-peel the skin. Protecting the skin from environmental stressors with a quality SPF is absolutely vital to maintaining a youthful appearance. Bottom line: While there is not a one-size-fits-all solution, skin assessments and customized care—in the treatment room and at home—focused on cleansing, breaking the skin down, and rebuilding, nourishing and protecting, will ensure clients are on the right track toward healthy, youthful skin.
Rhonda Allison is the founder and CEO of Rhonda Allison Cosmeceuticals and RAW Skin Care for Men. She is also an author and internationally known speaker with more than 30 years of esthetic experience.