In the age of digital detox, the modern world is providing many reasons why women and men are in need of essential spa services more than ever.
Stress, fatigue and overuse of devices can lead to many physical concerns that manifest on the skin, including signs of aging. Yet, while the need for relaxing and effective professional skin treatments is at an all-time high, the population is in an extreme time deficit.
Many clients do not have the time to enjoy the benefits of a hour-long treatment on a regular basis. What they are looking for is an effective treatment to address their skin concerns that provide instant gratification in a minimal amount of time—services that help them see a difference in their skin immediately.
Enter the answer to their skin needs: express treatments. Masks, express peels and deep cleansing treatments all can have a noticeable effect on the skin—and in less than 30 minutes.
The fastest, easiest way to determine the type of express treatment your clients need is to ask them to outline their skin care concerns. Is it oiliness, aging or dull, lackluster skin? There is a fast treatment for helping improve the appearance of skin concerns.
Here are some of the most common skin care concerns your clients may have, and how to address them in the spa or salon fast.
1. Brightening Treatment (15 minutes)
Dull, lackluster skin can be caused by a number of factors. Stress, bad habits, fatigue and aging can cause the skin's natural exfoliation process to slow, causing dull, uneven textured skin. An express glycolic peel is a treatment that focuses on renewing the surface of the skin to help to reveal a brighter-looking, more youthful-looking complexion.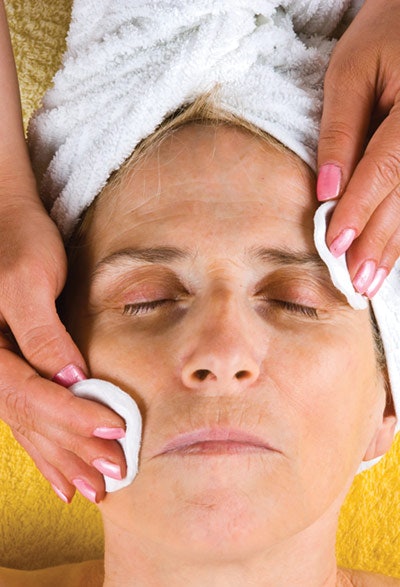 The newest way to get a peeling effect without the potential irritation is to use a professional clay- and cream-based mask to apply the alpha hydroxy acids (AHAs). Kaolin clay can be combined with moisturizing ingredients, such as seaweed, as well as the beta hydroxy acid (salicylic acid) for a gentle but thorough exfoliation. These express masks will help remove surface debris, even out the appearance of the complexion and leave skin bright and glowing.
Step 1. Cleanse the skin with brightening cleanser that contains seaweed extracts, AHAs, willow bark, Gotu kola and licorice root extracts.
Step 2. Apply a mask containing AHAs and BHAs with a spatula or brush to entire face, avoiding eye area. Leave on for 15 minutes.
Step 3. After 15 minutes, apply moistened, unfolded cotton squares to the face to help dissolve and remove the mask easily. Wipe mask off from side to side.
Step 4. Remove remaining mask using cotton or facial sponges dampened with warm water.
Step 5. Follow with a brightening toner to help balance the skin's appearance. Apply a serum and finish with a day cream appropriate to the skin concern.
Home Care: Instruct the client to use a brightening at-home mask once a week to reveal a more radiant-looking complexion. This mask should contain similar ingredients to the in-spa treatment. Tell him or her to apply the creamy mask after cleansing, paying special attention to areas of concern. Allow mask to set for 7–10 minutes. Remove the mask with warm water, and then apply a skin type-appropriate toner and moisturizer.
2. Deep Pore Cleansing Treatment (15 minutes)
Heat and stress can cause skin to become congested and clogged with sebum and saturated dead skin cells. A clay-based mask helps to deep cleanse and absorb excess oil, reducing the appearance of shine, leaving pores and complexion visibly clean and refined. Look for a creamy mud mask that contains clays, such as ichthammol, and kaolin combined with minerals, such as zinc and titanium dioxide, to help absorb oils. Additional ingredients, such as seaweed and allantoin, will help to leave the skin feeling soft and refreshed.
Step 1. Squeeze a small amount of gentle eye makeup remover onto damp cotton square and remove eye makeup. Cleanse skin with a cleanser that combines seaweed, St. John's wort, green tea extract, aloe and chamomile to help congested skin feel soft.
Step 2. Use desincrustion solution with galvanic current* for 5–7 minutes.
Step 3. Remove blackheads.
Step 4. Apply the clay mask over the client's entire face. Let dry for 10–15 minutes.
Step 5. Remove with cotton squares moistened with warm water. Follow with balancing toner and oil-free moisturizer.
Step 6. Follow up treatment with high frequency.
Home Care: Instruct your client to deep cleanse and help improve the appearance of the skin's texture with a creamy mask that combines clays, such as kaolin, diatomaceous earth and illite, with ingredients that help to soften the skin, such as matcha green tea and seaweed.
Apply a thin layer to the skin with long, upward strokes. Leave on for 10 minutes. Remove with dry cotton and then rinse off with lukewarm water. Follow up with an oil-free moisturizer.
*Check with your state regulations on use of galvanic and high-frequency machines.
3. Express Moisturizing Treatment (30 minutes)
One of the skin's most important functions is to retain water without allowing it to escape into the environment. Skin itself is between 50–75% intercellular fluid and is almost identical to the biological makeup of sea water. Hyaluronic acid also helps rehydrate and restore moisture to the skin, with the added benefit of reducing the appearance of fine lines and wrinkles. This express facial is also a great post-summer skin treatment to restore hydration following over-exposure to the elements.
Step 1. Remove eye makeup, then cleanse skin with gentle, creamy cleanser that combines skin softening seaweed, such as Codium tomentosum with oat protein. Remove cleanser with damp cotton squares. Use a toning spray to gently mist skin without touching with fingers or pads. Look for an option that contains gentle seaweeds, as well as herbal extracts of water lily, willow herb and sunflower.
Step 2. Apply a seaweed-based serum onto the face and massage lightly using effleurage strokes for approximately 5 minutes.
Step 3. Proceed with a 10-minute facial massage. For dehydration, use a moisturizing cream combining hyaluronic acid with seaweed extract.
Step 4. Combine seaweed powder with an aloe-based gel to create an alginate mask. Mix in a rubber bowl and apply to the face and neck. Place green tea and seaweed-infused eye pads over the client's eyes and leave on for 10–15 minutes. While the mask is on, administer a hand massage.
Step 5. Peel off mask by loosening the edges of the mask with the fingers and gently peeling the mask off. Remove excess residue with damp cotton squares.
Step 6. Spray face lightly with seaweed-based toner and apply a moisturizing cream containing hyaluronic acid.
Home Care: A cream mask that contains seaweed extracts, natural herbs, such as sunflower seed extract, willow herb and water lily extract, and light-reflecting minerals helps to create a moisture barrier on the skin while instantly creating a luminous-looking complexion.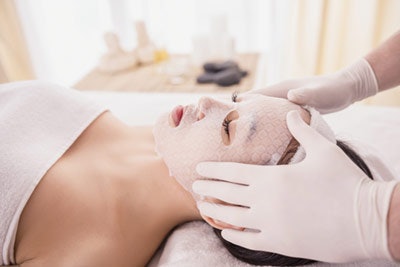 On cleansed skin, apply a generous layer over face and neck. Relax for 10 minutes, then gently tissue off. Do not wash off. Skin is left hydrated and glowing. A thin layer may also be left on skin overnight as an intensive deep nourishing treatment.
4. "Instant Face Lift" Treatment (30 minutes)
So many times, clients come into the spa or salon looking for an "instant face lift." An express treatment combining a soothing sheet mask with galvanic iontophoresis to help give skin a temporary lifted appearance is the perfect solution. Soft, easy-to-apply sheet masks are pre-soaked, ready-to-apply treatments that, when combined with a fast galvanic protocol, can help apply the ingredients to the skin, renew the appearance of the complexion, making it look toned and rejuvenated in less than 30 minutes.
Step 1. Squeeze a small amount of eye makeup remover onto damp cotton square and remove eye makeup. If makeup is present on the whole face, cleanse skin with the appropriate cleanser for their skin concerns. Remove cleanser with damp cotton squares. Apply appropriate toner and pat dry with a tissue.
Step 2. Optional: For skin requiring extra hydration, apply 8–10 drops of seaweed and hyaluronic acid face serum onto the face, neck and décolleté. Massage the serum into the skin with light effleurage movements for 3–5 minutes to boost hydration.
Step 3. Use one pump of galvanic gel and apply the gel to the face, neck and décolleté using a fan brush.
Step 4. Remove one sheet mask from container and apply over client's face.
Step 5. Set galvanic machine to the iontophoresis option. Have client hold metal electrode wrapped in moist cotton in his or her hand. Use the roller attachment on the galvanic current electrode. Touch the electrode to client's skin and then turn on the current, adjusting it to the client's comfort level. Move the roller slowly over the face, concentrating on the areas with most fine lines and wrinkles. The client may feel a slight tingling sensation during this time (if there are metal fillings present in the mouth, client may feel a slight "metal" taste in his or her mouth). This step should take 5–10 minutes.
Step 6. Turn off the galvanic current and remove electrode from client's face. Gently lift off sheet mask from the face, fold and use it to wipe off the residue of galvanic gel.
Step 7. Cover client's eyes with a tissue and mist the skin with seaweed spray. Blot skin with a tissue after misting.
Step 8. Apply a skin brightening moisturizer to client.
Home Care: Use a ready-to-use sheet mask infused with peptides combined with seaweed extracts, aloe and chrysin (a derivative of honeycomb) to help brighten the appearance of the skin, and Mirabilis jalapa to moisturize. Used once or twice a week, these can help reduce the appearance of fine lines and wrinkles, help skin look supple, give skin a temporary "lifting" appearance, help reduce the visible signs of premature aging and refine skin to help improve texture.
5. Eye Contour Treatment (30 minutes)
If a client desires to see a big result in minimum time, one approach is to focus on the eye area. Treatments should incorporate extremely gentle but effective ingredients that can be used around the eye area, such as seaweed extracts and hexapeptides, as well as natural ingredients, such as chrysin, Gotu kola and gingko biloba to combat visible signs of fatigue— such as dark circles and puffiness—as well as lessen the appearance of fine lines and wrinkles.
Step 1. After removing eye makeup, apply an eye contour cream containing peptides and seaweed extracts in circular motion toward the nose area. Follow with effleurage movements in a figure eight using alternating hands. Then apply pressure to the orbicularis oculi muscle. Use petrissage, pinching movement along the brow bone. Stroke several times, alternating fingers on corrugator muscle. Follow with a tapotement movement for 3 minutes. Conclude with pressure point movements and light effleurage. Massage should last 5–7 minutes.
Step 2. Combine seaweed and peptide powder with an aloe-based alginate gel and mix together in a rubber bowl until smooth.
Step 3. Apply to the eye contour area using a spatula. Allow the client to rest for 10–20 minutes.
Step 4. Remove the mask by rolling it back in a downward motion. Gently remove any remaining residue with wet cotton.
Step 5. Finish with an eye serum that contains aloe, peptides and seaweed extracts and gently apply around the eye contour area. Do not rub. Allow to dry undisturbed.
Home Care: Eye pads, pre-soaked in seaweed, cucumber, aloe, green and Rooibos tea extracts can breathe new life into the delicate eye area in 10 minutes. To use, after cleansing, gently place pads over eyelids and relax for 10 minutes or longer. Remove and apply your favorite eye treatment product. Do not place directly in the eyes. Do not use if eyes are irritated or infected. Eyes will look and feel refreshed, like you have just returned from vacation.
Create a Facial Bar Experience
What is the best way to make sure your clients know these kinds of services are available? Create a facial bar experience in the salon or spa, front and center. By bringing the facial chair out of the back room, clients can interact with the services, ask questions and then book the services. It will be an eye opener for your clients and change the way they think about skin care.
There are a host of express treatments that can be combined and customized to suit every client's skin care need. By creating a facial bar experience and providing express treatments that help improve the appearance of the skin, clients will be able to receive what they need from skin care professionals, but also be inspired to rely on their skin care professionals for even more important esthetic services. Employing the facial bar experience in your spa or salon is the perfect way to adapt and thrive in today's instant gratification culture.