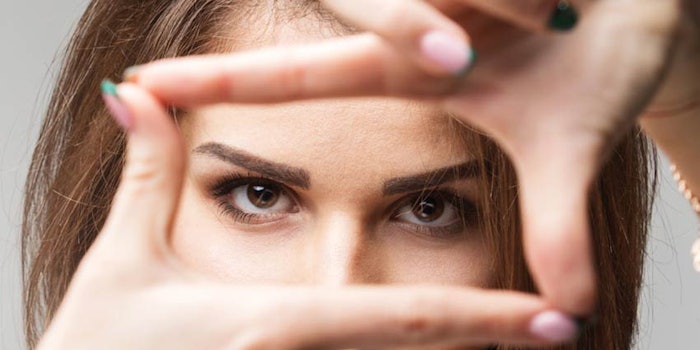 The area framing the eyes, the periorbital area, is one of the most expressive and important facial areas.1 It is the first facial area on which another rests their gaze when meeting someone for the first time. The periorbital area is also among the first on the body to show the signs of aging (see Eye Area Anatomy).2 Skin here is thinner than other areas of the body, and blood vessels are near the surface. In addition, exposure to the sun's rays is high, and protective mechanisms are less robust.
Ethnic Differences in Periorbital Aging
Some notable differences among ethnic groups relate to aging in the periorbital area.4 African Americans often report early drooping of the lateral canthal area compared to others. The lateral canthal area is the line of cartilage support from the inner eyelid rims nearest the temples. When structural integrity of cartilage is lost, the lateral canthal angle narrows causing a "drooping" appearance of the outer eye to give a more aged appearance.5
Dark under-eye circles are termed periorbital hyperchromia. Some ethnic groups, including Middle Eastern and Indian, are more prone to this. Photodamage and inflammation produce more intense hyperpigmentation in those with darker skin and more melanocytes.6
People of Asian descent tend to develop hyperpigmentation prior to wrinkling as aging occurs. They will be concerned with increasing pigmentation first and with wrinkling in later years compared to Caucasians.
Although the manifestations of periorbital aging seem to differ somewhat among ethnic groups, the common denominator in all groups relates to free radical damage and inflammatory mediators as well as individual response to these factors.7 Loss of collagen resilience related to glycation is also important and increases in the presence of free radical damage.8
Wrinkles and Sagging
Wrinkles are actually scars that result from repeated inflammation and oxidative damage followed by the body's attempt to heal. Crow's feet are often the first wrinkles to appear around the eye. Sagging of tissue results in more prominent shadowing in the tear trough areas.9 Loss of elasticity may be addressed by encouraging collagen deposition, decreasing wrinkling and limiting oxidative damage. A number of skin care products address these processes.10
Peptides have been shown to decrease muscle contraction and decrease the appearance of wrinkles.11 Peptide technology is one of the fastest growing areas of skin care.12 If applied topically, peptides must be a small enough molecular size to penetrate the skin and exhibit activity on the myoneural (muscle-nerve) complex. Topical peptides affect the smaller, superficial muscles rather than the deeper, subdermal muscles of expression targeted by injectable neurotoxins. Neurotoxins such as botulinum toxin are used to paralyze neural transmission and muscle contraction, thereby lessening the appearance of wrinkles.13, 14
Centella asiatica and its active ingredients asiaticoside, asiatic acid and madecassic acid were shown in studies to decrease wrinkling. Centella is a potent wound-healer, and these effects may be antioxidant, anti-inflammatory and DNA-modulating.15
Antioxidant and Sun Protection
Free radical damage or "oxidative stress" is a primary cause of tissue damage and aging in the eye area as well as elsewhere.16 Topical antioxidants are helpful if their quality is high and they are properly formulated for delivery to their site of action within the skin. Vitamins and pro-vitamins can be encapsulated within liposomes to provide a delivery system for the actives to support healthy metabolism.17
Solar exposure bombards the skin with photons, small energy packets from the sun that are themselves free radicals. Sunscreens are essential for photoprotection in the vulnerable periorbital region as elsewhere. Inflammation results from free radical damage and causes even more damage and inflammatory change.18
Apoptosis is a process of programmed cell death in which damaged cells are eliminated. Encouraging the death of damaged cells through apoptosis acts on important checkpoints for the synthesis of new cells. This can either delay cellular development until DNA repair occurs and the cell is made functional again or can facilitate the death of a cell too damaged to be repaired. Apoptosis is important during any type of cellular damage but is especially so in photodamage. When sunburn from UVB damage occurs, the damaged cells termed "sunburn cells" are actually cells experiencing apoptotic death. Many topical antioxidants assist with normal helpful processes of apoptosis to encourage healing and repair.
Puffiness and Dark Circles
Puffiness and swelling are common issues in the periorbital area. These relate to inflammation and leaking of fluid from small blood vessels into the surrounding tissue. In younger clients, swelling may occur only with allergic reactions or irritation and then resolve. If these processes repeat over and over, chronic puffiness results. Wound healing and anti-inflammatory skin care ingredients are helpful.19
Since the infraorbital skin is thinner than other areas, blood vessels are nearer the surface here. This makes the bluish coloration of these vessels more noticeable. Thickening of the skin under the eye would make the skin less translucent and cause the underlying vessels to be less obvious. Collagen synthesis and improvements in skin thickness can be encouraged by growth factors.
Although some ethnic groups are more likely to develop dark infraorbital areas, anything causing vascular congestion in the infraorbital area will increase swelling and eventually produce dark circles.20 Allergists and pediatricians recognize that their allergic patients will have dark infraorbital circles. The inflammation and blood vessel enlargement associated with the allergic response can be so severe that the infraorbital areas actually appear bruised. These inflammatory responses are mediated by cytokines and other inflammatory mediators including histamines. The body's own intrinsic antioxidant system tries to combat these processes with antioxidants such as superoxide dismutase (SOD). Research studies have shown that as intrinsic or supplied antioxidant levels increase, levels of inflammatory mediators decrease. Decreasing inflammation and increasing antioxidant protection helps dark circles by preventing vascular congestion.21
When vitamins and pro-vitamins (vitamin precursors) were topically applied for eight weeks in a group of Asian women, dark circles decreased noticeably. There was an additional associated decrease in wrinkles in the same group.22
Dehydration
Dehydration in the periorbital area is especially noticeable in skin texture and further accelerates aging. Barrier repair ingredients and bio-identical barrier lipids are essential in eye products.
Act Early
The eye area may be one of the first to show the signs of aging; however, quick action can reduce and prevent signs of aging. Add effective eye treatments to your spa menu and make sure clients are maintaining their eye care with proper at-home eye products.
GENERAL REFERENCES
JA McCurdy, Beautiful eyes: Characteristics and applications to aesthetic surgery, Facial Plast Surg Aug 22(3) 204-14 (2006)
V Lambros, Observations on periorbital and midface aging, Plast Reconstr Surg, Oct 120(5) 1367-76 (2007)
BI Knoll et al, The influence of forehead, brow, and periorbital aesthetics on perceived expression in the youthful face, Plast Reconstr Surg 121(5) 1793-802 (2008)
JW Few, Cosmetic surgery in the ethnic populations: Special considerations, Semin Plast Surg Aug 23(3) 198-206 (2009)
RK Batniji, Upper and midface rejuvenation in the non-Caucasian face, Facial Plast Surg Clin North Am Feb 18(1) 19-33 (2010)
FM Freitag, What causes dark circles under the eyes?, J Cosmet Dermatol Dep 6(3) 211-5 (2009)
R Osborne, Understanding metabolic pathways for skin anti-aging, J Drugs Dermatol 8(7 Suppl) 4-7 (2009)
H Pageon, Reaction of glycation and human skin: The effects on the skin and its components, reconstructed skin as a model, Pathol Biol (Paris) Jun 9(2) 108-16 (2010)
H Hirmand, Anatomy and surgical correction of the tear trough deformity, Plast Reconstr Surg Feb 125(2) 699-708 (2010)
KG Bergstrom, Beyond tretinoin: Cosmeceuticals for aging skin, J Drugs Dermatol, 8(7) 674-7 (2009)
MP Lupo, Cosmeceutical peptides, Dermatol Ther Sep-Oct 20(5) 343-9 (2007)
A Byrne et al, Synergistic action of a triple peptide complex on an essential extra-cellular matrix protein exhibits significant anti-aging benefits, J Cosmet Dermatol Jun 9(2) 108-16 (2010)
G Sattler, Current and future botulinum neurotoxin type A preparations in aesthetics: A literature review, J Drugs Dermatol 9(9) 1065-71 (2010)
DA Glaser, Enhancing the eyes: Use of minimally invasive techniques for periorbital rejuvenation, U Patch, J Cosmet Dermatol Jun 9(2) 108-16 (2010)
J Lee et al, Evaluation of the effects of a preparation containing asiaticoside on periocular wrinkles of human volunteers, Int J Cosmet Sci, Jun 30(3) 167-73 (2008)
JR Kaczvinsky et al, Efficacy of anti-aging products for periorbital wrinkles as measured by 3-D imaging, J Cosmet Dermatol Sep 8(3) 228-33
T Mitsuiski et al, The effects of topical application of phytonadione, retinol and Vitamins C and E on infraorbital dark circles and wrinkles of the lower eyelids, J Cosmet Dermatol Apr 3(2) 73-5 (2004)
J Hau, Evaluating the efficacy in improving facial Photodamage with a mixture of topical antioxidants, J Drugs Dermatol 6(11) 1141-8 (2007)
PU Glacomoni, Advancements in skin aging: The future cosmeceuticals, Clin Dermatol, Jul-Aug 26(4) 364-6 (2008)
MR Roh and KU Chung, Infraorbital dark circles: Definition, causes, and treatment options, Dermatol Surg 35(8) 1163-71 (2009)
S Eberlin et al, Effects of a Brazilian herbal compound as a cosmetic eyecare for periorbital hyperchromia ("dark circles"), J Cosmet Dermatol Jun 8(2) 127-35 (2009)
M Monela-Azulay, Cosmeceuticals vitamins, Clin Dermatol Sep-Oct 27(5) 469-74 (2009)