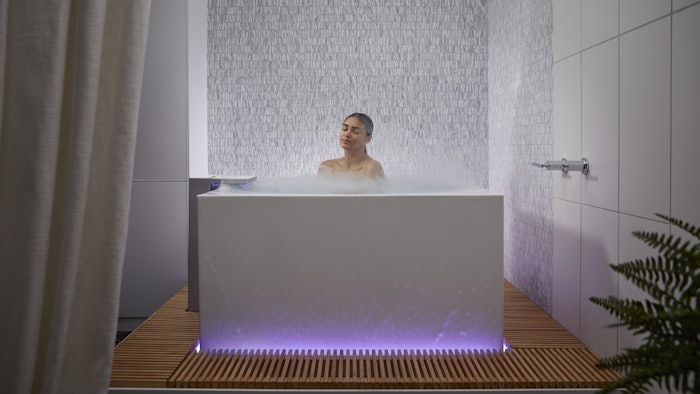 Photo courtesy of Kohler Water's Spa
Kohler Waters Spa released the Stillness Bath treatment as the latest addition to its offering of luxury spa experiences and innovative bathing technologies. Available exclusively at Kohler Waters Spa at Destination Kohler, the treatment stimulates a sanctuary-like bathing experience for self-care and well-being. 
The deep soak of the Stillness Bath is inspired by traditional Japanese forest bathing practices, and promotes a natural experience designed to enhance the senses, quite the mind and provide full relaxion. 
Related: [Total Hydration] All the New Offerings at Kohler Waters Spa
The treatment begins with freeze-dried seawater flooding in from the bottom of the bath, gently overflowing into the surrounding Hinoki wood moat. Full spectrum lighting surrounds the bath, creating a chromotherapy experience with cool fog mixed with essential oils hovers gently above the surface of the water. This provides a full-body sensory experience designed to relax the mind, soothe the body and renew the spirit. 
The Stillness Bath also includes a full-body exfoliation, Kohler Custom Vichy Shower rinse and moisturizer to stimulate and hydrate the skin. 
"Kohler's global leadership in design, innovation and manufacture of kitchen and bath products has always shined at the forefront of Kohler Waters Spa's luxury offerings," said Nikki Miller, director of Kohler Waters Spas. "The introduction of the Stillness Bath service exemplifies how we continue to lead the hydrotherapy industry by integrating wellness into KOHLER bathing technology."