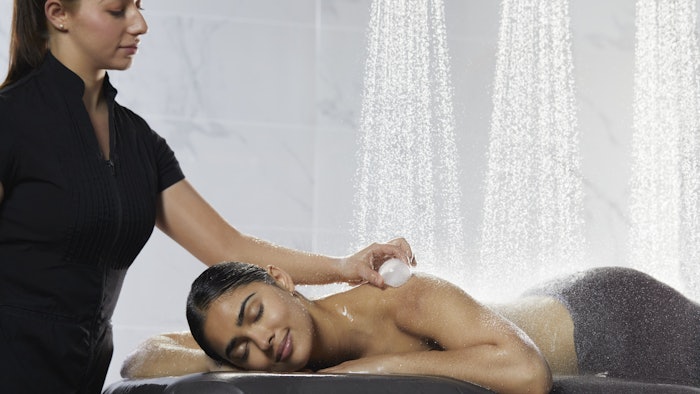 Courtesy of Kohler Co.
Kohler Waters Spa is renowned for its hydrotherapy treatments, and it just released this new lineup of service offerings. 
Glacier Springs
This full-body treatment incorporates elements of warm and cold hydrotherapy. A peppermint body scrub increases circulation while relieving muscle tension, followed by a rinse under the KOHLER Custom Vichy Shower. The treatment also includes an aromatic ice massage for achy joints and muscles, a cool-stone eye treatment that eliminates puffiness and inflammation, and a cooling foot massage. Finally, the body is covered in a rich body butter to lock in hydration. 
On the Green CBD Massage
This deeply moisturizing and luxurious CBD-enhanced treatment provides healing aromatherapy with a blend of lemongrass, eucalyptus, peppermint and bergamot essential oils. The CBD penetrates deep, relaxing the body and mind, while restoring the body's equilibrium. 
Ah Shiatsu Barefoot Massage
The massage therapist will use their feet to massage the body while holding onto overhead support bars for balance. This allows the therapist to provide better manipulation of muscles, bringing about deep relaxation, stimulating circulation and lymph, and boosting the immune system.  
Vibrational Sound Treatment
Guests enjoy vibrational sound therapy via the use of traditional, hand-hammered Himalayan singing bowls. A full body application of CBD is combined with finely tuned singing bowls that help balance the chakras. This grounding and centering treatment awakens positive vibrations and leaves clients feeling energized and reset. 
Stillness Bath
Water, light, fog and aromas come together to create an immersive journey of the senses that relaxes the mind, soothes the body and renews the spirit. This treatment includes a full-body exfoliation, KOHLER Custom Vichy shower rinse and body moisturizer. 
Restorative Reiki Massage
Guests can drift away to the sounds and vibrations of handmade tuning bowls, balancing the meridians and natural rhythmic flow of the body. This massage restores energy and heals the body. 
On the Green CBD Body Wrap
This CBD-infused body wrap reduces stress, soothes joints and promotes cellular function. It starts with a Himalayan salt and sugar scrub with CBD. The salt will leave senses energized as impurities are drawn out and dead skin cells are exfoliated. While wrapped, a facial cleanse with 16-point acupressure massage is performed. The treatment closes with a manuka honey body lotion application, featuring aromas of lemongrass and amber. 
Seaweed Wrap
First, a dry-brush exfoliation provides plumped and glowing skin. The guest is then cocooned in a warm seaweed mask to replenish moisture loss and amino acids, while also promoting the elimination of waste. The service includes a facial cleanse, antiaging eye massage, foot treatment and body cream application. 
Illumination Facial
This antiaging and brightening facial begins with a deep cleanse and glycolic acid exfoliation that targets fine lines and wrinkles. Next is an application of a concentrated serum that contains algae extract to plump and brighten. The guest then receives a light cupping face massage that illuminates the skin and promotes collagen production. An algae and mineral-rich sheet mask is applied to minimize hyperpigmentation, and the guest enjoys a relaxing arm and hand massage. The treatment is completed with a hydrating eye and lip cream, and a firming facial moisturizer. 
"Ohm" Organic Facial
This restorative facial provides deep vibrations of Himalayan singing bowls throughout the treatments, along with the application of certified-organic algae products. After a pampering, silky cleanse and exfoliation with pomegranate seeds and agran kernels, a skin-plumping facial massage is performed. Within the facial, there is an organic nori seaweed mask that provides a dose of hydration. 
Miracle Manicure
This durable and fast-drying manicure includes a full hand exfoliation, followed by a hydrating hand and arm massage. The service is completed with a no-chip color that requires zero drying time. 
On the Green CBD Pedicure
A relaxing foot soak is infused with marine-based salts and combined with a blend of amber and lemongrass essential oils formulated with CBD and Himalayan salt. The pedicure features a healing massage that uses a manuka honey body lotion.
Brow Lamination
This service relaxes the brow hair and coaxes it into shape. Infused with keratin, this treatment conditions the hair and adds a fuller appearance.