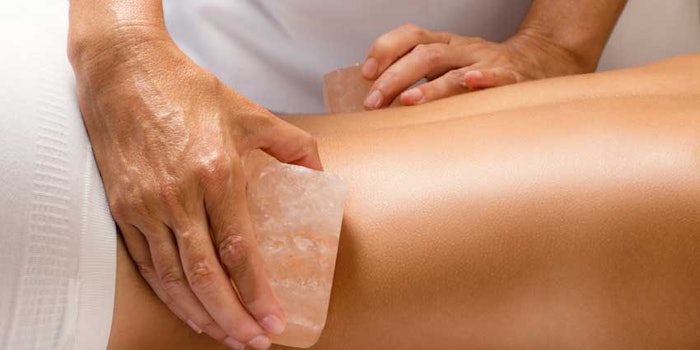 Complexions Spa for Beauty and Wellness has added a new massage to its spa menu that taps the skin and wellness benefits of Himalayan salt.
Denis Dubois, owner of Complexions Spa for Beauty and Wellness explains why she turned toward offering this treatment in her spa saying, "It's important to me that we are always evolving and offering our guests the most effective, innovative wellness services."
Himalayan Salt Benefits
Himalayan salt has been shown to have many benefits through providing different minerals and hydration to the skin. For starters, Himalayan salt is said to reduce muscle cramps, improve hydration, improve sleep, detoxify the body and balance blood sugar.
"We're all exposed to environmental toxins daily and feel the negative effects of stress; the salt stones draw out these toxins and leave the body feeling relaxed and renewed." Denise Dubois.
"Himalayan salt has been used medicinally and theraperutically for hundreds of years. The salt contains 84 naturally occuring minerals that help nourish our bodies," Dubois explains.
The Salty Treatment
The Himalayan Rock Salt Massage is a 90-minute treatment for $175. This massage was designed to harness the benefits of Himalayan salt, and it uses hand-carved salt stones from the Himalayan Mountains.
For the treatment, the hand-carved salt stones are warmed, which allows them to emit negative ions that neutralize positive ions in the body; this helps to decrease inflammation, increase mental awareness and protect the body from germs and toxins. These stones also help to promote circulation while gently exfoliating the skin. 
After the treatment, clients are also gifted a salt stone to take home and further continue the treatment. These home-care stones can be used after a shower and as a deodorant; they can also be frozen to provide a cooling sensation to the skin when used. 
Himalayan Salt in the Spa
This massage technique can very easily be incorporated in any spa that wants to try the treatment. Dubois explains how this can make a nice alternative to a hot stone massage. "Our Himalayan salt stones are 100% pure pink Himalayan salt, certified organic and naturally antimicrobial and antibacterial," Dubois emphasized.
Any clientele could benefit from this treatment if they desire it. Since there are no contraindications, there are no limitations on who can experience the Himalyan salt massage.