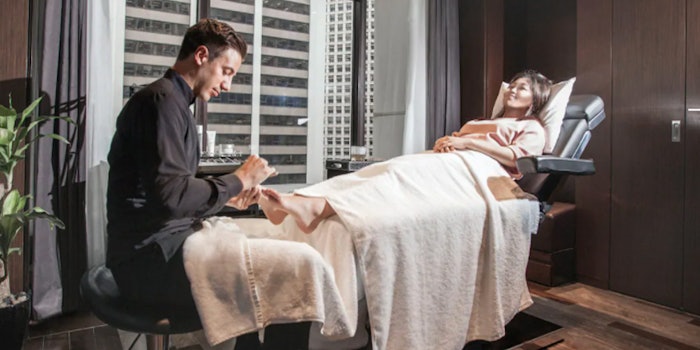 The Spa is offering two luxury ritual treatments: The Glow Ritual, which includes a full body scrub and massage, and Radiance Ritual, a facial with collagen mask. Both include a glass of champagne and a warming poultice gift. 
Amooma Spa & Sanctuary
Amooma is offering two seasonal treatments at its Wan Chai branch. 
The first options is the Bubble & Sparkle, a package for two including an aroma steam shower, a tourmaline crystal massage, a facial using a ling makeover mask to brighten and tone and a complimentary glass of champagne.
The second one is the Ho! Ho! Ho! It's Me-Time!, including an organic forbidden rice scrub, an organic ling nourishing body wrap, an Amooma signature blend massage and a Knesko gemological face mask that combines marine collagen with a choice of four precious gems.
Chuan Spa, Cordis, Hong Kong
Chuan Spa presents A Spiced Celebration package, which includes a full-body exfoliation using red wine, cinnamon, clove, orange peel and Himalayan pink salt. This is followed by the signature Chuan Harmony body massage and a complimentary glass of mulled wine.
Sense of Touch
The Glow and Go facial uses Alpha-H, targeting individual skin concerns while improving skin health using a combination of active ingredients, vitamin infusions and massage for instant results. 
The Oriental Spa, The Landmark Mandarin Oriental
This holiday season, The Oriental Spa introduces the Hong Kong Shimmer body treatment, designed to leave guests shimmering from head-to-toe.
The treatment comprises a lymphatic drainage body massage using a natural glimmer oil and a facial that includes a Diamond Luminous Lightening mask.
Skin Headquarters
For the festive season, founder and aesthetician Justine Grier recommends a combination facial. 
The first, the Viora Infusion facial,  delivers a non-invasive solution for transdermal delivery of hydrating and anti-aging serums with infusion ionic solutions driven into the skin through electric pulse waves for maximum cell penetration.
The second, Photon Smart LED light therapy, uses specific light spectrum wavelengths to send light into the deeper layers of the skin to activate and stimulate cellular activity, and to target a variety of skin concerns including anti-aging, skin toning and tightening.