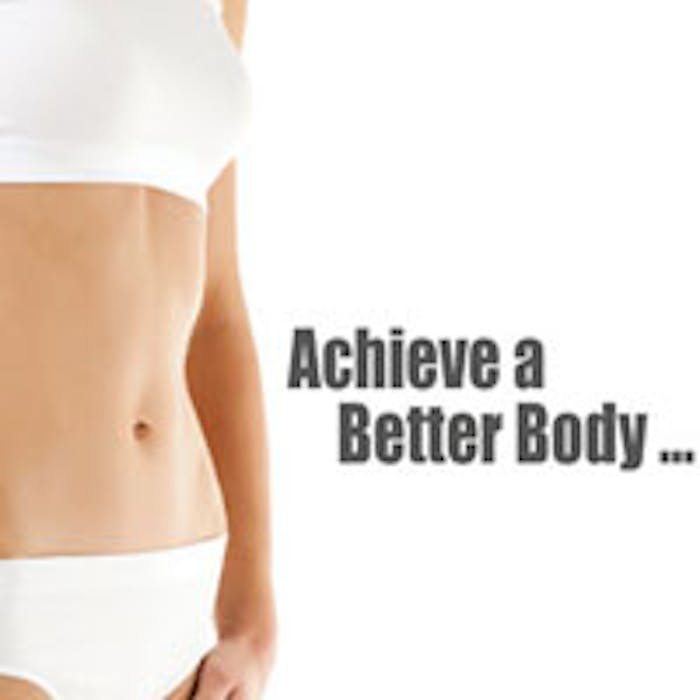 People have long searched for solutions to achieving a better body. If the number of body products and procedures on the market today is any indication of how important achieving that better body is to consumers, then it appears the search is at an all-time high.
According to the American Society of Plastic Surgeons, buttock lifts increased almost 40% in 2011. Similarly, treatments for cellulite and skin resurfacing also increased. However, what if you could offer clients an alternative to body rejuvenation that didn't involve going under the knife?
As a skin care professional, you have a number of tools at your disposal to do just that. Advanced, cutting-edge ingredients combined with useful methods in facial rejuvenation can provide clients with effective, noninvasive alternatives to body contouring. Utilizing body peels, customized home-care systems and nutrient-rich bronzing formulas, skin care professionals can help clients achieve toned, supple, firm skin, as well as address issues, such as hyperpigmentation, keratosis pilaris, acne, aging, dull form, slack skin and cellulite bumping ... to name a few. It is likely that you have clients searching for body care solutions—how can you be there to fill the need?
The business of body building
Body peels, much like facial peels, work beyond the surface to reduce course texture and fine lines, diminish age spots and hyperpigmentation, and help maintain healthier, more youthful-looking skin. For these reasons, clients are typically receptive to body peels as an alternative to surgical procedures. Plus, they love the soothing effects of corrective body massages.
Body peels work by initiating deep stimulation, breaking the skin down, then rebuilding and nourishing it while stimulating cell turnover. Treatments may be adjusted and customized to address almost any skin type or issue, and allow skin care professionals to provide solutions to sun-damaged, photoaged or sagging skin, as well as the appearance of cellulite.
In addition to bolstering your menu offerings, body care services also pave the way for add-on treatments and the retail sales of home-care systems, because continuing care at home is essential.
Before beginning
Although many of the formulas used in body peels will match those used in facial peels, there are different techniques and skin issues to be cognizant of before administering a body peel. For example, never treat more than 25% of the body at one time. During a facial, you might treat the décolleté, forearms and hands. The back, lower legs and thighs would each be considered completely separate services.
Typically, all of the fundamentals of facial skin peels also apply to body peels. However, there are some specific do's and don'ts to be aware of before you begin.
Do:
Make sure you are properly trained in skin peeling.
Perform a skin assessment to help determine the technique and strength of the acid or enzyme used.
Take note of existing scar tissue, sun damage, spots or moles.
Recommend that clients wear soft cotton clothing with more coverage to limit sun exposure the day of the treatment.
Ensure that clients will not be in the sun in the near future. The skin needs approximately three weeks to heal and recover properly.
Have ice, cold packs or cold water, as well as anti-inflammatory topicals at the ready in case of a reaction.
Require that the client sign a consent form.
Don't:
Administer a peel on any client under a physician's care for their skin, unless you have consulted with the physician first.
Peel any client the same day they've received waxing or hair removal services.
Use salicylic acid on a client who is aspirin-sensitive.
Peel the breast or buttocks areas.
Treat a client who is pregnant or lactating.
There are many services using varying degrees of acids and enzymes to address specific concerns, as well as comfort level, and a skin assessment will help determine which is best to use. When in doubt, start out slow with just the hands or forearms, and be sure to perform a patch test before administering a peel on a client for the first time.
A word about cellulite
Cellulite is often a primary concern for clients. Unfortunately, it develops more commonly in women than men, and all women are susceptible to it, regardless of size. Although fat is certainly one component of cellulite, it's not the only piece of the puzzle.
Fibrous connective tissue adheres the skin to the muscle beneath, and the arrangement of this is different in women than men. Connective tissue contracts and stiffens with age, and this will tighten or pull down the skin, causing fat cells to push out on the skin.
Many physicians believe there is no actual cure for cellulite, but in my more than 30 years of experience, I believe its appearance can be greatly improved, so much so that it is diminished and is no longer visible on the surface. There are four primary components to minimizing cellulite: 
Increase circulation;
Flush toxins;
Strengthen collagen; and
Reduce fat.
 As a skin care professional, you can help clients reduce the appearance of cellulite by mapping out a course of action that includes a treatment plan and home-care system.
Formulating a body peel
Typically enzymes and AHAs—particularly L-lactic acid—work well with the body's tougher skin to lift away the deeper layers of dead skin cells, provide antioxidants, and regenerate and hydrate, leaving the skin smooth and polished. For example, if treating sun-damaged, photoaged, dry, sagging skin, start with a lactic acid prep, followed by a retinol peeling agent with peptides to tone, firm and smooth the skin. For deeper intensity or more aggressive treatments, most body peel services may also be coupled with microdermabrasion.
When treating the body, the skin must always be well-cleansed and exfoliated. Peeling agents are best applied to dry skin to digest dead cells, and soften and hydrate. Finish the treatment with nourishing, skin-building ingredients, such as peptides, growth factors, amino acids and oxygenators. If performed during the daytime, be sure to apply sun protection, such as zinc, which is a good natural physical blocker that limits the risk of irritating the skin, unlike many chemical blockers.
At-home care
After a body peel, it is essential to continue the care at home by recommending nourishing and skin-building formulas. Ingredients, such as peptides, epidermal growth factors, hyaluronic acid, organic stem cells, amino acids and isoflavones—to name a few—will continue the body-improvement process. A good home-care regimen, particularly if treating cellulite, should focus on the following.
Exfoliating and stimulating. Physical and acid/enzyme exfoliators will pave the way for other beneficial ingredients to penetrate the skin cells.
Increasing circulation. An energizing formula containing ingredients, such as peptides, goji berry and coffee extracts, will help re-texture and oxygenate the skin.
Strengthening and building. Cosmeceuticals, such as epidermal growth factors, peptides, botanical phytochemicals, oleic and linoleic acids, retinols and vitamins, will help repair skin tissue, hydrate, tone, renew and reform skin.
Protecting. Skin protection is a must. Use a natural physical block, such as zinc oxide with an SPF of 30, to limit exposure to damaging free radicals and UV rays.
Body coloring
Why do so many consumers desire a bronzed body? Because it camouflages imperfections and accentuates muscle tone. Of course, the implications of UV rays on the skin are well-known, so it's important to offer clients an alternative to sun bathing and tanning beds.
Body color sessions using natural bronzing creams and sprays following a body exfoliation make for great add-on treatments and enhance the results of the body work that has been performed. When the skin is glowing and has that sun-kissed appearance, it looks smoother and healthier. Although this may be an illusion, it is a look many clients are seeking.
Expand your offerings
Professional body peel treatments supported by a daily home care regimen will significantly change the health and appearance of the skin. Body treatments will also allow you to expand your service offerings and ensure that you are equipped to provide solutions to the needs of your clients.
Rhonda Allison, a pioneer in the skin care industry, is the founder and CEO of Rhonda Allison Cosmeceuticals and RAW Skin Care for Men. She is also an author and internationally known speaker with more than 30 years of esthetic experience. She can be contacted at 866-313-7546 or information@rhondaallison.com.