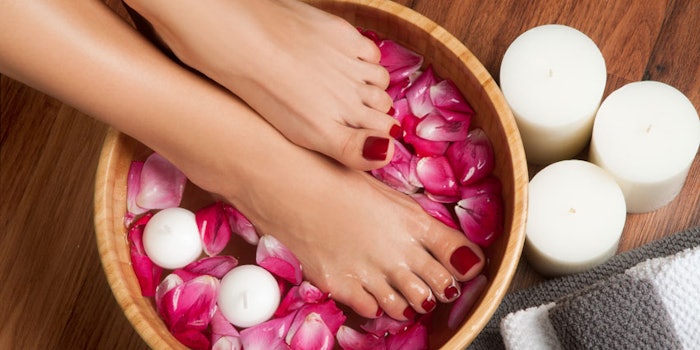 Editor's note: As always, Skin Inc. magazine recommends that skin care professionals obtain the proper training before offering any new treatments in their skin care facility. Also, to learn more about health-challenged skin, be on the lookout for Morag Currin's book, Health-challenged Skin: The Esthetician's Desk Reference, available from www.Alluredbooks.com August 2012.
How many steps per day does the average American take? A study conducted by pedometer researcher Catrine Tudor-Locke, PhD, and published in Medicine and Science in Sports and Exercise in 2004, showed a wide variation in the 200 women and men who participated. The men in the survey took an average of 7,192 steps per day and the women in the survey took an average of 5,210 steps per day.
The average person endures several hundred pounds of pressure on the feet on a daily basis, and walks four times the circumference of the Earth in a lifetime. Your feet get you up in the morning and out the door for your busy days, and yet, they tend to be one of the most neglected parts of the body. Approximately 85% of the population have foot or foot-related problems. It is imperative that the skin, the largest organ on the body, remains healthy in order to perform its main function, which is to protect against injury, infection and the entry of bacteria. This holds particularly true with regard to the feet.
A therapeutic pedicure focuses on addressing the health of the feet and conditions ranging from simple dryness to more severe conditions, such as those resulting from diabetes and fungus. (See Therapeutic Medi-Pedi Treatment.) In the case of diabetics, even ordinary problems can get worse and lead to serious complications. Foot problems most often happen when there is nerve damage, also known as neuropathy, resulting in the loss of feeling in the feet. Nerve damage can also lead to changes in the shape of the feet and toes. Poor blood flow or circulation can make feet feel cold and be less able to fight infection. In severe cases, it can lead to foot ulcers, and even amputation.
It is not mandatory for a client to see a physician before having a therapeutic pedicure. A trained and licensed skin care and nail professional should not work on individuals who have open wounds or sores on their toes or feet, or a visible infection due to ingrown toenails. If any of these conditions are present, refer the client to a physician for appropriate care.
A therapeutic treatment focuses on the greater need for extra foot care rather than just a feel-good experience. Clients are looking for solutions with results. To properly perform this procedure, it is highly recommended that a licensed nail technician obtain advanced training in podology beyond their basic education. Conditions that a therapeutic pedicure should be able to address include persistent dryness due to poor circulation, callousness from weight and improper gait, fissures from excessive dryness, fungus of the nail and skin, cold feet and excessive perspiration that can also lead to foot odor.
Marketing and retail
The Therapeutic Medi-Pedi Treatment can be introduced by hosting an educational healthy feet spa party. Consider inviting a local podiatrist to the event to give an informative presentation about various foot conditions. Following the presentation, clients should be offered a complimentary foot evaluation and a 20% discount if they book an appointment that evening for the treatment. Clients are looking for solutions to their foot challenges, and this treatment gives them the results they need. It is imperative to recommend a supportive foot treatment line for at-home maintenance and optimal long-term results.
A supportive foot treatment line is more than a feel-good, fragrant cosmetic skin care line. The line used should be specifically developed to address a variety of skin and nail conditions with proven results that are backed by science. It should address the health of the feet and issues from simple dryness to more severe conditions, such as those resulting from diabetes and fungus. The products should be simple and easy-to-use for clients, as well as skin care and nail professionals.
To maintain and enhance the results from the service, recommend follow-up home care. Use a recommendation pad and write out exactly what the client should use and how it should be applied at home. Bring the products to the pedicure chair and put them in the client's hand as you are explaining their benefits.
It is also crucial for receptionists and booking attendants to ask the appropriate questions when answering the phone to identify if a client would benefit from a therapeutic pedicure versus a traditional spa pedicure. These questions include the following.
Do you have a particular concern with your feet?
What are your goals with this appointment?
Are you looking for a traditional spa pedicure or more of a treatment to address a particular concern with your feet or nails?
This allows the appropriate treatment to be recommended. A therapeutic pedicure is not a fluff-and-buff type of treatment; it is more clinical and does not include the use of scrubs, masks or paraffin.
Benefits for better health
Providing a therapeutic pedicure allows the skin care and nail professional the opportunity to aid in the client's pursuit of health and wellness. A classic spa pedicure addresses appearance and feels great; however, a therapeutic pedicure's emphasis is on correcting specific conditions with benefits that can translate into better health.
Denise Dubois graduated from the Catherine E. Hinds Institute of Esthetics in 1984, and is currently the president and owner of Complexions Spa for Beauty & Wellness in Albany, New York. One very important component of Complexions is the medical spa, which Dubois implemented after building a solid bond with dermatologists and plastic surgeons. She has also developed a program for Age Management Skin Care. In the spring of 2009, Complexions became the first spa in the country to receive Gold LEED certification for new construction, one of the highest honors granted by the U.S. Green Business Council.