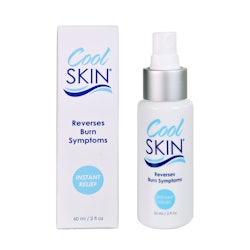 Theraderm Cool Skin, previously known as Instant Cool Skin under the Therapon brand, stops the progression of a burn, preventing skin damage from occurring. Cool Skin then rapidly begins to reverse and repair any energy-caused burns after they happen, preventing permanent skin damage.
The product works on every energy injury type including sunburn, radiation therapy skin burns and thermal/heat burns from touching hot pans, grease splashes and curling irons. When used within 4-6 hours after sun exposure, Cool Skin stops the injury process before symptoms like pain, blistering and redness fully develop.
Lactic Acid mediates the protective natural immune response by skin cells to impede inflammation and stop the progression of redness, pain, swelling and blisters, thereby eliminating any lasting damage to the skin. Lactic Acid is biologically important in all body cells for regulating energy use. Used topically after a burn, it works by re-directing harmful UV or heat energy into harmless, stored chemical energy. The addition of Lidocaine helps cool skin on contact and soothes the burning sensation. 
How to Use:
Apply cool water to the burn area for 2-3 minutes as soon as possible after burn exposure.
Then apply Instant Cool Skin®. to prevent burn progression symptoms.
Do not apply more than 3-4x daily.
Repeat until healed.