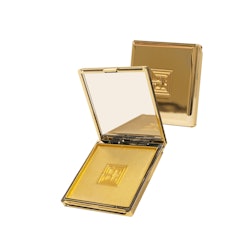 Brow Code's Heist Brow Soap lift, holds and locks down brow hairs. The product was developed to lock hairs into place to achieve a sleek and long-lasting laminated look with a firm hold. The soap comes in a compact which includes an application mirror for an easy application. The Brow Soap features a formula containing bioactive ingredients with hydrating properties such as hyaluronic acid and shea butter. Brow Heist is one of the first Brow Soaps on the market to include hyaluronic acid. 
Key Ingredients
Hyaluronic acid promotes healthier, hydrated skin and brow hairs.
Shea butter boosts skins moisture and is rich in anti-inflammatory properties.
Cocoa extract fights free radicals, acting as a protector to the skin and brow hair.
Turmeric root extract is rich in antioxidants, which promotes a natural skin glow.