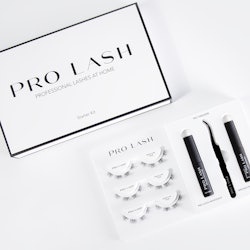 Pro Lash's best-selling Starter Kit contains all the essentials you'll need to apply and remove lashes in minutes. Including three sets of lashes (one-month supply), lash remover, ProLock adhesive, and tweezers, the Starter Kit is beginner-friendly for first-time users.
Pro Lash features a Pro Lock adhesive system that makes application as easy as it looks. This two-part adhesive comes with Part A pre-applied on the lashes, and you quickly apply Part B just like a mascara. When you apply with a small crimp, they are set. 
Kit Includes
Three sets of lashes that will last for one month, so you can choose the style that best suits your needs.
Lash Remover that completely removes all adhesive build-up from your natural lashes, ensuring a flawless application every time.
Pro Lock Adhesive for secure retention, ensuring your lashes stay on for up to 10 days.
Tweezers are included for precision application, allowing you to achieve the perfect look every time.