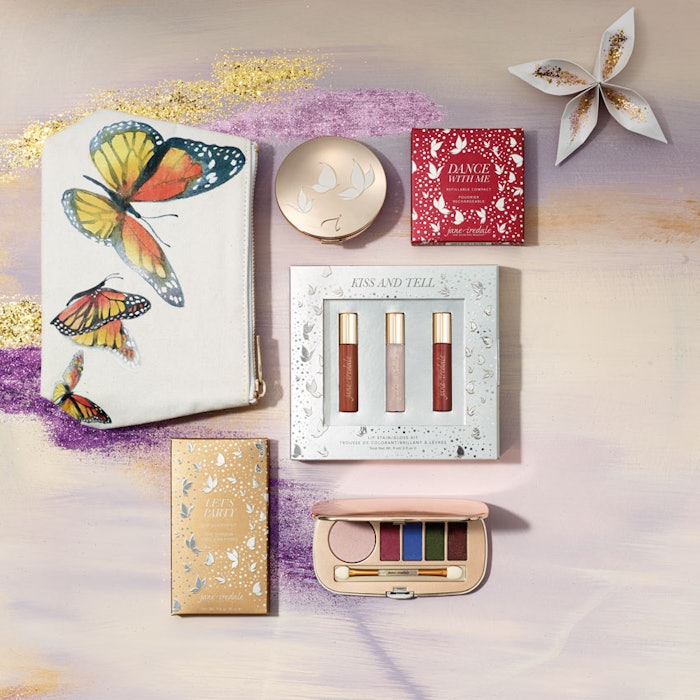 Happy Together Holiday Collection includes an eyeshadow kit, refillable compact, lip stain and gloss kit and butterfly makeup bag. This collection is designed to be a festive, party-ready collection to play with during the holidays. 
Included in this Collection
Let's Party Eye Shadow Kit: includes five PurePressed Eye Shadows that each have a hint of shimmer in the shades Spree (pale pink), Wing-ding (plum), Soiree (royal blue), Shindig (jade green) and Hootenanny (chocolate brown).
Dance with me Refillable Compact: rose gold compact embellished with butterflies and can be refilled with PurePressed Base Mineral Foundation, Bronzer refills, PureMatte Finish Powder or Beyond Matte HD mattifying powder.
Kiss and Tell Lip Stain/Gloss Kit: includes two long-lasting lip stains in the shades Craving (light salmon) and Fascination (rosy pink) and one lip gloss in the shade Crystal (clear shimmer). 
Butterfly Bag: a portion of the profits from these bags go to SaveOurMonarchs, a non-profit organization dedicated to saving the monarch butterflies.
877-869-9420, https://janeiredale.com