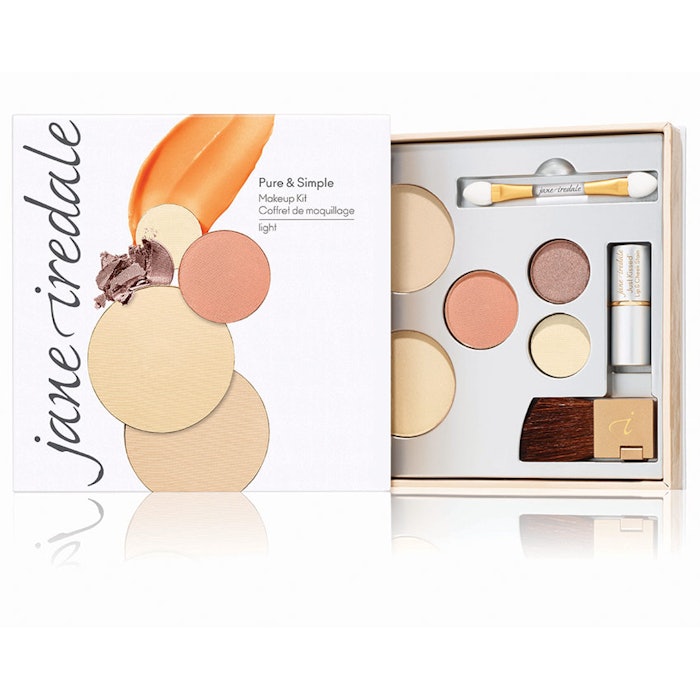 The Pure & Simple Makeup Kit includes:
Two shades of PurePressed Base Mineral Foundation: Both foundations are oil-free, weightless, free of synthetic chemicals and offer SPF 20 sun protection.
PurePressed Blush: Formulated with light-reflecting minerals and antioxidants to soothe and nourish the skin. Suitable for use on cheeks, eyes and lips. Non-comedogenic.
Two shades of PurePressed Eye Shadow: Both eye shadows are highly-pigmented, mineral-based, crease-resistant and long-lasting. They can be used wet or dry, and can be used as a brow filler, blush or lip stain.
Just Kissed Lip and Cheek Stain: Non-drying, long-lasting, all-natural stain that adjusts to body chemistry. Made with olive butter, avocado butter and wild rose wax to soothe and soften lips while rose flower wax and beeswax nourish and moisturize.
The kit is available in light, medium light, medium and medium dark. Each kit is non-comedogenic and free of synthetic chemicals. Available January 2017. 800-762-1132, www.​janeiredale.​com