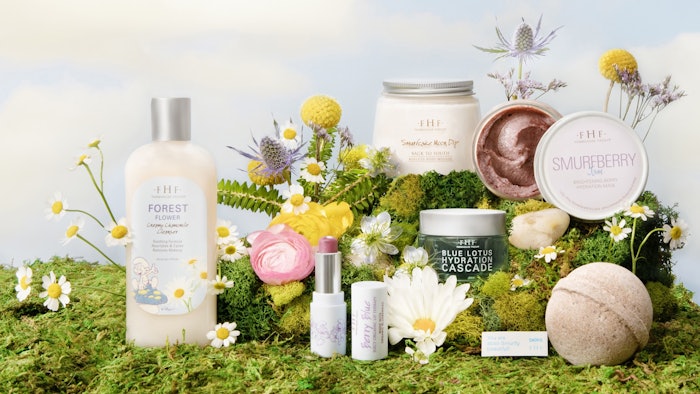 Photo Courtesy of FarmHouse Fresh
FarmHouse Fresh has partnered with The Smurfs for their 65th Anniversary to launch a limited edition 6-piece skin care collection that brings FHF's fresh-grown ingredients and the magical world of the Smurfs' forest to life. $1 from every FHF x The Smurfs skin care purchase will be donated to the FHF Smurfy Ever After Animal Rescue Project, a philanthropy initiative dedicated to saving and rehabilitating urgent animals in need. 
FHF x The Smurfs Limited Edition Collection:
Forest Flower Creamy Chamomile Cleanser: An ultra-soothing, creamy cleanser made for all skin types. Its pH-balanced formula effortlessly removes makeup, dirt, mascara and sunscreen, leaving skin feeling "Smurf-tastically" soft and smooth.
Blue Lotus Hydration Cascade Gelée Moisturizer: This hyaluronic gelée moisturizer delivers intense hydration and boosts skin's suppleness with a time-release delivery system of firming 2% retinol and powerful anti-pollution peptides. Boosted with antioxidant-rich blue tansy oil, blue lotus extract, honeyberry extract and FHF-grown watercress extract to help calm, smooth and visibly brighten the look of skin.
Smurfberry Jam Brightening Berry Hydration Mask: All the cool, creamy avocado goodness in Guac Star plus radiance-boosting, skin-soothing and replenishing superpowers from added organic strawberries and blueberries along with blue tansy oil, blue lotus extract and honeyberry extract.
Smurfcake Moon Dip Body Mousse: A light-as-air, whipped body mousse with a gorgeous, powder-soft texture and age-fighting ingredients like peptides and retinol (within retinyl palmitate) usually reserved for facial treatments. Scent notes include creamy vanilla, warm honey and gooey caramel. Plus, it melts effortlessly into the skin, visibly firming the look over time.
Berry Blue Juicy Organic Lip Therapy Balm: Smurfette's secret to juicy, kissably-soft lips? This rich, creamy and sheer berry-plum balm envelops lips in smoothing moisture and shine. It is made with blue borage oil, organic blueberries, shea and cocoa seed butter, vitamin E, avocado oil and FHF-grown Rainbow Sprinkles (micro chard and beet extracts) for an antioxidant boost.
Smurfsoda Soothing Bath Soak Moisturizing Fizzer: This bath soak combines the fruity scent of organic blueberries in freshly baked muffins with ripe strawberries and sweet cream soda. Simply add to warm running bath water and let the nourishing coconut oil, vitamin E, mineral-rich epsom salts and juicy crushed organic blueberries work their magic on the skin. Plus, every fizzer contains a surprise Smurfy fortune inside that kids or adults will love.