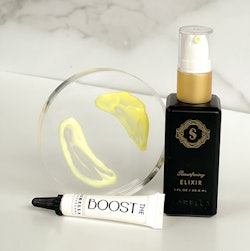 Sorella Apothecary's The Boost Professional Treatment and Resurfacing Elixir stimulates cell turn over and builds collagen while improving skin texture and reducing the appearance of fine lines. This potent, retinaldehyde serum promotes healthy aging without irritating the skin. The Boost is a a professional partner exclusive product that can be used as a stand-alone treatment or enhance chemical peel treatments. 
Key Ingredients
Retinal Improves cellular turnover, repairs connective tissue, boosts collagen production, increases elasticity and balances oil production.
Niacinamide is a powerful vitamin B3 that reduces inflammation and restores the skin's natural barrier.
Sodium ascorbyl is a water-soluble form of vitamin C that is less acidic making it great for sensitive skin and rosacea, along with antimicrobial properties that help diminish breakouts and inflammation.
Glutathione is a powerful antioxidant that lightens and brightens the skin evening out skin tone.
Beta-glucans is a humectant containing antioxidants that repairs the skin, boosts barrier function and deeply hydrates.
Bakuchiol will calm and soothe the skin to increase the tolerability, and absorption of retinoids helps fight free radicals radiantly.