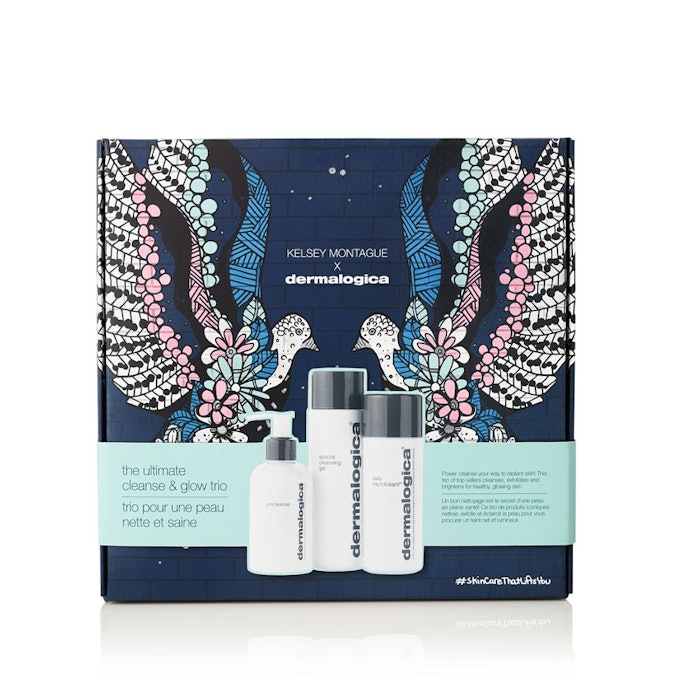 Holiday Gift Sets include seven different skin care sets that make great gifts for the holidays. These kits include a mix of Dermalogica's hero products and new innovations in both travel and retail sizes. Each kit also features unique packaging artwork inspired by Kelsey Montague's, street artist, work. 
Holiday Kits
Be Bright. This is a holiday ornament that features a travel size Daily Microfoliant with a cutout wing design.
 Get Glowing. Includes a PreCleanse Balm and Special Cleansing gel for healthy, happy and ultra-clean skin. 
Brighten & Defend. Includes the BioLumin-C Serum and Dynamic Skin Recovery SPF 50 to moisturizer and brighten skin while providing broad spectrum protection. 
Phyto Replenish Body Oil. This is part of the new Dermalogica Body collection. These oils replenish the skin. 
Be Radiant. This brightening, firming duo includes a Rapid Reveal Peel and BioLumin-C Serum. 
Night-out Skin Fix. This restorative, relaxing set includes the Stress Positive Eye Lift and Sound Sleep Cocoon. 
The Ultimate Cleanse & Glow Trio. This trio of top sellers cleanses, exfoliates and brightens for healthy, glowing skin. The kit includes PreCleanse, Special Celansing Gel and Daily Microfoliant.
310-900-4000, www.dermalogica.com