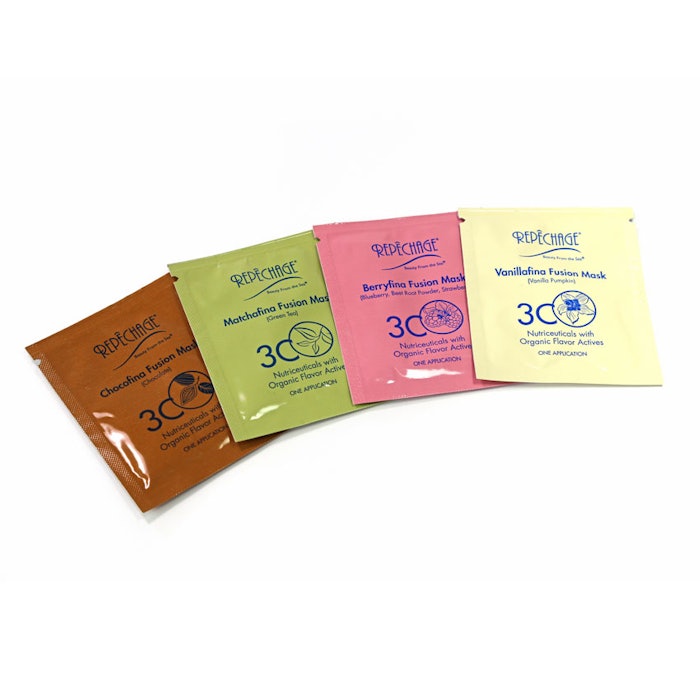 The Fusion Facials consist of the Vanillafina Fusion Mask, Matchafina Fusion Mask, Berryfina Fusion Mask and Chocofina Fusion Mask. The eight-step facial kit contains everything needed to administer 12 full facials, pre-measured in unidose packets.
The Vanillafina Fusion Mask is a vanilla pumpkin mask for normal to dry skin, helping improve skin texture and elasticity. This product also reduces age spots in order to maintain a healthy, youthful complexion.
The Matchafina Fusion Mask is a green tea mask for sensitive skin, soothing and calming the skin to reduce the appearance of redness.
The Berryfina Fusion Mask is a blueberry, beet root powder and strawberry mask for combination to oily skin. With vitamins A and C, the mask helps tighten pores and gently exfoliates the skin toward luminosity.
The Chocofina Fusion Mask is a chcocolate mask made of pure cocoa powder for dry skin. This product helps retore moisture and makes skin feel soft and smooth after use.
Each kit includes 12 Fusion Cleansing Creams, 12 Fusion Soothing Massage Creams, 12 Seaweed Aloe Powders, 12 Laminaria Complex Gels, 12 Fusion Facial Moisturizers, three Vanillafina Fusion Masks, three Matchafina Fusion Masks, three Berryfina Fusion Masks, three Chocofina Fusion Masks and two Eye Rescue Pads. 800-248-7546, www.repechage.com