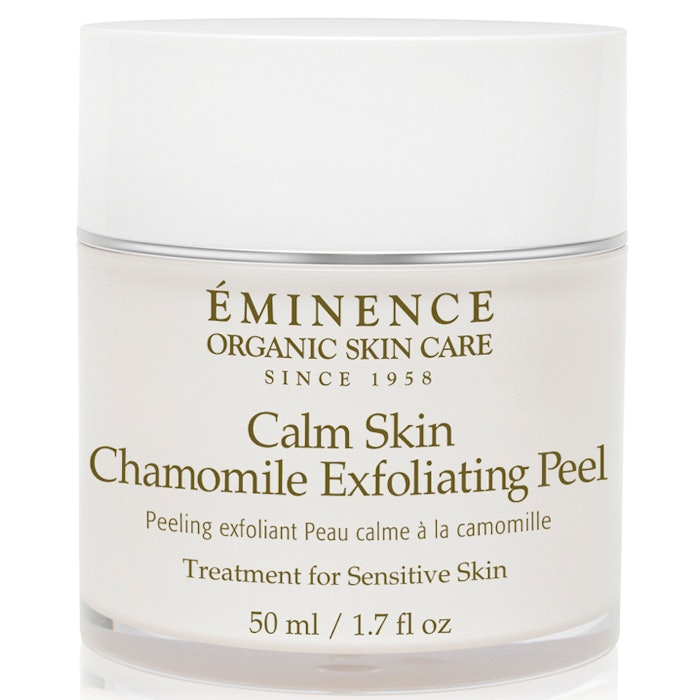 Éminence has recently added VitaSkin Exfoliating Peels to its skin care offering to target one of four skin concerns: firming, brightening, calming and clearing. Packaged in airless jars to retain the potency of the active ingredients, these peels can be used up to three times a week for a softer and radiant complexion. www.eminenceorganics.com or 1 888-747-6342
Firm Skin Acai Exfoliating Peel. This firming and collagen-boosting peel targets normal, dry and mature skin types to deeply hydrate and reduce the appearance of fine lines and wrinkles. Lactic and glycolic acids stimulate collagen production to reveal a younger looking appearance. The signs of aging are kept at bay with an antioxidant-rich cocktail of acai berry, grapefruit and goji to protect against harmful environmental stressors.
Bright Skin Licorice Root Exfoliating Peel. Reduce hyperpigmentation and the appearance of uneven tone with this pigment-lightening peel for all skin types. Lactic and mandelic acids remove dead skin cells through gentle exfoliation, allowing antioxidant baobab to protect against skin damage caused by free radicals. An all-natural hydroquinone complex from African potato and tara tree helps to lighten dark spots while licorice root brightens the skin's overall appearance.
Calm Skin Chamomile Exfoliating Peel. Gently renew sensitive and rosacea prone skin without irritation. Lactic and mandelic acids exfoliate as refreshing chamomile purifies while removing dead skin cells. Moisturizing calendula soothes redness and arnica flower reduces inflammation to calm and balance the skin. Mild enough to use on sensitive complexions, this peel can be used two to three times a week.
Clear Skin Willow Bark Exfoliating Peel, Formulated for acne prone skin, this deep-cleansing and clarifying solution refines problem skin and reduces the appearance of acne scars. Gentle salicylic acid removes surface impurities while biosulphur and tomato extract are simultaneously working together to regulate sebum production. Willow bark calms and soothes as lilac and azelaic acids help to reduce redness and soothe inflammation caused by breakouts. Pore size is visibly reduced to promote a clear, smooth and revitalized complexion.