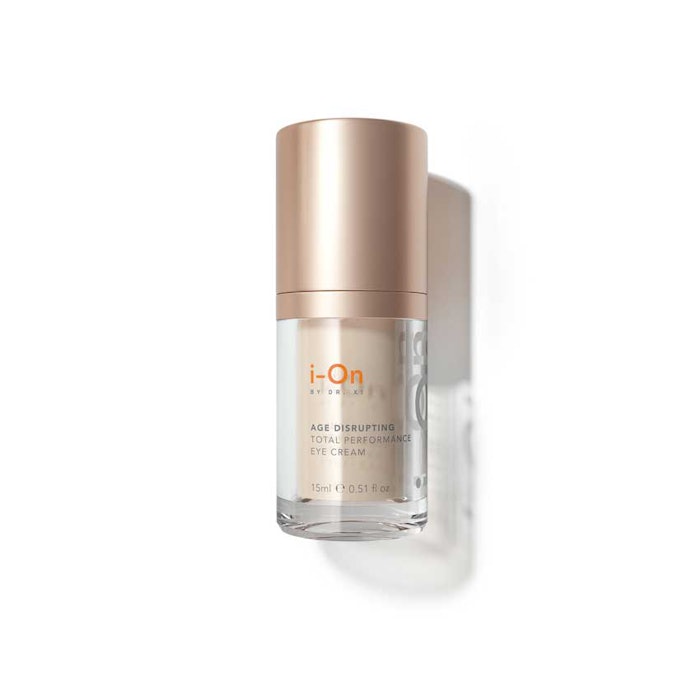 i-On Skincare's Age Disrupting Total Performance Eye Cream features an age-disrupting technology stemming from over three decades of research that removes excess iron from the skin and prevents the formation of the free radicals that cause skin aging.The eye cream removes excess iron from the skin to visibly reduce the appearance of dark circles and wrinkles. 
Key Ingredients and Benefits
De-Ironizing Inducer contains a blend of reducing agents, such as vitamin C, and high buffering capacity clearing agents, such as pearl powder, that removes excess iron from ferritin in the skin to prevent the formation of free radicals.
Acetyl tetrapeptide-11, which helps skin look and feel healthier, and tetrapeptide-9, which restores skin's natural support system and stimulates collagen production for smoother, firmer skin.
Portulaca Oleracea Extract is an herb with anti-inflammatory and anti-irritant properties to benefit sensitive and/or allergy-prone skin.
Different Molecular Weights of Sodium Hyaluronate including two forms of skin-replenishing hyaluronic acid formulated to provide deeper and longer-lasting hydration.
Fucus Vesiculosus Extract is a known heme oxygenase-1 inducer and acts to degrade hemoglobin to reduce dark circles.
855-425-9811, www.ionskincare.com