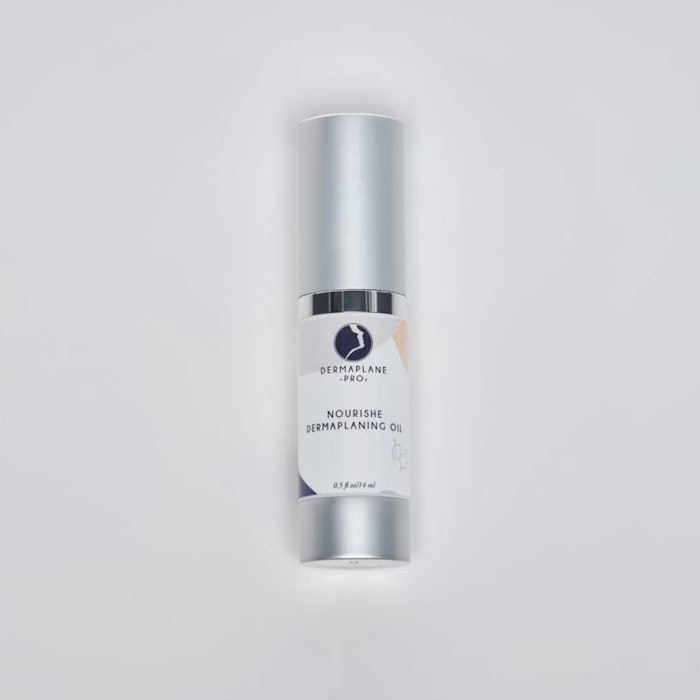 Dermaplane Pro's Nourishe Dermaplaning Oil is a light-weight combination of oils that infuses antioxidants, vital nutrients, essential fatty acids and more into the skin while dermaplaning. The oil can be used on mature and sensitive skin and reduces the risk of post-inflammatory hyper-pigmentation. 
Key Ingredients
Jojoba oil calms the skin.
Argan oil contains high levels of antioxidants, essential fatty acids, natural vitamin E and phytosterols to brighten and boost radiance in skin.
Hemp seed oil is high in essential fatty acids, balancing Omega 3 and 6 and provides luster and transfers oxygen within the cells.
Bisabolol restores suppleness, is anti-inflammatory, anti-microbial and helps increase absorption of antioxidants.
Caprylic/capric triglyceride conditions skin and enhances the delivery of vital nutrients.
Tocopheryl acetate reduces the formation of free radicals from UV exposure, promotes healing, strengthens the skin's barrier function, protects the barrier's lipid balance and reduces trans-epidermal water loss.
Glycine soja contains essential amino acids and is a good source of protein to condition and firm the skin.
775-507-4466, www.dermaplanepro.com