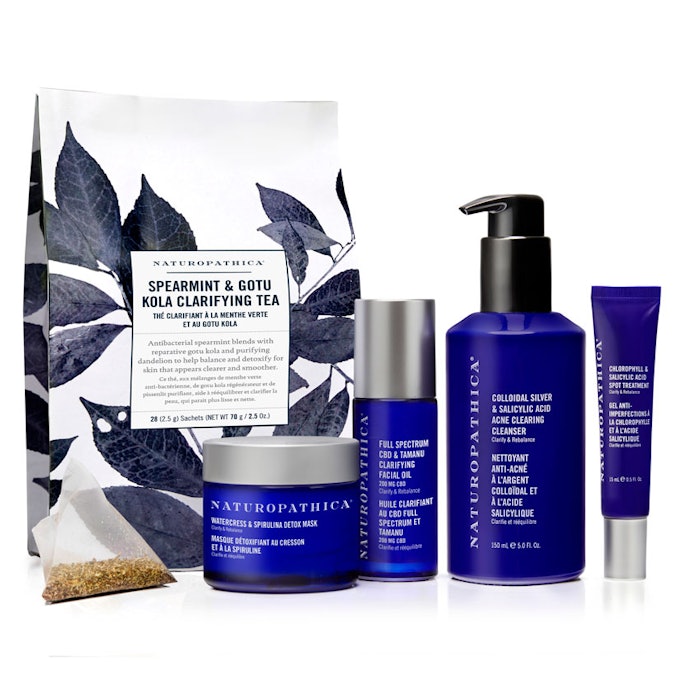 Acne Clearing Collection is designed to address breakouts at all ages. This collection combines ingredients like colloidal silver, alfalfa extract, watercress and tamanu seed oil to diminish acne while also targeting the root causes of it by cleansing, brightening detoxing and toning the skin. 
Included in this Collection
Colloidal Silver & Salicylic Acid Acne Clearing Cleanser. The acne-fighting cleanser features 2% salicylic acid and colloidal silver to help treat and prevent blemishes for clearer, smoother skin.
Chlorophyll & Salicylic Acid Spot Treatment. This maximum strength spot treatment penetrates rapidly to target and help clear existing blemishes, while chlorophyll helps even out the appearance of acne scars.
Watercress & Spirulina Detox Mask. This customizeable, waterless mask features purifying watercress and antioxidant-rich spirulina. It warms on contact to draw out impurities for clearer and healthier looking skin.
Full Spectrum CBD & Tamanu Clarifying Facial Oil. This purifying, botanical blend features 200MG of full spectrum, isolate-free cannabinoids and clarifying tamanu seed oil to promote a clearer complexion.
Spearmint & Gotu Kola Clarifying Tea. This tea blends spearmint with dandelion to help balance the skin and detoxify the body for skin that appears clearer and calmer.