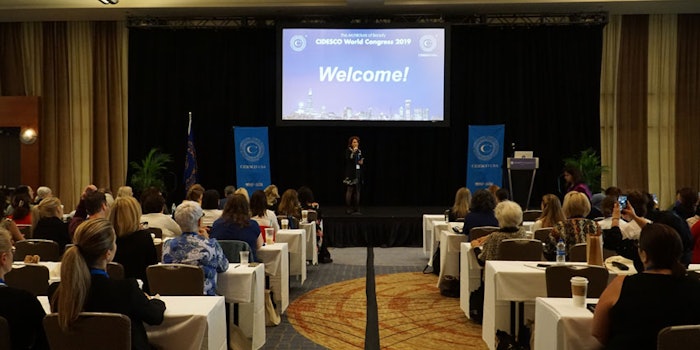 CIDESCO came to Chicago with their 2019 World Congress event on September 19-23, 2019. The theme of the event "The Architecture of Beauty" fit perfectly in the big city, and it was the largest World Congress to date, with delegations from 23 countries around the world.
"For me, the 67th CIDESCO World Congress was educational, inspiring and a call for action...It is clear that our greatest work and challenge, as we move forward into the 21st century, is to continue to develop and elevate educational standards both in the United States and all around the world," said Lydia Sarfati, chairman of CIDESCO Section USA and  founder and CEO of Repêchage. "In addition, it is my greatest honor to be this year's recipient of the CIDESCO Award Médaille d'Esthétique."
As you can imagine, Skin Inc. was more than ready to get our learn on. After checking in on the final day Monday September 23, 2019, we were excited to open up the day and the event with Lydia Sarfati, founder of Repêchage. Sarfati discussed the amazing organization, the people involved in it and the exciting education we were all in store for on the final day. The education was truly inspiring, and we recapped our favorite class from Monday's event.
Modern Modalities
Elaine Sterling, founder Elaine Sterling Institute, started her presentation by taking everyone through a blast from the past. "In order to move forward, I think it's important to look at what has happened in the past. Sometimes what's old becomes new again, and sometimes what's old is old," Sterling explained. Sterling pointed out beauty icons like Cleopatra, who she called one of the first estheticians, and Queen Elizabeth, who she explained believed that lead facials, which were toxic, helped to keep the skin from aging. She even took us up to Elizabeth Arden who invented the day spa concept. Sterling then began to go through the different modalities used in today's spa society.
Microcurrent. Sterling explained how this treatment will raise ATP even after you have turned off your microcurrent device. She emphasized that it is important that clients receive this treatment bi-weekly or bi-monthly to be able to see the results.
LED. This is a treatment that you can add on to every service as a post-treatment. Sterling explained how this treatment was originally developed for plant growth experiments, but later they found it was useful for wound treatments. Now, this treatment can be used to regenerate the skin from aging when using the red light and as an acne treatment when using the blue light.
Radio frequency. This treatment tightens the skin by heating the dermis. Sterling emphasized the importance of looking at your Fitzpatrick scale when choosing and using these modern modalities. This treatment is also great for increasing collagen and elastin.
HydraFacial/HydroFacial. Sterling stated that this could be the reason that microdermabrasion treatments are not as popular as they once were. Instead of using crystals, these treatments are using serum to knock off the dead skin cells while infusing the skin with serums. "This has really been a game changer for the industry in terms of what these modalities are able to do," Sterling stated.
Microneedling. Also known as collagen induction therapy, microneedling has been around a long time. Sterling explained how she prefers to use the pen form of this modality because the tips are disposable. She also suggested using a hyaluronic acid serum when doing this treatment, and she explained how she does not go deeper than 1mm into the skin. Sterling further emphasized that if your client wants to go deeper than that in your spa, they need to go to the doctor. Sterling then went into the importance of checking your state board and your liability insurance.
Dermaplaning. "We used to say oh my goodness don't shave your face. Now, we're saying…shave your face." Sterling wasn't wrong in this statement as she dove into the proper techniques for dermaplaning. She explains how she opens her blade in front of the client, and when the treatment is concluded she throws the tool away. The entire point of this service is to remove peach-fuzz from the face to help serums and other products penetrate the skin much more easily.
Beyond the Modalities
Sterling began to discuss more than just the modalities that are used in the spa. She started this discussion with CBD skin care. Sterling emphasized that this ingredient must use less than .3% THC when used in the skin care, and she explained that while it comes from the same plant it is not marijuana. The best part of CBD is its anti-inflammatory properties. It's important to protect and heal the skin post-procedure, so anti-inflammatory ingredients are your best friend.
From here, Sterling broke down Millenials and Generation Z and how this is the next age of clients in the spa. Sterling is very excited from the next generation, and she pulled a quote from Jack MacKinnon, senior principal analyst who covers Gen Z and multicultural consumers at Garter that stated how this generation constantly being in front of their screens are looking for that human touch. Sterling whole-heartedly agreed with this explaining that the touch therapy you provide your clients is going to be what brings them back.
"There are so many places that people can go for services these days, you have got to make a difference. People may come in to the spa because of an advertisement, but they come back because of you," Sterling concluded.
Upon concluding the event Anna-Cari Gund, president of CIDESCO, got on stage and stated that next year's event would be taking place in Indonesia.