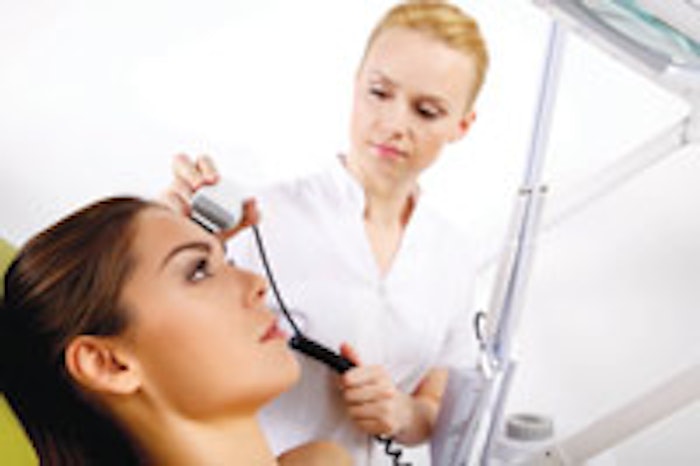 The quest for healthy, timeless skin has never been more complex, or more promising for both skin care professionals and clients. Today, the skin care industry is experiencing a dynamic fusion of new equipment with traditional techniques to form a modern hybrid modality. This multidimensional skill-set empowers skin care professionals to address client concerns effectively and safely with reliable, consistent and measurable results that form the bedrock of customer loyalty. For your business to truly thrive, your skin care facility needs to place all of the core modalities—including state-of-the-art equipment—into an equation that results in profits and happy clients.
No longer either/or
Once upon a time, it was either high-touch or high-tech. Skin care professionals either relied purely on classical hands-on techniques, perhaps aided by a bit of aromatherapy, or they quickly embraced the newest technologies, which blurred the line between traditional skin care and clinical medical spa practices. The most famous? Botox, followed by other injectables, lasers and chemical peels. These are ubiquitous, but must be considered very carefully before integrating them into your practice.
Today's client is in the position of demanding the best of all worlds, and skin care professionals must discern carefully between which treatments and services are compatible with the business they truly want to develop. When evaluating whether or not to include a specific service on your menu, it is wise to closely examine the needs of the client. For instance, injectables changed the expectation level of skin care clients everywhere because they deliver instant, visible change. Be sure that you and your clients understand that there are more elements than just instant change to a long-term skin health program.
Another significant change in clients' expectations is the insistence upon little-to-no downtime. A client is no longer willing to retire to her chamber for two weeks while recovering from a peel, microdermabrasion or cosmetic procedure. In fact, today's client would rather not even tolerate redness or splotchiness immediately after a skin care treatment involving extractions. The service must melt seamlessly into her day at the office or evening plans—today's client is more time-sensitive than any other in history.
The future's dynamic duos
The meat of the matter is treatments. Because current technologies are rapidly evolving, they can be combined with key ingredients, including designer peptides, salicylic acid, white tea, yeast extract, oatmeal, red hogweed, ginger and bisbolol in new and powerful ways with less risk, decreased downtime and superior results.
Following are some methods and tips that combine ingredients and modality technologies to take your treatments to that next level.
1. Microdermabrasion and alpha hydroxy acids (AHAs). In this combination, skin can be exfoliated with microdermabrasion prior to an application of key AHAs, resulting in increased penetration.
Low-tech method. Don't have a microdermabrasion machine? Never fear! Double up on exfoliation or use a brush with a power cleanse setting that can also remove dulling buildup and debris, and aid in product penetration. This is excellent to use before a high-frequency or a light-emitting diode (LED) treatment. Also, consider pairing your brush with a gel-based cleanser and a granular scrub, or use a micro-exfoliant to gently exfoliate the skin before the next exfoliation step.
Home-care recommendation: Send your clients home with a cleanser and brush they can incorporate into their routine. If they already have a brush, clue them in to products that will work best with it.
2. Ultrasonic blade and cleanser. Cleanse the skin and incorporate an ultrasonic blade for deep cleansing of oily skin or to enhance exfoliation ingredients.
Low-tech method. Don't have an ultrasonic blade? You can still achieve a deep-cleanse effect by performing a double-cleanse routine. Perform the first cleanse with a product that will remove surface oils, debris and makeup, then create a target-specific cleanse for the second one, such as an antibacterial cleanser for acne, or a creamy exfoliating cleanser for treating pigmentation or aging concerns.
Home-care recommendation: Teach your clients the benefit of a double-cleanse. Instruct them to incorporate the double-cleanse routine with products they have at home, or supplement their current products with recommendations from your retail area.
3. Galvanic and LED. For stubborn breakouts, combine galvanic desincrustation with a blue-light LED this treatment to help eliminate Propionibacterium acnes.
Low-tech method. Don't have blue-light LED handy? Use high-frequency combined with a spot treatment using ingredients, such as benzoyl peroxide and vitamin C. Not only will these ingredients help dry out breakouts, but vitamin C will also help minimize post-inflammatory pigmentation that can be left behind. Utilize ingredients that are excellent for drying acne lesions, including salicylic acid, niacinamide or benzoyl peroxide.
Home-care recommendation. Suggest your clients purchase an at-home spot treatment and instruct them to continue treating breakouts between appointments.
4. Iontophoresis. Increase the penetration of active ingredients, fight wrinkles in aging skin, and soothe rosacea or reactive skin with iontophoresis.
Low-tech method. Not sure if you have galvanic iontophoresis? For wrinkle-fightening, use an ultrasonic blade (end up) to increase product penetration and smoothing. Combine a targeted serum or complex that contains designer peptides—such as oligopeptide-34 for pigmentation, hexapeptide-11 for aging or acetyl tetrapeptide-15 for sensitivity concerns—following application of a cream- or gel-based mask. Not only will iontophoresis help the serum or complex absorb into the skin, but the mask will also help minimize dehydration lines.

 

For rosacea or reactive skin, incorporate an oatmeal mask with iontophoresis or a cool peltier. Don't have either of these? Freezing spoons and using them to gently massage the face can also provide a cooling effect on the skin. You can also place a gel mask in the fridge or on ice for a few minutes before using it on your client.

Home-care recommendation: Suggest clients use a vitamin-based serum at home underneath a mask or moisturizer for additional lightening benefits. Also, if clients are in need of skin-soothing, send them home with a spot treatment or a serum that can be used all-over on days the skin is experiencing a flareup. Have them place it in the fridge for that added chill.
5. Microcurrent and Botox. Energize or firm aging skin by muscle re-education with microcurrent. It is also excellent for prolonging the effects of Botox injections.
Low-tech method. Don't offer muscle re-education to your clients? Incorporate iontophoresis, along with an anti-aging, vitamin-based serum, followed by key massage movements that remodel fascia, the underlying support system of muscles. Prevent the activation of matrix metalloproteinase (MMP) enzymes, which can breakdown elastin, by using ingredients such as yeast extract, white tea and palmitoyl tripeptide-5.
Home-care recommendation. Override elastin breakdown and send your client home with an age-fighting and repairing serum, as well as key acupoint techniques to do each night to help strengthen muscles.
Home-care equipment
Just as today's client insists that professional skin treatments merge easily into her frenetic schedule, many technologies that once were exclusive to the professional setting, may now be used at home to expand and reinforce the benefits of the skin care professional's treatment. Some tools that have been adapted for the client to use at home include:
Brush systems;
Ultrasonic blades;
LED light therapy;
Various hand-held high-frequency and acne-fighting spot treatment appliances; and
Various exfoliation products ranging from granular scrubs to chemical exfoliation.
Synergy
Regardless of the level of technology you embrace into your practice, never lose sight of the fundamental humanity of professional skin care. Skin care professionals should be concerned not only about touching and caring for skin, but also about the person beneath the skin. The effectiveness of skin care technologies are enhanced when the whole person is encountered and cared for with respect, intelligence and compassion.

Whitney Johnson, global education developer for Dermalogica and The International Dermal Institute, is a licensed skin therapist and massage therapist and holds numerous continuing education certificates in chemical peels, laser and light therapies. She is also an NCEA candidate and has served on the editorial board for the PCI Journal.