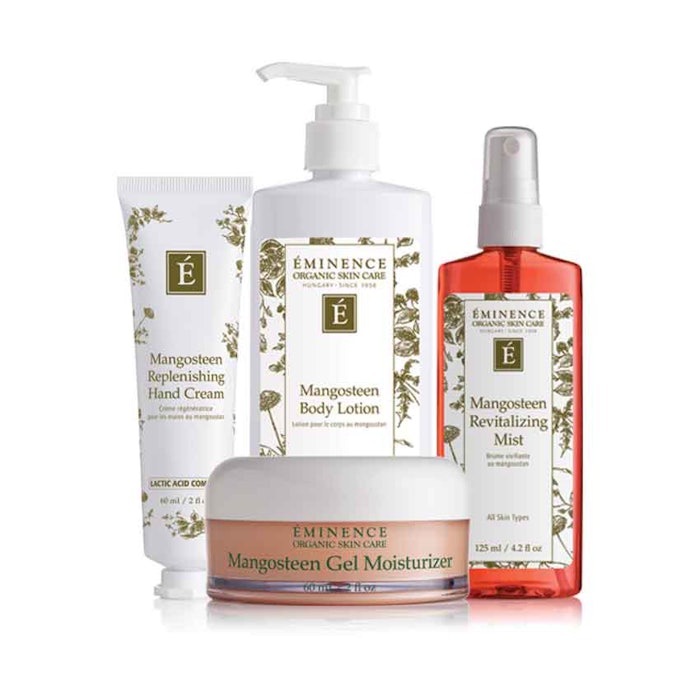 The Expanded Mangosteen Collection includes a hand cream, body lotion, facial mist and gel cream moisturizer. Each of these products use the star Mangosteen ingredient to provide luxurious and invigorating care to the skin.
Included in this Collection
Hand Cream. This hand cream has a silky formula that gently resurfaces the skin to reveal soft, youthful skin and provides long-lasting hydration.
Body Lotion. Formulated with a unique Lactic Acid Complex, this lightweight formula gently resurfaces to reveal bright, radiant skin on the body. The lotion absorbs quickly for a soft, satin finish.
Revitalizing Mist. This mist is formulated with a dreamy combination of antioxidant-packed mangosteen, energizing ribose and pore-refining red clover, which work in perfect harmony to revitalize the skin.
Gel Moisturizer. Reveal a photo-ready complexion with this lightweight gel-cream moisturizer. This unique pore-minimizing, hydrating formula begins as a dewy gel then beautifully melts into the skin for a smooth, matte finish.
888-747-6342, https://eminenceorganics.com