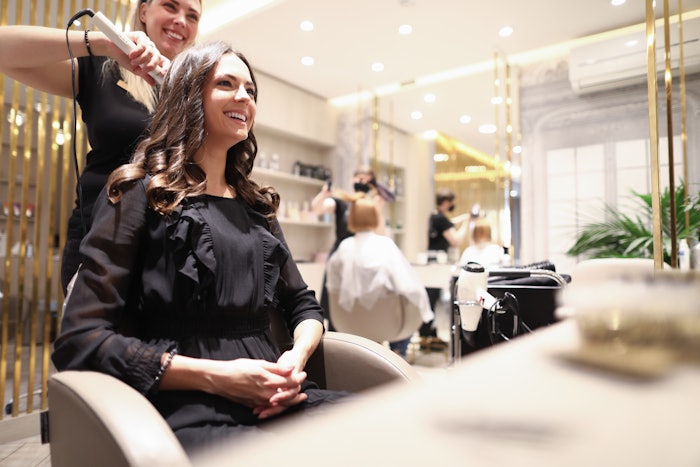 In honor of Mental Health Awareness month approaching in May, StyleSeat conducted a survey of salon-goers across the country to explore the surprising ways that people treat a simple haircut or manicure as a two-in-one therapy session. 
For the survey, they defined "stylist" broadly, including hair stylists, nail technicians, laser treatment professionals, facialists and even tattoo artists. Their key findings may shock you. 
Key Findings: 
A large majority (88%) view a trip to the salon as a therapeutic experience.
1 in 3 salon-goers consider their stylist to be like a therapist.
Over half (55%) report that their stylist provides emotional support during appointments. 
A majority (52%) of Americans have discussed their family members with their stylist. 
What Makes a Salon Visit So Therapeutic?
While many Americans find emotional support during a visit, it isn't the top reason cited for why salon visits are therapeutic. The top reason cited by respondents was the uplifting change in appearance (38%), followed closely by the physical touch and pampering (34%). Respondents also said it's a break from daily stressors (17%) and that talking to a stylist relieves stress (11%). 
What Do Clients Discuss With Their Stylist Behind the Chair? 
While beauty/style tips (58%), travel (57%) and pop culture (53%) may be popular topics of conversation at the salon, many Americans turn to their stylist for more personal discussions.
In fact, over half (52%) reported discussing family members or children with their stylist. And it's not just surface-level chitchat. Nearly 2 in 5 (39%) respondents even reported discussing some topics with their stylist that they wouldn't feel comfortable discussing with family or friends. This may suggest that salon-goers view their stylists as supportive, non-judgemental allies in their lives.
But what about the stylists themselves? Do they see their clients as more than just customers? It turns out, they do. A staggering 86% report that their stylist has shared personal information with them, indicating that the relationship between stylist and client can be quite personal and reciprocal.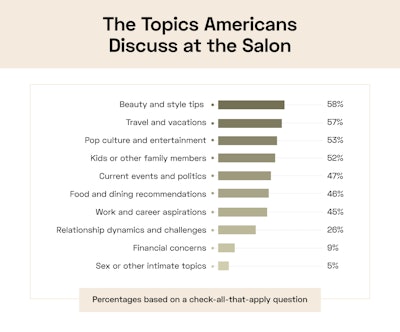 Are There Risks to Treating Your Stylist Like a Therapist?
When the COVID-19 pandemic hit, many were forced to forego their regular salon visits. While they may have missed the pampering and primping, it turns out that they also missed the therapeutic conversations. According to StyleSeat's survey, nearly half (47%) of Americans report having missed talking to their stylist during the pandemic at least a little bit.
But just because they couldn't visit the salon in person, doesn't mean they lost touch with their stylists entirely. In fact, 31% report following their stylists' personal social media profiles, indicating that the relationship can extend beyond the salon chair.
Of course, not every conversation with a stylist is going to be easy. StyleSeat's survey revealed that a lot of people (37%) actually worry about the conversation or relationship becoming awkward if they delve too deeply into personal topics. But despite this concern, with only 18% reporting worry about their stylist giving bad advice, the majority of respondents indicate that they trust their stylist and don't worry about receiving poor advice.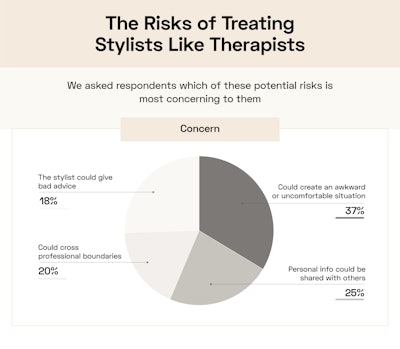 Conclusion
For those seeking more than just a haircut or manicure, the salon can be a sanctuary. For many Americans, the salon is a place where they can discuss topics beyond just beauty and style tips — They can also share our thoughts and emotions. As  enter Mental Health Awareness Month approaches, it's important to recognize the value of these safe spaces and the comfort they provide to those seeking a deeper conversation.