So scarlet, it was maroon... 
Salma Hayek walked the Golden Globes red carpet with a deep red nail look that contrasted her sheer, flapper-inspired gown.
Celebrity nail artist Kimmie Kyees created the look using imPRESS Color Press-On Manicure I'm Not a Cinna.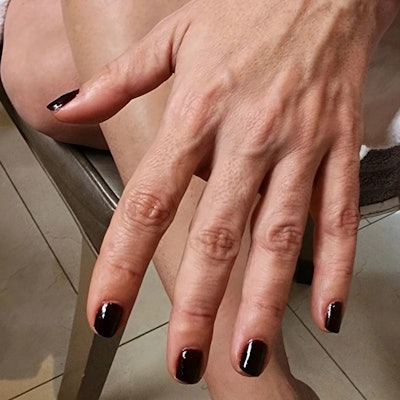 "I wanted to create something dark and sexy for tonight's look. This deep red is so rich and warm and perfect for the winter," Kyees said about her inspiration behind the nail look. "Creating a manicure that's never wet is my favorite thing! You never have to worry about smudging a nail before showtime."
Hayek wasn't the only attendees to wear press-on nails to the Golden Globes. Winner Quinta Brunson wore custom press-ons, created by Temeka Jackson. 
It looks like press-ons may be the new, up and coming nail trend in Hollywood. 
Follow Nailpro on Instagram and subscribe to our free daily newsletter to receive the latest news for nail professionals.