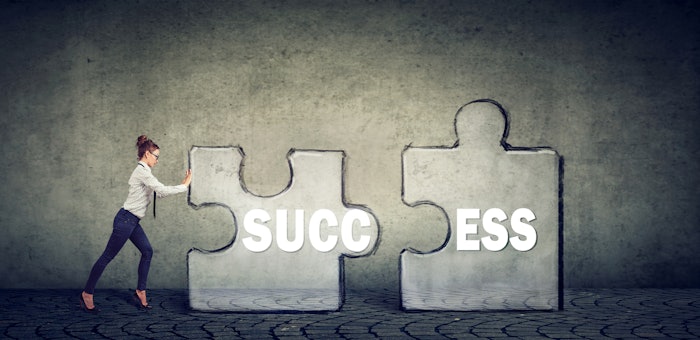 As the show floor filled with eager industry professionals, Maisie Dunbar, president and founder of the Maisie Dunbar Global Experience, welcomed show goers to the first live stage presentation at Face & Body Northern California. The esthetics vet excited the crowd with her electric energy and discussed five key reminders for esthetics business success. 
1. Mindset is Everything
Dunbar shared the importance of spa professionals showing up for themselves. In order to have a thriving business, industry pros need to have a positive mental mindset that adjusts to adversities to provide the best possible experience for clients. "You never want to touch someone's skin with a negative attitude, as we transfer our energy to our clients," Dunbar said. 
2. Master Your Craft
As an esthetician, it's imperative that your craft is mastered to the highest degree, according to Dunbar. Whether you specialize in specific esthetic services or practice general skin treatment, you should always be the expert of your business. 
3. Learn Everyday
Dunbar highlighted the essential practice of being open to learn something new everyday; to be a student of life. She challenged attendees to visit booths on the show floor with all the questions they have gathered in their everyday services. Professionals should never be afraid of what they don't know, and always strive to seek answers to their inquires. 
4. Be Purpose Driven
The presentation stressed the importance of knowing your purpose as an esthetician. Dunbar urged attendees to always be ready to pitch their story, as clients will buy their story before they buy services. The perfect formula for returning customers is personal connection and excellent service options. 
5. Know the Currencies 
Dunbar explained the various currencies within the esthetic industry, which includes money, relationships and digital. She noted that beauty pros should remember that "money comes and money goes," urging everyone to not be afraid of investing in themselves. The most important currency discussed was relationships with clients. Human connection will continue to generate the most capital. Dunbar lastly discussed how to make the most of their digital footprint with tactics for smart social media and memorable digital content. 
The presentation closed with a final reminder to view their fellow estheticians as a community, as opposed to competitors. It takes a village to create a successful business, so remember to take and give help where it's needed.