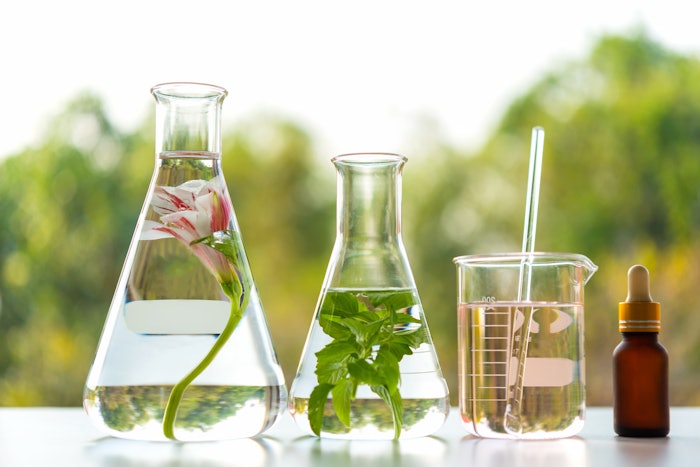 Upgrade your skin science knowledge with classes featuring your favorite industry veterans and pros at Face & Body Northern California on August 21-22, 2022. The sessions will discuss topics like the scale of sensitive skin, photoprotection in sun care product formulations, CBD and cannaskin science and more. Here are all of the science education sessions you can register for now.
Related: Soar in Success with Face & Body Education
Skin Science Classes
Rosacea, Acne Rosacea and Sensitive Skin: Facts and 2 Step Solutions: 10:00 - 11:30 am, Sunday, August 21, 2022. The class, taught by Manon Pilon, Nelly De Vuyst, will help you understand the stages of rosacea and acne grade, prevention and solutions will be discussed. A step-by-step protocol, evaluation and solutions will be covered and how the microbiomes interfere in acne. 
Savvy Science for Sensitive Skin: 10 - 11:30 am, Sunday, August 21, 2022. Attendees can learn how sensitive skin can range from mild or periodic sensitivity due to stress, environment, hormones, chemical irritants, or chronic sensitivity from serious health challenges and treatments or medications that accompany them with Shawna Rocha, Hale & Hush. 
Photoprotection is In, with TIZO Skin: 10 - 11:30 am, Sunday, August 21, 2022. Brush up on the latest science in Photoprotection and how to easily help your clients understand and integrate these fundamentals into their routine wiht Amanda Barretta, TiZO.
CBD Skincare & Cannaskin Science: 1 - 2:30 pm, Sunday, August 21, 2022. Join founder, Joan Sutton, from 707 Flora, as she breaks down the science of CBD and how CBD works with the physiology skin.
Learn M.A.D Skincare Face Mapping and Cocktailing: 1 - 2:30 pm, Sunday, August 21, 2022. Discover and learn how to utilize several M.A.D Skincare peels at the same time with face mapping and layering with Christopher Kuever. 
Clinical Case Studies: Acne-prone Skin & Aging / Sun Damaged Skin: 1 - 2:30 pm, August 21, 2022. Join award-winning esthetician, author, and product developer, Dr. Mark Lees, and National Educator, Kyle Mull, as they show and explain their many successful before-and-after case studies for clients with acne and congested skin, and clients with aging and sun damaged skin.
5 P's of Peeling: 1 - 2:30 pm, Sunday, August 21, 2022. This comprehensive seminar, led by Michael Pugliese, BS, LE, Circadia  will address the five P's of chemical peeling: Optimizing pre-treating, the relationship between pH and the strength of the peeling acids, understanding the concept behind percentages, pK values and the importance of post care.
Nanotechnology Applications in Today's Skincare Treatments: 1 - 2:30 pm, Sunday, August 21, 2022. This in-depth class with Sheri Flasch, Rezenerate Nanofacial, will explore Nanotechnology and its application in today's skin care treatments. 
Microchanneling vs. Microneedling: 1 - 2:30 pm, Sunday, August 21, 2022. The course will discuss the difference between microchanneling and microneedling, and the benefits for their esthetic treatments, and it is led by Carole, DeZarn, Procell Therapies. 
Human Stem Cell Derived Biotechnology + Your Treatments = Unparalleled Results: 4 - 5:30 pm, Sunday, August 21, 2022. In this session, Dr. Annie Bowles-Welch, a stem cell scientist, will explore your favorite treatments and how cutting edge advancements in human stem cell research can improve your client's outcomes. 
Sereneskin: Oral Spore-Based Probiotics in Non-Cystic Acne Vulgaris: 10 - 11:30 am, August 22, 2022. This class with Tom Bayne, DC, Microbiome Labs will explore how the gut microbiota with a specific probiotic formulation can change post-biotic expression and ultimately have a measurable impact on the skin, specifically acne.   
Pigmentation Class: 1 - 2:30 pm, Monday, August 22, 2022. Join Pugliese again for this presentation, which will explore the mechanisms of melanin formation and melanocyte function, as well as associated states of hyper/hypo pigmentation.
Make sure to register for the Face & Body Northern California show, so that you don't miss out on this (and so much more) education!