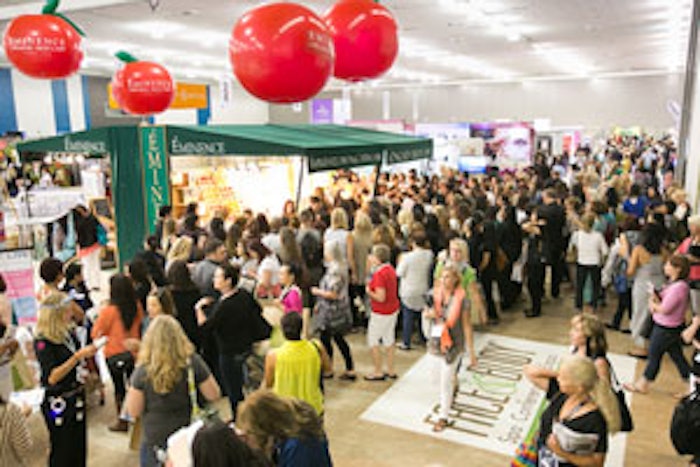 More than 3,800 skin care and spa professionals came together at Face & Body Northern California Spa Conference & Expo, which took place August 23–25, 2014 at the McEnery Convention Center in San Jose, California.
Advanced Education Conference Program
Roughly 200 professionals attended the Advanced Education Conference Program on Saturday, August 23, which kicked off with the Opening Session, "10 Things You Can Do to Motivate Your Team and Grow Your Business" with Deedee Crossett, Skin Inc. author and dean of the San Francisco Institute of Esthetics and Cosmetology. Following the Opening Session, the day was filled with in-depth education organized by four industry-driven tracks, including Hyperpigmentation/Anti-aging, Acne/Rosacea, The Body and the Business Summit.
Kate Van Der Bogart, a student from Monterey, California, says, "I really enjoyed my experience at the Face & Body Conference and Expo this year! As a student, it gave me the opportunity to expand my knowledge about the skin care industry and meet so many incredibly talented and educated professionals. Thank you, I can't wait until next year!" 
"As always, the Advanced Education Conference Program welcomed the best of the best in California esthetics, from speakers to attendees," says Cathy Christensen, conference director and editor of Skin Inc. magazine. "Deedee's session was full of useful and easy-to-incorporate tips on how to improve your business; the Networking Luncheon trivia, sponsored by PCA Skin, was tons of fun and attendees were able to really get to know one another; and the Q&A session with the state board offered clarification for the whole group of California estheticians and suppliers in attendance."
Tammie Piveronas, owner and operator from Livermore, California, says, "The education on Saturday was amazing! I was blown away, and was even more ecstatic that we received all the slides as a take home on a USB! The lunch provided was amazing, and I really ejoyed the Board [informational Q&A session] afterward. I found it very informative."
Expo Hall
The two-day Expo Hall was filled with 241 booths from 189 companies specializing in skin care, makeup, equipment, anti-aging, aromatherapy, business tools and hair removal. Michele Golightly, spa owner from Burbank, California, says, "The Expo is something I always look forward to for advanced education and keeping up with the latest products and services to benefit myself and my clients."
Brand new to Face & Body Northern California, the Massage Area, sponsored by Associated Massage and Bodywork Professionals/Association Skin Care Professionals, had a successful launch.
Group show director Sandy Chapin says, "This year we witnessed growth in both attendance and the number of exhibitors, who were thrilled with the bustling show floor on both Sunday and Monday. Overall, we were very pleased with the innovation on display and the growth this will bring to the spa and wellness industry."
Top 4 trends 
This year's conference and expo didn't fall short of full of passionate estheticians, spa owners and managers, massage therapists and suppliers—following are the top five trends encountered at Face & Body Northern California 2014.
1. Waxing. Waxing can be big business for skin care professionals. In the Advanced Education class, "Brows and Brazilians: Nothing But Profit!" Crickett, The Wax Chick, taught attendees the ins and outs of just how profitable brow and Brazilian waxing services can be, as well as how they can market and upsell them to their existing clients, and promote them to potential clients.
Deborah Merhar, Relax & Wax—No Scream Cream, helped attendees realize the important of a solid waxing foundation and gave tips on how to correct the waxing issues professionals are currently experiencing in the Supplier Class, "Relax ... Let's Wax!"
Deanna Derthick, Depileve and Maxcara/Divi International Co., shared advanced techniques for waxing any body part without causing breakage, redness and irritation in the Supplier Class, "Brows to Brazilian with the Latest Waxing Techniques."
In the Supplier Class, "Intimate Brazilian/Bikini Waxing the Cirepil Way!" Suzanne Huberth and Tiffany Montalbano, Alexander's Aesthetics and Skin Blends, LLC revealed to attendees how to provide waxing clients with less painful and long-lasting results.
During, "Don't Let the Double Dipping Rule be a Pain in the Gl...ass," the Supplier Class taught by Sarah-Eve Landry of California Skincare Supply, Inc., attendees learned how to make target speed-waxing come together with the right products and techniques.
2. Retail. Retail should not be an afterthought. During Advanced Education class, "The 2 M's of Boosting Retail Revenue," Kate Wind, Spa Mio at The M Resort, Las Vegas, taught attendees the value that a spa's retail space has on its bottom line and shared easy, cost-free techniques to increase retail sales while keeping the entire team excited. 
In the Supplier Class, "Relationship Retail Selling—ON PURPOSE!" Cherie Callahan, 2B Bio Beauty/Jeneration Skin, showed attendees how to take command of product sales by selling to clients' true needs—selling success doesn't happen by accident. 
Have you considered private label? Michele Corley, MC Skincare/Michele Corley Clinical Skin Care, discussed the benefits—including increased profits and exclusivity—and the potential challenges of private label in the skin care industry in the Supplier Class, "Is Private Label Right for You? The Pros and Cons."
3. Regulations. It is easy to take a mistep in the skin care industry if a professional is not knowledgeable about what they can and cannot do—and what the legal ramifications could be if they break a rule. More and more skin care professionals are realizing just how vital it is to their career that they are fully aware of rules and regulations in the industry. 
Alex R. Thiersch and Renee E. Coover of Thiersch & Associates and the American Med Spa Association (AmSpa) educated attendees on the dangers of the false term "medical esthetician" during the Advanced Education class, "So You Call Yourself a Medical Esthetician?" You you can read Thiersch and Coover's Skin Inc. article on the topic here.
The Conference came to end with an informational Q&A session with the California State Board of Barbering and Cosmetology for a much-needed discussion about changes being made to the esthetics profession in California, including include the proposed master esthetics license—which has now been pulled from further consideration—LED operation requirements, the ability to perform services on inflamed skin, and more. The entire session can be viewed here.
4. Cancer care. For clients undergoing cancer treatment, skin care professionals have the opportunity to not only treat the physical side effects, but to help with the emotional ones, too.
In the Advanced Education class, "The Spa Client with Cancer—Care and Concerns," Kris Campbell, Tecniche, and Katie Morgan-Lousky, Ahava Spa and Wellness Center, taught attendees the importance of being professional, knowledgeable and compassionate, and how to counteract the effects of cancer and its treatment on skin through the use of healing ingredients and techniques. 
In the Supplier Class, "The Use of Essential Oils in the Cancer Care Environment," Trish Green, Eve Taylor North America, covered the primary concerns of using essential oils in the spa, as well as the psychosocial aspects, the five stages of dying, consideration of caregivers and family, and dilution and methods of application.
We'll see you next year!
The next Face & Body Northern California will be held August 22–24, 2015 at the McEnery Convention Center. Between now and then, Face & Body Midwest will be held March 21–23, 2015 at McCormick Place West in Chicago. For more information, visit www.FaceandBody.com.