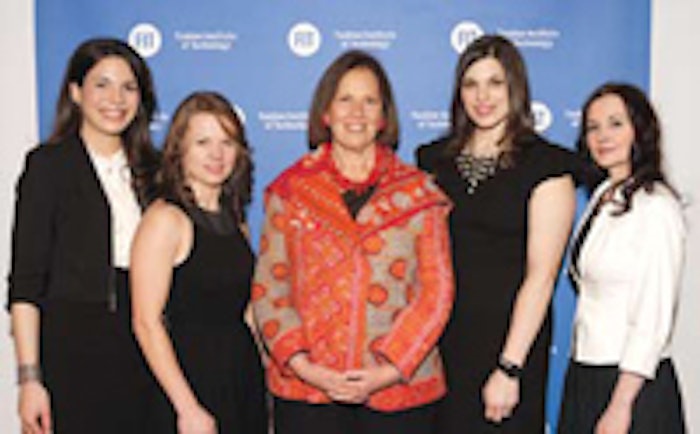 What will the beauty industry be like 10 years from now? The graduating class of the Master of Professional Studies (MPS) degree program in Cosmetics and Fragrance Marketing and Management at the Fashion Institute of Technology (FIT) forecasted beauty in 2020 when they showcased their final projects at the 10th Anniversary Capstone presentation and reception in May. The graduating class began its research on "Beauty 2020: The Future of Beauty" by working with IDEO, a global innovation and design firm, at sessions in New York and Shanghai to give the class a global perspective.
"After studying the global post-recession consumer in 2009, the next logical step seemed a study of how our industry needs to adjust to a new reality," says Stephan Kanlian, chair, Cosmetics and Fragrance Marketing and Management, FIT. "How should we be changing business models that are no longer relevant? Are brands as necessary as they used to be and, most importantly, what is the consumer psyche we will be dealing with and how do we motivate consumers to buy our products? These are crucial questions." Capstone groups were also paired with industry leaders who acted as mentor partners on the following topics:
The Future of Retail, industry partner—Erin Armendinger, managing director, Jay H. Baker Retailing Initiative, The Wharton School What will shopping look like ten years from now in all beauty categories? How will retail need to change? The challenge will be to understand the consumer mindset, how her shopping habits have shifted, and what motivates her to buy now. What developments and concepts might exist in other cultures and industries that could be applicable to U.S. beauty?
The Future of Fragrance, industry partner—Rochelle Bloom, president, The Fragrance Foundation With a 16% dip in prestige fragrance sales in the past year and as many as 150 million Americans saying that they have decreased their use of fragrance from regularly to only occasionally, how do we get the fragrance industry back on its feet? Shiri Sarfati, vice president of Repechage, was part of this group.
The Future of Leadership, industry partner—Carlotta Jacobson, president, Cosmetic Executive Women It is said that Millennials, the next significant generation to follow the Baby Boomers, are a generation of young people who feel entitled. They put life before jobs, need detailed directions and guidance, have weaker interpersonal skills, don't talk, but text) but, on the other hand, are supremely altruistic. What does this mean for our next generation of leadership in beauty? How will this impact organizations and corporate culture?
The Future of Beauty, industry partner—Lezlee Westine, president, Personal Care Products Council The purpose of this topic was to develop a positioning statement for the industry going forward—a statement that reestablishes the value of the industry in the eyes of a new and possibly skeptical consumer.
Joyce F. Brown, FIT's president, gave welcoming remarks. Keynote speaker Chris Hacker, chief design officer, global strategic design, Johnson & Johnson Consumer Companies, Inc., discussed the importance of mentoring and nurturing talent. Johnson & Johnson also sponsored for the event. Kanlian concluded the evening by announcing the winners of student and faculty awards.
A professional degree program, the MPS is designed to provide advanced managerial and marketing education for outstanding mid-level professionals in the beauty industry. It is geared toward individuals who have been recommended by their employers because of their strong managerial potential. Structured as a twoyear evening program to accommodate working professionals, the curriculum has been designed to impart the core skills of a business degree alongside the creative and technical skills unique to the beauty industry.