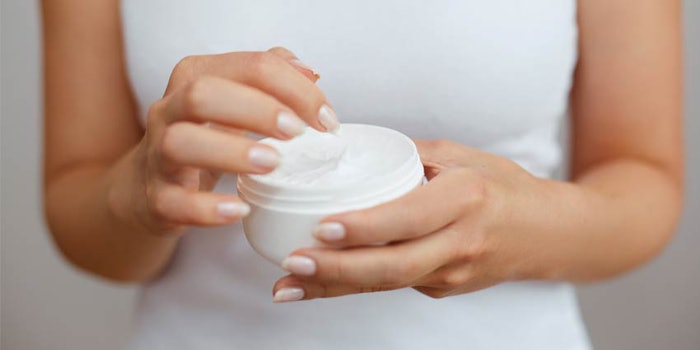 Consumers syncing their skin care routine to their menstrual cycle is an emerging beauty trend, according to The Zoe Report. 
Skin care cycling involves altering your skin care routine to address changes in the body during a menstrual cycle. It can assist consumers in feeling better and getting the most out of their skin care routine, says the article. 
Estrogen is the dominant hormone during the first half of the cycle after menstruation, and progesterone is the dominant hormone during the second half. Then, levels of both estrogen and progesterone fall to their lowest levels as bleeding approaches, leaving behind relatively high testosterone levels.
Days 1 to 7
On the first day of the menstrual cycle, estrogen and progesterone levels plummet. It's during this time that skin may feel instantly drier, duller, tighter, and generally lackluster. The skin barrier function may also be compromised, which means irritants and external aggressors are more likely to enter the skin.
The key during this phase of the cycle is to balance and re-hydrate the skin in a way that doesn't increase sensitivity. This means opting for an anti-inflammatory moisturizer, or one with essential fatty acids such as linoleic and oleic. Antioxidant-rich oils that reduce transepidermal water loss (jojoba, baobab, moringa, etc.) can also help with moisturizing and brightening the skin. It is also recommended to increase use of products with shea and cocoa butter to build skin moisture levels and improve skin resilience. Finally, avoid using active ingredients such as retinol, glycolics, and lactic acid, as the skin may be hypersensitive to such ingredients during this time.
Days 8 to 16
This is the time when estrogen production begins ramping up again. This surge in estrogen results in plump, hydrated, brighter and clearer-looking skin.
With estrogen at its peak, newer, stronger skin cells are forming. Use this time to focus on giving the skin a proper exfoliation to assist with cell turnover, which can also pre-empt a move towards an oilier complexion post-ovulation. Also, this is the perfect time to use products containing anti-aging ingredients, like retinol, to support the body's natural increase in collagen production.
Days 17 To 24
Progesterone becomes the dominant hormone post-ovulation and oil production is at an all-time high, creating the perfect storm for blemishes to make an appearance. As oil production is revved up, incorporate a clay-based mask to soak up excess sebum and eliminate pore-clogging bacteria. It is also recommended to use a clarifying cleansing routine, as well as topical products like salicylic acid and mandelic acid to minimize acne.
Days 25 to 28
The body is prepping for menstruation again. Estrogen and progesterone levels dip and testosterone remains the power player, leading to clogged pores and breakouts as well as general inflammation and puffy skin.
Use formulas that contain anti-microbial and anti-inflammatory botanicals at this stage, especially ones containing the beta-hydroxy acid (BHA) salicylic acid. Dermatologist Dr. Hadley King says, "Salicylic acid is an excellent pore-clearing ingredient because it exfoliates the surface of the skin and penetrates into pores to remove oil. This helps to prevent pores from becoming clogged and is a great ingredient for treating and preventing comedonal acne (aka blackheads and whiteheads)."