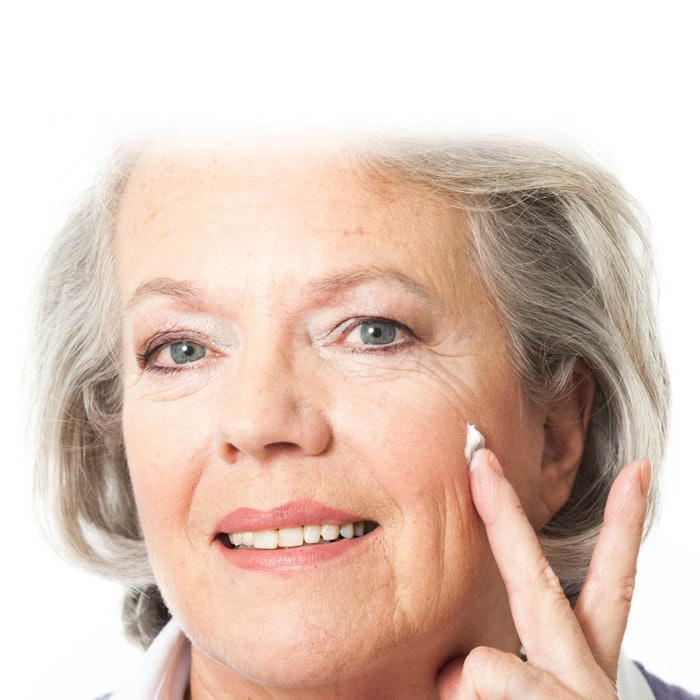 Last year, a study by Euromonitor predicted that by 2020 the over-60s demographic would account for 14% of the total global population, with the overall number reaching 1.1 billion. With this said, it is vital for skin care providers to understand this group's purchasing style.
Euromonitor International's latest study, Challenges and Opportunities in Targeting the Senior Consumer, gives insight to the over-60s demographic. The global survey's data maps out beauty regimes, product usage frequency and path-to-purchase factors by age group.
1. Anti-aging Isn't Top Priority
It turns out that a higher number of 60-and-older consumers use skin care products without anti-aging claims.
Only about one-third (35%) of the respondents aged over-60 said they used anti-aging products in the prior three months.
2. Not Concerned About Price
Although price remains the most influential product feature globally when it comes to purchasing skin care products, the study shows that—of all the age groups surveyed—over-60s are the least concerned by price.
The study's beauty and personal care research senior analyst Ildiko Szalai summarized: "Mature consumers are clearly ready to spend on beauty products if their concerns are addressed.
"Multi-functionality appears to be low in demand—30% of over-60s marked it as a preferred benefit in skin care ... which signals a preference for more targeted beauty solutions amongst this age group."
3. Function and Naturals/Organics Take the Cake
Function and natural-organic credentials are the most valuable factors for over-60s. These two benefits are prioritized by 37% of consumers aged over 60 years old.
4. Over-60s are not Impressed by ...
Celebrity endorsement
Limited edition
Artisanal production
Less than 3% interested in these features.
5. Most Loyal Consumers
The over-60s group was found the most loyal across a number of beauty products, such as facial care: 57% of respondents regularly buy the same brand.
The lowest brand loyalty, and openness for experimentation, in this age group is seen in body care—however 47% of respondents still prefer the same brand.
Applying to Your Spa
Spa owners should take these findings into consideration when choosing retail lines for their skin care facility.
Based on this study, it can be expected that if choosing skin care lines to appeal to over-60s, efficacy and natural credentials remain key.
This article is adapted from content published on www.spaopportunities.com, May 11, 2015.