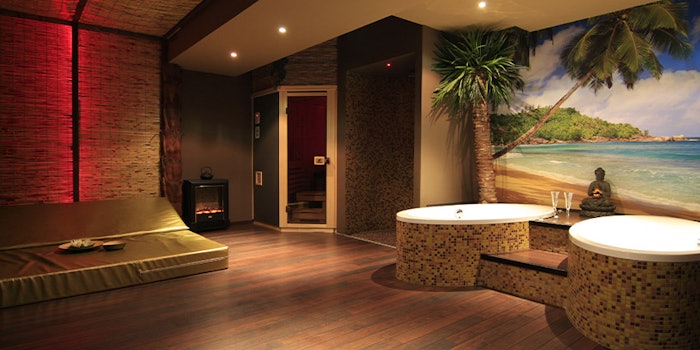 After a year of closures and lockdowns, 2021 is in need of a fresh start and what better way then an interior re-design. Boutique Hotelier has curated a list with Sparcstudio, a creative design studio, to predict the design trends that spas will see in 2021. 
Related: 8 Spring Skin Care Trends for 2021
Japandi
Japandi is a cross between Japanese design and Scandinavian aesthetic. It leads to a calming, comforting atmosphere with clean lines, minimalism and furniture that is functional and stylish.
Key elements:
neutral colors,

earth tones,

natural stones,

timbers,

soft linens and fabrics. 
Spa Within a Spa
Thanks to the pandemic, guests are enjoying the privacy and personal space offered. Some are even renting out spas for the day to enjoy in solitude or small groups.
Key elements:
intimate spa suites and couples' rooms with private changing pods. These suites can include:

bathing elements like rain showers or tubs,

hydro pool,

sauna,

steam room. 

Japanese Shoji style screens, 

dedicated areas for couples or small groups,

gyms within a gym,

private spa gardens with private zones within.
Nature
Guests have been enjoying the embrace of nature in 2020 and this design trend is expected to reflect that, but in a 2021 twist.
Key elements:
yoga deck,

forest bathing or bathing in a natural pool,

a circular walk through a herb garden,

natural swimming pools,

stretch and personal training zones that extend to an outside deck,

single pane of glass in a treatment room to frame the outdoor view.
Curves, Waves and Organic Forms
According to Sparcstudio, "Curved soft cosseting forms will be a strong theme in spa design offering a comforting embrace to spa users."
Key elements:
curved organic pools, 

statement curved sofas,

curved seating around a fire pit,

organic sauna designs and ice features.
Color
For a fresh paint job, keep it simple and opt for neutrals or colors that evoke a calm feeling.
Key elements:
Pantone's Color of the Year 2021, Sunshine Yellow and Rock Gray,

yellow alongside a muted natural palette,

natural stones, timbers and concrete,

soft greens and grays in large format tile for spa pools,

dark gray slate colors that can reflect back the natural surroundings.