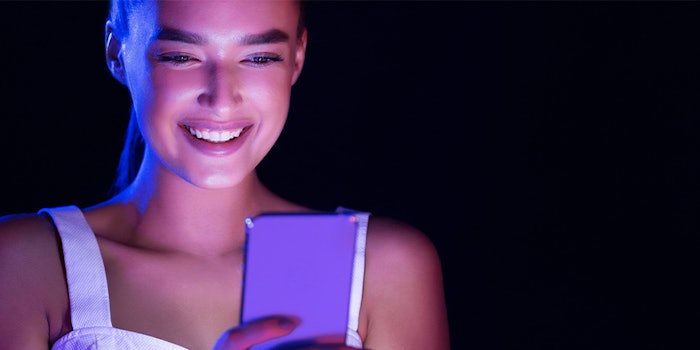 With the majority of people still working from home, the effect blue light has isn't going anywhere anytime soon. Blue light glasses have come in handy to prevent eye strain and protect the eyes, but what about the skin? Esthetician are predicting that blue light centered skin care products are going to be a huge trend in 2021. 
Related: Researchers Develop Device to Evaluate Blue Light Harm
Researchers from The University of Toledo compiled up‐to‐date information on cosmetic ingredients that can provide protection from blue light, "Multiple ingredient categories, for example, algae‐derived ingredients, UV filters, botanical extracts, antioxidants, and vitamins, are available on the market to fight against blue light‐induced skin damage." 
Unilever has even suggested that the following ingredients can help to protect themselves against blue light:
Optics, which minimize visible light to prevent skin tanning

Zinc Oxide, which creates a protective barrier for the skin

Vitamin C, which protects and recovers skin cells from blue-light-induced oxidative damage

Vitamin B6, which combats visible-light-induced antioxidant depletion and effectively suppresses oxidative stress caused by visible light

Niacinamide, which restores skin surface cells from blue-light-induced oxidative stress and provides strong protection against skin damage caused by blue light
Celebrity esthetician Renée Rouleau told Well and Good: "To lessen the damage caused by blue light, you'll want to use skin care ingredients in your products that use both direct and indirect antioxidants. [Antioxidants] are members of a complicated biological system that defend the body against increased production of free radicals caused from blue light as well as from the air we breathe, cigarette smoke, UV sunlight, stress, and smog."
The researcher's report also predicted the upcoming trend of these products, "The number of ingredients launched for blue light protection and new methods developed to test products for blue light protection claims is expected to increase in the near future as we are learning more about the mechanism of damage that occurs in the skin upon blue light exposure."