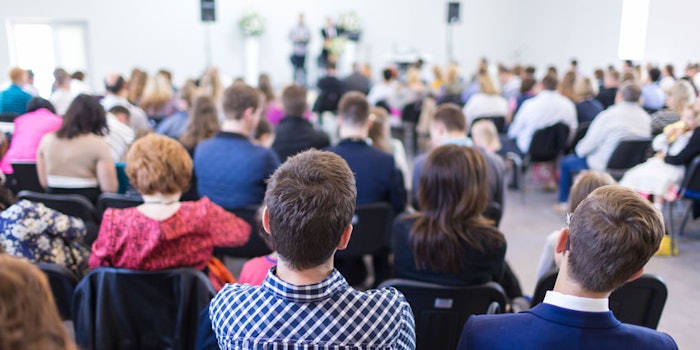 Nothing like some bite-sized education to jazz up a day of shopping, networking and advanced education classes, right? That's why we brought out all the stops for Face & Body Southeast, in Atlanta, GA from Feb. 8-10, this year. We are bringing three days packed full of 30-minute education demos and presentations. 
Saturday, Feb. 8, 2020
Battling Hyperpigmentation on Your Waxing Clients, Stephanie Laynes, 11:30 am–12:00 pm
We often think that hyperpigmentation is the result of aggressive waxing, harsh post-wax products or even high heat wax temperatures. With the rise of popular vajacial and body services, we are seeing a lot more hyperpigmented areas after waxing. Join Stephanie Laynes, founder of Se Brazil, to explore what is really happening in the skin and how we can offer better solutions for our waxing clients, that don't increase hyperpigmentation in the intimate areas.
The Sweet Life: Growing Your Business One Sugar Ball at a Time, Mable Machabvunga-Butler, 12:15–12:45 pm
When it comes to hair removal, there are quite a few options, but sugaring is the way to go. See how you can grow your business by making the sugaring switch, and come watch Mabel Machabvunga-Butler, president of Tapira Sugaring, give a live demo showing some great techniques for a quick and easy hair removal treatment. Learn the benefits of sugaring and the difference it can make on your business.
Boots and Beauty: Self Care In and Out of Uniform, Kimberly Solomon, 2:30–3:00 pm
The biggest issue for most active military and veteran women is that they don't have a chance to relax. They need to understand the value of having services performed on them. When military women receive restoration they become better members of society, so in this presentation, Kimberly Solomon, CEO and founder of Solomons Esthetique, will be discussing the importance of military women receiving rest and relaxation. Oftentimes with the military restrictions for the uniform, women aren't afforded the opportunity to show their personality until they are out of uniform. Solomon will speak to attendees on the importance of self-care in or out of uniform.
Melanin Myths: Treating Hyperpigmentation, Josh Agnew and Regilynn Haywood, 3:00–3:30 pm
Learn firsthand the secrets for the treatment of hyperpigmentation in darker skin tones. Join Josh Agnew, brand and education manager for Elaine Sterling Skincare, and Regilynn Haywood, founder of There She Glows Skincare, as they perform a live demo that will cover sun damage and progressive skin care when correcting the higher Fitzpatricks. This demo will focus on how ingredients like vitamin C and oil-based cleansers are essential to a successful treatment schedule.
Six Figure Spray Tanning, Kelly Callaghan, 3:30–4:00 pm
International sunless educator, Kelly Callaghan, will share the basics of sunless application, income potential and marketing tactics for any beauty business. Come to the stage to learn what it takes to start or add spray tanning into your beauty business so you can create a better experience for your clients, create more income and expand your business.
Sunday, Feb. 9, 2020
Top 3 Skin Care Ingredient Trends for 2020, Rebecca Gadberry, 11:30 am–12:00 pm
Get the details on 2020's top ingredient trends by joining Rebecca Gadberry, instructor of Cosmetic Sciences at the University of California, Los Angeles, at the Skin Inc. LIVE! Stage. In this presentation, Gadberry will be discussing CBD for healthy-acting skin, clean beauty for a clean planet and postbiotics. She will discuss what to expect from these different skin care ingredients and how they are, and will continue to become, widely talked about in the industry. 
Boost Business with Cosmetic Teeth Whitening, Jessica Fair, 12:15–12:45 pm
This educational demo and presentation will show how beneficial it can be to add cosmetic teeth whitening to your spa menu. Jessica Fair, owner of Gorjess Looks Beauty Studio, will be discussing why this service is great to add to any business marketing techniques, while the live demo will show how the service is administered. Fair will also discuss the financial gain that attendees can experience from adding teeth whitening to their services.
Jade Stone Face Therapy Demo, Ko Tan, 1:45–2:25 pm
This presentation focuses on three therapeutic face therapy techniques: manual lymphatic drainage for the face and neck, revitalizing face massage with pressure point and face reflexology and Jade Stone face therapy. Ko Tan, licensed and certified massage therapist and reflexologist, will introduce attendees to the three distinct techniques to restore and invigorate the face and body. Tan will discuss other topics including Chinese medicine, essential oil remedies, herbal formulas, Bach Flower remedies and age-old remedies. 
Goal Crushing: How to Set and Achieve Big Goals, Lora Condon, 2:30–3:00 pm
Learn how to set goals and crush them! Lora Condon, the founder of The Beauty Buster, will be hosting this interactive presentation to help attendees create a clear, measurable goal. Then Condon will have them chart how to crush that goal and repeat the process for their best year ever in business. Condon will help attendees get past just writing their goals and move towards accomplishing it.
Take Med Spa Treatments to New Highs with CBD Infused Products, Lady Patterson, 3:00–3:30 pm
Ever wonder what the big buzz or hype about CBD products being used in the treatment room was? Lady Patterson, owner of Eyetopia Med Spa, will teach attendees the benefits of CBD on the skin, how to select the right sourcing for CBD-infused products and how these products can improve a client's skin, mood and health. This presentation will be attendees' one-stop-shop on retailing CBD-infused products in their spa, as well as increasing ROI and working through challenges like customer education and legal considerations.
Treating the Skin Through the Microbiome, Danné Montague-King, 3:30–4:00 pm
An individual microbiome is unique like a fingerprint, no two people will have identical microbiomes. The primary locations where these organisms can be found are: on the skin, in the mouth (oral) and in the gut. Join Danné Montague-King, the founder of DMK Skincare, to learn how our unique microbiome affects our skin and groundbreaking new ways to treat skin conditions caused by an unhealthy microbiome.
Skin Care Horror Stories: Protect Your Career and Your Clients, Tracy Donley, 4:00–4:30 pm
Do estheticians really get sued? Does your spa or salon provide enough insurance coverage to protect your personal assets and cover your legal defense? Accidents do happen, even to the most skilled and conscientious practitioners. Join Tracy Donley, executive director of Associate Skin Care Professionals, to learn from real-life cases and see how to reduce the risk of mishaps, as well as the correct way to respond if a client is injured during a treatment. Attendees will learn that not all liability insurance is created equal, and what type of policy they DO and DON'T want.
Monday, Feb. 10, 2020
Preparing for Rapid Growth in Skin Care, Destiny Cox, 11:30 am–12:00 pm
Skin care is growing fast and includes opportunities in employment, product sales and a growing service market in medical aesthetics. This growth is being driven in part by a generally increasing awareness of the importance of skin care, but also specifically due to an increase in the market for men. During this presentation, Destiny Cox, founder and CEO of DCI Academy, will cover how the market is growing and what that means for the spa industry.
Implementing Skinny on Skin Into Your Spa, Meghan Rothschild, 12:15–12:45 pm
Whether attendees are considering participating in the Skinny on Skin education, or they have already participated in it, Meghan Rothschild, marketing and PR manager for IMPACT Melanoma, is showing attendees how to implement this training into their spa. Rothschild has put together a panel of spa professionals to show attendees how the Skinny on Skin training has improved their spa and services.
The Impact of Pollution on Skin Health, Solenne Briand, 1:45–2:25 pm
Pollution is the biggest environmental risk to health. Exposure of the skin to pollutants has been associated with skin aging and inflammatory or allergic skin conditions. Join Solenne Briand, an international educator for Sothys, and explore cosmetics' role in combating the effects of medium-and long-term pollution on the skin from a clinical and biological perspective. Through science and cosmetology, attendees will discover a powerful weapon to mitigate the negative impact of pollution on overall skin health.