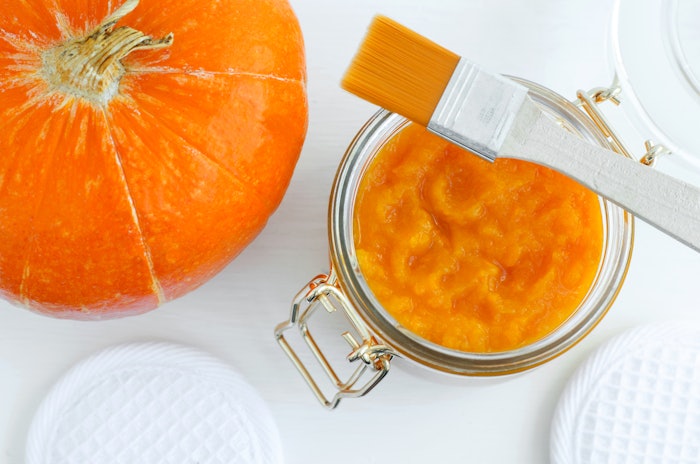 Even though Pumpkin Spice Lattes have been going strong since August, we all know that October is really the time for pumpkin to shine. Besides putting pumpkin into much needed caffeinated beverages and delicious desserts, this ingredient has always been an absolute favorite of mine in skin care. It's high antioxidant activity helps it protect the skin from UV damage while also having anti-bacterial, hyperpigmentation and soothing benefits. Safe to say, while it is an October favorite, pumpkin is a win for the skin all year round. Here are some pumpkin product favorites for your treatment room and retail area.
The Beauty of Hope Harvest Candle
This spa candle helps to set up the fall mood in any spa lounge, treatment room or retail area. The hand-poured, soy wax candle has notes of pumpkin, nutmeg and vanilla for the ultimate fall feeling.
https://thebeautyofhopecollection.com
Rhonda Allison Pumpkin Lactic Cleanse
This active, lactic-acid based cleanser increases cell turnover and hydration while smoothing the skin's texture. Meanwhile, pumpkin seed oil delivers antioxidants, nutrition and collagen-stimulating support. Plus, it smells absolutely amazing.
DermaQuest Mini Pumpkin Mask
This is a brightening and rejuvenating mask that helps to prevent breakouts and assist with the release of comedones. The use of pumpkin pulp in the mask delivers the antibacterial properties, making this mask ideal for clearing mild forms of acne.
SAIAN Pumpkin Spice Mask.
Using fresh pumpkin, vegan hyaluronic acid, aloe vera, carrot seed oil and sea buckthorn, this mask is formulated to dissolve dead skin cells while deeply cleansing the pores, stimulating blood flow, and decongesting and nourishing the skin. This mask happens to be one of my favorites all year round, but I especially love it during the holidays. https://saian.net
Arcona Pumpkin Body Lotion 10%
We all know the skin below the neck is just as important as the skin on our face. This body lotion uses pumpkin extracts and glycolic acid to improve tonal quality and elasticity of the skin while regenerating and repairing sun damage. www.arcona.com